When it comes to Russia, the Obama administration's strategy has been a simple one: isolate Putin and hope that, in isolation from capital markets, the Russian leader cries Uncle. Instead what that policy track unleashed was an expansion of Russian diplomatic channels around the globe, most notably with China, leading to such outcomes as Russian bonds being issued in Renminbi, and an expansion of Russian-China energy infrastructure projects. And while the plunge in oil prices has had a far more adverse impact on the Russian economy (as it has on the US shale sector), so far Russia has shown remarkable resilience to western attempts to isolate it in the financial world.
In short, the US strategy of isolating Russia has so far failed.
But while the Obama administration may have failed in "ring-fencing" Russia's economy, it certainly would not stop there, and the next arena where Russia is set to be punished by the "western democracies" is precisely that, in the actual arena of sports.
According to the WSJ, an "independent" commission of the World Anti-Doping Agency has found that Russia engaged in state-sponsored doping and more importantly, recommended that Russia's track and field athletes be suspended from Olympic competition in 2016.
Reuters adds that a co-author of the commission report, Richard McLaren, said at the weekend its investigation showed a whole different scale of corruption in causing "significant changes to actual results and final standings of international athletics competitions." The scandal revolves around accusations that money was demanded from top athletes to 'bury' medical tests showing drug use.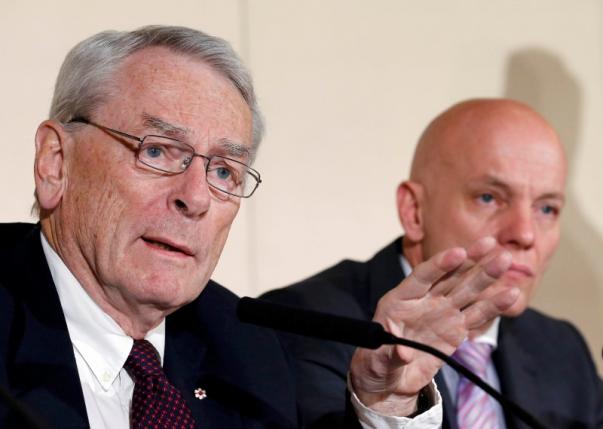 Richard W. Pound (L), World Anti-Doping Agency (WADA) Founding President
and former IOC Vice President speaks next to Guenter Younger, Head of
Department Cybercrime with Bavarian Landeskriminalamt (LKA) during a
news conference on the WADA Independent Commission report on findings
of investigation into allegations of widespread doping in sport in Geneva,
Switzerland November 9, 2015.
Russia is a traditional powerhouse of athletics and finished second behind the United states in the medal table at the 2012 Olympics, with 17 medals, eight of them gold. In the event that IAAF were to adopt the commission's recommendation, Russia could be excluded from major competitions including the Olympics and Europan Championships.
In effect what the agency recommends is simply to bar the largest group of Russian athletes from international competition.
To be sure, the WSJ adds that the move would be among the most drastic taken against a national sports federation. According to a report released Monday, Russia took part in a systemic, and state-sponsored doping program for several years, including in the run-up to the Sochi Games.
The commission's investigation was focused on track and field, but its findings on the corruption of Russia's antidoping organization and its Ministry of Sport suggested that other sports were involved.

 

"The IC has found that not only was leadership in the fight against doping in sport lacking, but also that there were organized efforts on the part of many senior coaches and officials, inside and outside Russia, to promote doping and make it possible for such efforts to be successful, including the coverup of certain positive cases of doping," the report stated.
Which is odd when one considers that even a casual glance among the top 10 doping scandals of all time, reveals that at least half are due to US athletes such as Marion Jones, Ben Johnson, Justin Gatlin, Kelli White, Regina Jacobs, Eddy Hellebuyck, and so on.
The scandal could prove as damaging to world athletics as the corruption affair now shaking soccer's world governing body FIFA, where president Sepp Blatter has been suspended and 14 officials and marketing executives indicted on corruption charges.
So let's focus on the Russians.
The "Independent" commission was led by former WADA President, Canadian Dick Pound. Joining him on the commission was Richard McLaren, another Canadian lawyer and a long-standing member of the Court of Arbitration for Sport, as well as Günter Younger, head of department of cybercrime with Bavarian Landeskriminalamt.
So two Canadians and a German made up an "independent" commission that now wants to bar Russia from the marquee event of the upcoming olympics.
Their recommendation: "For 2016 our recommendation is the Russian federation be suspended," Mr. Pound said. "Our hopes is that they will accept that."
What did they find? Well, nobody actually knows as the results are not public. Just take their objective word.
The commission was formed in December of last year and delivered the majority of its findings on Monday. Speaking in a news conference to discuss the results, Mr. Pound said, "It's worse than we thought, it has the effect unlike other forms of corruption in affecting athletes in the field of play."

 

Mr. Pound said the commission is withholding the results of its findings with regard to alleged corruption within the International Association of Athletics Federations, the global governing body of track & field, as the findings of that probe have been turned over to Interpol for review.
Among the report's allegations is that Russian security services interfered with the Moscow doping lab ahead of the Sochi Winter Olympics as part of a conspiracy that involved all levels of Russian sport. During the Sochi Games, Russia pulled off a stunning turnaround from its performance in Vancouver in 2010, where it won 3 gold medals and 15 overall. In 2014 Russia won 13 gold medals and 33 overall, an unprecedented level of improvement.
In other words, just like the world "suddenly" realized FIFA was a hotbed of corruption when it had been clear to everyone for decades, so suddenly now the IOC, which is just as corrupt and criminal as FIFA, has decided to redirect attention from itself and to focus on Russia, killing two birds with one stone, further "isolating" Putin, this time from an activity that actually does matter to most Russians.
That said, considering the 2016 Olympics will be held in Brazil which is at this point in an all out stagflationary depression, and where the athletes are literally swimming in shit, assuming that Rio doesn't cancel the games altogether, this just may be the best possible news for the Russian athletes.
Officials in Moscow had no immediate comment.