It is no secret that January was a bad month for bulls: it was in fact the worst start to the year in years, especially following that surprising last day selloff, which took the YTD drop as of January 30 to an unheard of, at least under global central-planning, -3.1%. It wasn't just the broader market: some of the more marquee hedge funds names also found it a tough time to navigate the transition of global easing away from the Fed to the ECB even as other central banks like the SNB lost all credibility, such as Fortress, Third Point, Perry, Maverick, Brevan Howard and various others, all of which had negative returns for the majority of the month based on HSBC data.
But it wasn't all bad news: in fact, as the table below shows, the January outperformers generated higher relative returns than the worst funds of the month,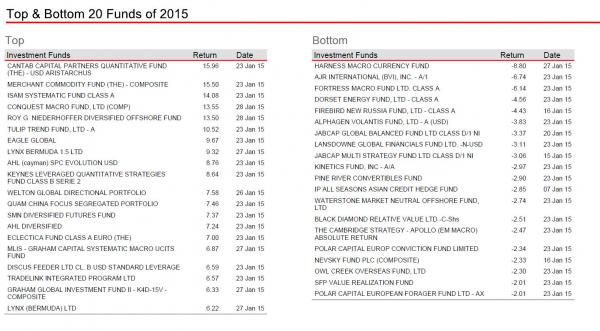 Yes, such new normal blockbuster hedge funds as Keynes Leveraged Quantitative Strategies and the Tulip Trend Fund are the NKI. Something else notable: after suffering in hedge fund purgatory for several years, Hugh Hendry's Eclectica is one of the best performing hedge funds in January, returning 7%. Hopefully there are still assets under management to benefit from hits return.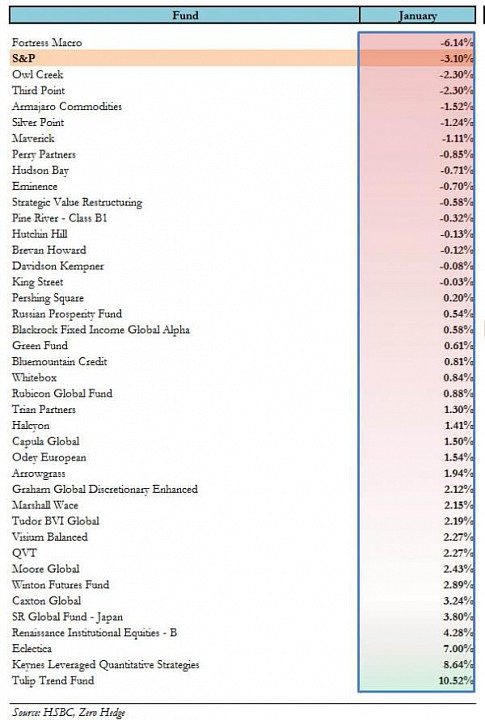 Finally, for those curious, here is Dan Loeb's January performance breakdown.