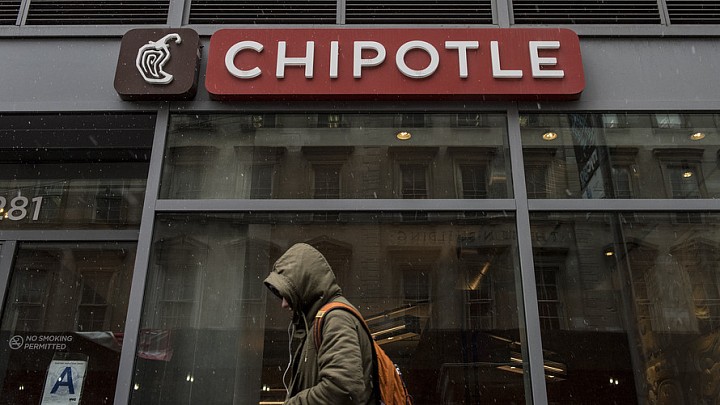 U.S. stock futures on Wednesday largely pointed to a dip at the open, weighed down by selloffs for Chipotle Mexican Grill Inc. and Advanced Micro Devices Inc. after their earnings reports.
What are the main benchmarks doing?
S&P 500 futures ESZ7, -0.10% inched lower by 2.30 points, or 0.1%, to 2,565.00, while Dow Jones Industrial Average futures YMZ7, +0.00% edged higher by 3 points, or less than 0.1%, to 23,406.00. Nasdaq-100 futures NQZ7, -0.16% fell by 9 points, or 0.2%, to 6,070.50.
What are other assets doing?
The dollar DXY, -0.10% was gaining on most of its rivals, with analysts pinning the advance in part on bets that the Federal Reserve's next boss either will pick up the pace with interest-rate hikes or stay the course.
What could drive markets?
September reports on U.S. durable goods orders and new home sales are due at 8:30 a.m. Eastern Time and 10 a.m. Eastern, respectively. Economists polled by MarketWatch expect 0.7% growth for durables and 555,000 homes sold.
No Fed officials are scheduled to speak, but investors are bracing for President Donald Trump's pick to lead the U.S. central bank. Trump on Tuesday asked Senate Republicans who should be the next Fed boss, and Stanford University economist John Taylor reportedly beat out Fed Gov. Jerome Powell. The president is expected to announce his choice before starting a trip to Asia on Nov. 3.
What are analysts saying?
"Given the options that President Trump seems to have in front of him as the next Fed chairman, the dollar has little to fear," said Konstantinos Anthis, an ADS Securities analyst, in a note.
"Both Powell and Taylor are in favor of a tighter monetary policy, albeit at different degrees, but the consensus seems to be that the Fed will continue down the path of more rate hikes in 2018."
Which stocks look like key movers?
Burrito chain Chipotle CMG, +1.20% and chip maker AMD AMD, +1.06% were the S&P 500's two biggest premarket losers, with their stocks falling 9.8% and 9.7%, respectively.
Chipotle posted weaker-than-expected earnings late Tuesday, while AMD's results beat expectations, but investors seemed more concerned about the company's outlook, which may not have been as strong as hoped.
On the upside, Akamai Technologies Inc. AKAM, +0.87% rose 9.8% ahead of the open after the provider of tech services posted better-than-anticipated results late Tuesday.
Shares in Coca-Cola Co. KO, -0.30% , Visa Inc. V, +0.82% , aerospace giant Northrop Grumman Corp. NOC, -0.01% and Walgreens Boots Alliance Inc. WBA, -0.33% could see active trading as they are among the companies expected to post earnings before the open.
More