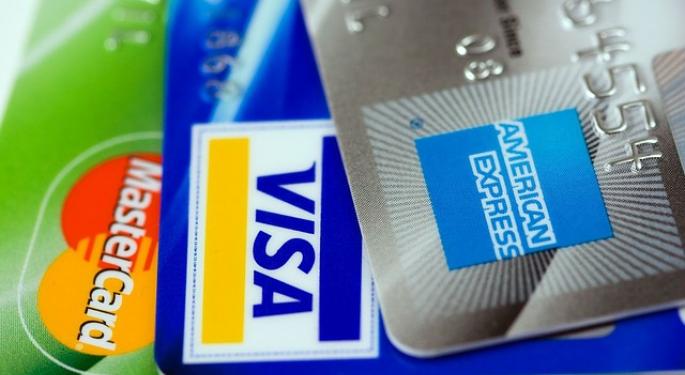 Argus analyst Stephen Biggar has raised the estimates and target price on Visa Inc V 0.77% after it reported better-than-expected third-quarter earnings.
The company's third-quarter adjusted EPS of $0.69, down 7 percent from $0.74 a year earlier, but $0.03 ahead of the consensus as both payment volume and processed transactions accelerated from the second quarter pace. The results were in line with Argus' "more optimistic expectations."
Visa maintained fiscal 2016 guidance for 7–8 percent annual revenue growth (constant dollar), and management sounded optimistic on several trends into the second half of the year.
"We believe that Visa has several catalysts to improve its valuation," Biggar explicated.
The analyst expects cross-border fees to improve on renewed currency volatility, while several recent deals, including Costco Wholesale Corporation COST 0.16% and USAA, will begin to provide results in the second half of 2016.
Biggar noted that Visa's payment volumes should rise due to improving global economic conditions, the continued transition from cash to plastic and rewards program benefits.
In addition, the Visa Europe acquisition creates a company with payment volume of $6.5 trillion (up 33 percent from the volume of Visa Inc. alone) and 2.9 billion cards in force (up 21 percent). The analyst still expects the deal to provide earnings accretion in the first year.
Further, the analyst noted, "[T]he market for payment processors is far from saturated given that 85 percent of the world's retail transactions are still done with cash and checks."
"We expect Visa's earnings to grow at an average 13 percent rate from fiscal 2015 to 2017, which is enviable for a large-cap stock. Even in the absence of P/E multiple expansion, we believe that Visa shares are a compelling investment," Biggar continued.
The analyst raised his fiscal 2016 EPS estimate to $2.90 from $2.87, and hiked his fiscal 2017 EPS estimate to $3.33 from $3.18. Further, Biggar expects constant-dollar revenues to grow at an 11 percent pace in FY16, up from earlier 9 percent forecast, as charge volumes benefit from better U.S. retail spending.
Biggar, who maintains a Buy rating on the stock, raised his price target to $90 from $85.
At the time of writing, shares of Visa gained 0.58 percent to $79.25. The revised price target represents a potential upside of 14 percent over Thursday's close.
Did you like this article? Could it have been improved? Please email feedback@benzinga.com with the story link to let us know!
Date
Firm
Action
From
To
Jul 2016
Barclays
Maintains
Overweight
Jun 2016
Oppenheimer
Maintains
Outperform
Jun 2016
JP Morgan
Upgrades
Not Rated
Overweight
© 2016 Benzinga.com. Benzinga does not provide investment advice. All rights reserved.