On Thursday, August 10th, Khol's KSS will release its second quarter earnings results before the bell. The company is a Zacks Rank 3 (Hold), and have a Value, Growth, and Momentum score of A.
Dave will look at Khol's past earnings, take a look at what is currently going on with the company, and give us his thoughts on their upcoming earnings announcement.
Furthermore, Dave will uncover some potential options trades for investors looking to make a play on Delta ahead of earnings.
Khol's in Focus
Kohl's Corporation operates family oriented, specialty department stores primarily in the Midwest, Mid-Atlantic and Northeast areas of the United States that feature quality, national brand merchandise priced to provide exceptional value to customers. The company's stores sell moderately priced apparel, shoes, accessories and home products targeted to middle-income customers shopping for their families and homes. Kohl's stores feature easily accessible locations, well laid out stores, central checkout and good in-stock.
Khol's is expected to report earnings at $1.17 per share. Khol's reported earnings last quarter at $0.39 per share, beating the Zacks Consensus Estimate by $0.11 last quarter. Khol's has an average surprise of 21.27% over the last 4 quarters.
Kohl's Corporation Price, Consensus and EPS Surprise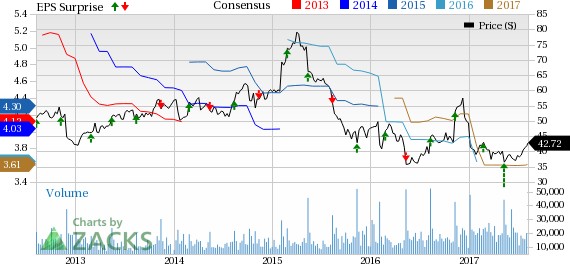 Kohl's Corporation Price, Consensus and EPS Surprise | Kohl's Corporation Quote
Bottom Line
How should investors play Khol'sahead of their earnings report? For insights on the best options trades, then tune in at 1:00pm CST today to see David's thoughts.
Zacks' 10-Minute Stock-Picking Secret

Since 1988, the Zacks system has more than doubled the S&P 500 with an average gain of +25% per year. With compounding, rebalancing, and exclusive of fees, it can turn thousands into millions of dollars.

But here's something even more remarkable: You can master this proven system without going to a single class or seminar. And then you can apply it to your portfolio in as little as 10 minutes a month.

Learn the secret >>
Want the latest recommendations from Zacks Investment Research? Today, you can download 7 Best Stocks for the Next 30 Days.
Click to get this free report
Kohl's Corporation (KSS): Free Stock Analysis Report
To read this article on Zacks.com click here.
Zacks Investment Research