Another Milestone
Number of StockTwit followers @EquityClock exceeded 21,000 yesterday. Previous milestone was set on April 12th at 20,000 followers.
Daily Observations on Markets
A surprisingly muted response by U.S. equity markets yesterday following release of FOMC meeting minutes at 2:00 PM! The Fed Fund rate was maintained at 0.25%-0.50% as expected. Comments by the FOMC were little changed from the previous meeting comment. Strongest response came in the bond market when Treasury prices moved higher. Bond price strength seemed to imply that the Federal Reserve is reluctant to increase the Fed Fund rate at the next meets on June 14th -15th. TLT bounced from an important support level at $126.95.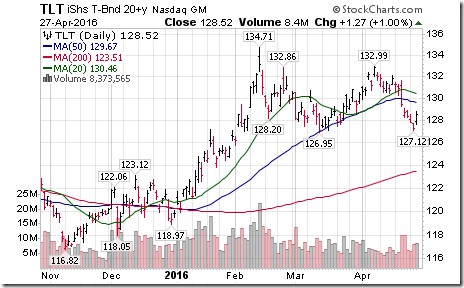 Today is the biggest day for reports by S&P 500 companies: 60 companies are scheduled to report.
Economic focus to day is the first estimate of first quarter U.S. real GDP. Expectations are low with consensus growth at 0.9%
StockTwits Released Yesterday @EquityClock
Sell in May and Go Away or Stay and Play – you decide
Technical action by S&P 500 stocks to 10:00: Mixed. Breakouts: $CINF, $FLS, $AKAM, $ALLE, $JEC, $CNP. Breakdowns: $CMG, $GT, $CHRW.
Nice breakout by Boeing $BA (A DJIA stock) above resistance at $136.78 to extend an intermediate uptrend!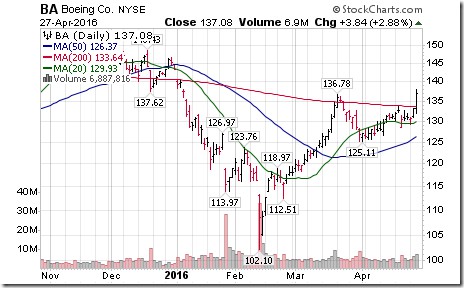 Interesting breakout by Italy iShares $EWI above resistance at $12.67! Europe units continue to move higher!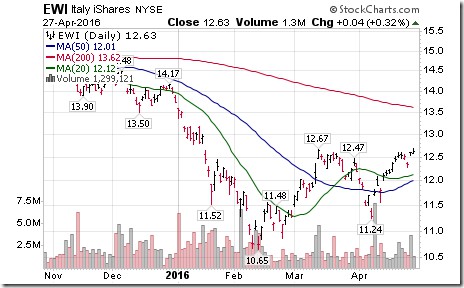 Adrienne Toghraie's "Trader's Coach" column

Declarations
By Adrienne Toghraie, Trader's Coach
How many times have you heard yourself say, "If this happens, this will follow"? While stating and following a declaration can, in many cases, be a good thing, it can also be the very thing that siphons your ability to become a trader. Declarations such as:
· I will stop trading when I lose a certain amount of money
· I will stop trading when I have a certain amount of losses in a row
· I will give trading up if I cannot make a certain amount of profit
· If my trading strategy does not produce the trades, the profits and/or any other
expectations I have for it, I will find another strategy
Following up on these declarations could be what is necessary for you to save yourself from greater loses and a profession that is not right for you. This follow-up will put you in the category of those who have tried and failed in becoming a professional trader.
Ask yourself, if declarations for negative outcomes are a pattern in your life to:
· Protect you from doing damage to yourself and others
· Keep you from losing face
· Keep you in control
· Hold you back from the outcome you really want
Patterns of negative declarations
Bill recalled to me that when he was a young boy his father would say to him. "Okay, you can try this, but if you are not successful, then you must give it up." This is where it started that Bill's biggest dreams and goals would not be realized.
Bill did manage to become a college graduate in engineering, get married and have 2 healthy sons. This life would seem like a success story had it not been for the fact that Bill wanted to study economics and finance. He wanted to marry the girl of his dreams, but quit after she said she was busy on the day he asked her for a date.
Bill was introduced to trading and knew that it was what he wanted to do. His wife gave her support when he showed her his plan. In his plan it stated that he would give up trading if he lost five thousand dollars and continued with other declarative statements that were sure to lead him to failure. He has become a simulation trader.
Positive Declarations
While declarations can keep someone from their dreams and goals, they can be the very thing that will make dreams and goals come true or protect you from going in the wrong direction. Declarations such as:
· Those that help you to change course
· Those that lead you to a progression of each next positive step towards your goals
· Those that assist you to change for the good of all concerned
· When it is the next logical step to take to accomplish a goal
Declaring to become a top trader
For Cliff becoming a top trader was what he knew and wanted to do. Failure was not an option. In his business plan he made declarations such as:
· After my plan and testing are complete, I will simulate trading and will only trade when I have proved to myself that my strategy can earn a profit.
· When I trade in real time, I will only continue if I am able to follow my rules. If I cannot, I will get help.
· When my friends and family let me know that I am stressed out, I will take some time off.
Cliff is enjoying his life as a professional trader.
Conclusion
It is important that the declarations that you make to yourself and the world are ones that will serve to lead you to your goals and dreams. Remember that you are the one who makes the choice in what is being stated and promised. Choose your declarations wisely.
Free Webinars Presented by Adrienne Toghraie
Email for Details – Adrienne@TradingOnTarget.com
CSTA Events
Toronto Chapter
Noon on Tuesday May 3rd
Location: Bloomberg: 161 Bay Street
Speaker: David Cox
Topic: Selling is more important than buying
Register: www.csta.org
Oakville Chapter
7:00 PM on Wednesday May 11th
Location: Oakville Town Hall, Palermo Room
Speaker: Chris Vermeulen
Topic: How to identify short term market tops and bottoms
Register: www.csta.org
Winnipeg Chapter
Winnipeg Technicians Day
Saturday April 30th.
Speakers include Don Vialoux, Colin Cieszynksi, Harold Davis, Allen Hosey and Greg Schnell. Cost is $97 per participant. Register at www.csta.org. See you in Winnipeg
Trader's Corner
Daily Seasonal/Technical Equity Trends for April 27th 2016
Green: Increase from previous day
Red: Decrease from previous day
Daily Seasonal/Technical Commodities Trends for April 27th 2016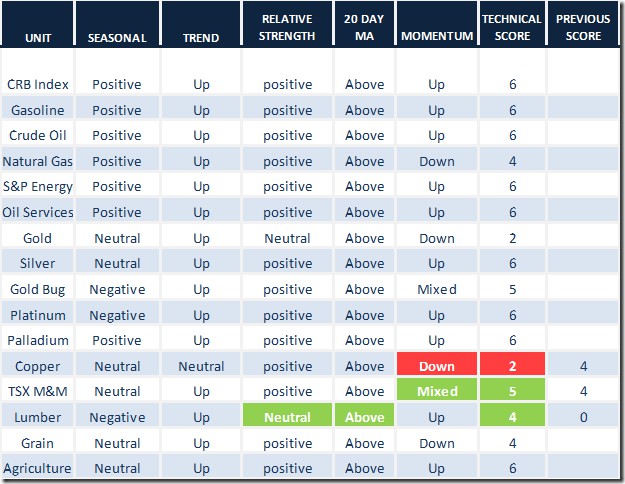 Green: Increase from previous day
Red: Decrease from previous day
Daily Seasonal/Technical Sector Trends for March April 27th 2016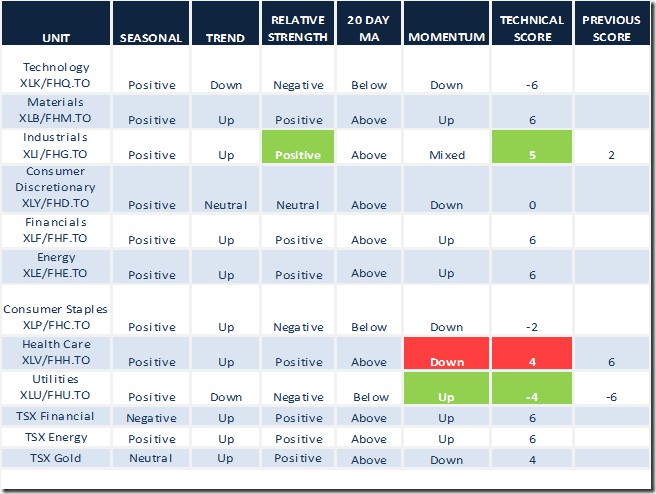 Green: Increase from previous day
Red: Decrease from previous day
S&P 500 Momentum Barometer
Barometer recovered 2.80% to 80.80 yesterday. It remains intermediate overbought and rolling over.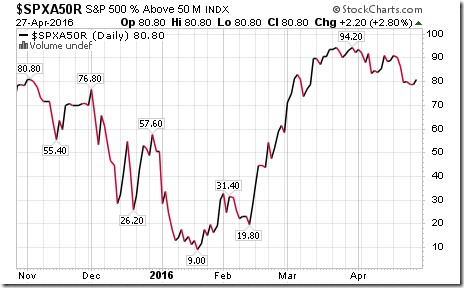 TSX Momentum Barometer
Barometer recovered 3.37% to 79.31 yesterday. It remains intermediate overbought and rolling over.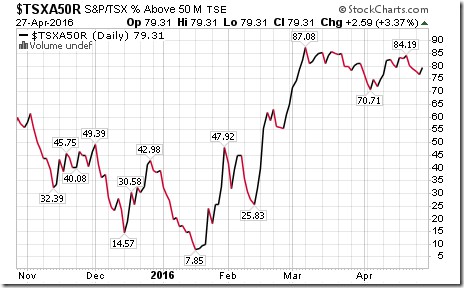 Special Free Services available through www.equityclock.com
Equityclock.com is offering free access to a data base showing seasonal studies on individual stocks and sectors. The data base holds seasonality studies on over 1000 big and moderate cap securities and indices. To login, simply go to http://www.equityclock.com/charts/ Following is an example: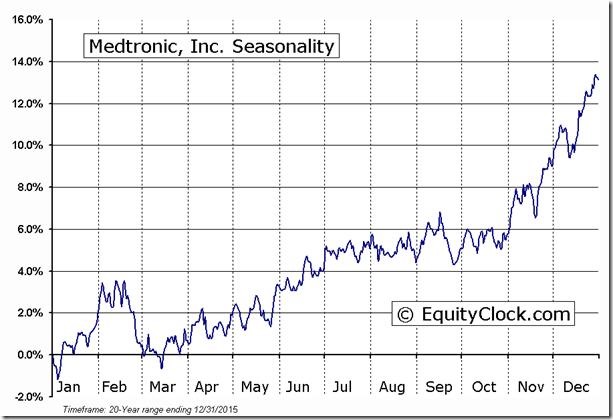 Disclaimer: Seasonality and technical ratings offered in this report by www.timingthemarket.ca and www.equityclock.com are for information only. They should not be considered as advice to purchase or to sell mentioned securities. Data offered in this report is believed to be accurate, but is not guaranteed