Nielsen Holdings plc's NLSN Data Management Platform (DMP) will now power Panoply Media's Megaphone Targeted Marketplace.
The measurement leader announced yesterday that it is helping Panoply Media as it forays into podcast advertising by providing advanced consumer insights and audience segmentation. Panoply's advertising partners can now use Nielsen's DMP and Panoply's Megaphone Targeted Marketplace to target specific podcast audience through more effective advertising messages.
Another Attempt to Boost Revenues
The move is another attempt by Nielsen to expand its client base by utilizing its strong position in viewership data and analytics across media and advertising industries.
We believe the move will help Nielsen boost its Watch segment revenues. The segment provides viewership and listening data and analytics across television, radio, online and mobile screens, primarily to media and advertising industries. The performance of the segment was particularly strong in the last quarter.
In the last quarter, Watch business revenues totaled $769 million (50.4% of first quarter revenues), up 10.8% year over year and 11.1% at constant currency. The rise came on the back of continued strength in Audience Measurement and Marketing Effectiveness, which improved 13.3% and 14%, respectively, on a constant currency basis.
Nielsen N.V. Revenue (TTM)
Excluding the acquisition of Gracenote, Watch revenues increased 5.9% or 6.2% at constant currency.
The strengthening of the Watch segment could boost its share price performance. We note that the stock has declined 31.1% in the last one year. This is in contrast to the Zacks Business - Information Services industry's gain of roughly 0.3%.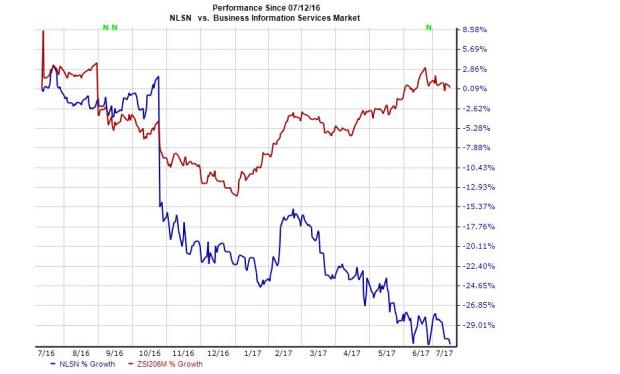 Panoply Eyes First Mover Advantage
Panoply is now better equipped with Nielsen's proven marketing cloud application that boosts deep-level data, data management capacities and consumer analytics.
DMP gives Panoply the power to better connect with listeners. In addition, the company now has access to Nielsen's audience data that help advertisers tap prospective customers based on listening interest, media consumption habit, demographics, psychographics, mobile and online behavior.
According to Jason Cox, Panoply's chief technical officer (CTO), The Panoply Megaphone Targeted Marketplace will now be able to build detailed, anonymized profiles of listeners across a wide range of shows."
All these capacities give Panoply the first mover advantage in the podcast advertising space.
Zacks Rank and Stocks to Consider
Currently, Nielsen is a Zacks Rank #3 (Hold) stock. Better-ranked stocks in the broader technology sector include Applied Materials AMAT, MiX Telematics MIXT and Alibaba BABA, each sporting a Zacks Rank #1 (Strong Buy). You can see the complete list of today's Zacks #1 Rank stocks here.
The long-term expected earnings per share growth rates for Applied Materials, MiX Telematics and Alibaba are a respective 16.6%, 20% and 30.4%.
More Stock News: 8 Companies Verge on Apple-Like Run
Did you miss Apple's 9X stock explosion after they launched their iPhone in 2007? Now 2017 looks to be a pivotal year to get in on another emerging technology expected to rock the market. Demand could soar from almost nothing to $42 billion by 2025. Reports suggest it could save 10 million lives per decade which could in turn save $200 billion in U.S. healthcare costs.
A bonus Zacks Special Report names this breakthrough and the 8 best stocks to exploit it. Like Apple in 2007, these companies are already strong and coiling for potential mega-gains. Click to see them right now >>
Want the latest recommendations from Zacks Investment Research? Today, you can download 7 Best Stocks for the Next 30 Days.
Click to get this free report
Nielsen N.V. (NLSN): Free Stock Analysis Report
Alibaba Group Holding Limited (BABA): Free Stock Analysis Report
MiX Telematics Limited (MIXT): Free Stock Analysis Report
Applied Materials, Inc. (AMAT): Free Stock Analysis Report
To read this article on Zacks.com click here.