The Federal Reserve held interest rates between 0 and 0.50%, while giving no new guidance on its plan to raise interest rates. The market generally believes that the FOMC will vote for a rate hike in December. However, the latest Fed statement did not provide any new clues for this prospect. 
"The FOMC did not break new ground and the statement was as widely expected. It indicated that the case for a hike continued to strengthen. It kept the risk assessment balanced, but drop the reference to inflation staying low over the near-term. In September there were three dissents. This time there were two (George and Mester). The US dollar seemed little affected by the news. It remains broadly lower on the day. Equities slumped." (marctomarkets.com)
At least the FOMC did NOT walk back on its plan to raise rates "soon". 
The market digested the news first with some USD-buying. But as the 11/3 Asian session began, we saw a general retreat in the USD. The USD/JPY for example fell further 103 after the start of the 11/3 session. I noted in a previous USD/JPY update that a break below 104.30 would open up the 103 level. Indeed since breaking below 104.30 earlier in the week, USD/JPY has been in a free fall that has pushed below 103. 

USD/JPY 4H chart 11/3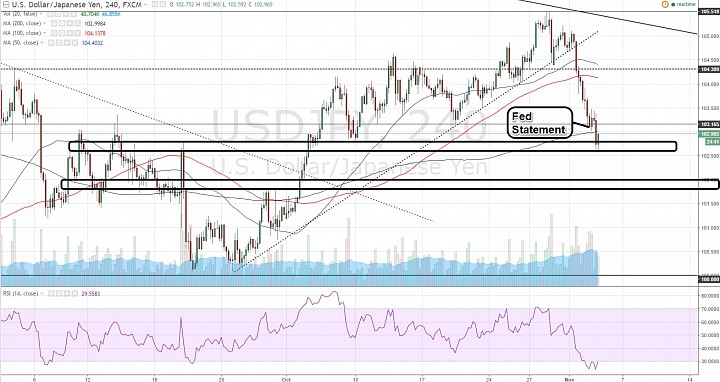 (click to enlarge)
Support just under 103:
- Price broke the 103 handle, but found support ahead of the 11/3 US session. The technical picture is still bearish, but I think USD/JPY has entered a support area. 
- I would like to see some further evidence of bottoming before looking for a rally back to 104 as well as the 105.50 high. 
FOMC vs. BoJ:
- The latest Fed statement left the market hanging on whether the FOMC will vote for a December rate hike.
- Still, the FOMC is hawkish relative to the BoJ, and appears to be moving faster towards the rate hike campaign, whereas the BoJ still hasn't ruled out the need for further monetary stimulus. 
- In my opinion, this divergence should provide upwards pressure for the USD/JPY. 
With my fundamental bias being bullish, and the technical picture starting to look more bullish in the medium-term, I am honed in on the buy-on-a-dip strategy for USD/JPY.