Single-family rents, as measured by the CoreLogic Single-Family Repeat Rent Index (SFRI), climbed steadily between 2010 and 2016. However, as CoreLogic reported last week, rent growth has seen a material decline during the last 18 months. The index shows that rent growth has been slowly decelerating (Figure 1) since February 2016 when it peaked at a 4.3% year-over-year increase. As of May 2017, single-family rents increased 2.9% year over year, a 1.4% point deceleration since the February 2016 peak. The index measures rent changes among single-family rental homes, including condominiums, using a repeat-rent analysis to measure the same rental properties over time.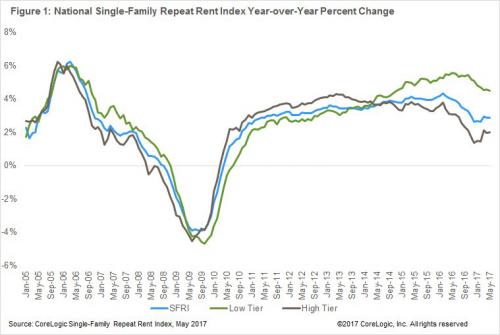 Corelogic's analysis of the value tiers of the index reveals important differences.
Figure 1 shows that the index's overall growth was pulled down by the high-end rental market, defined as properties with rent amounts of 125% or more of a region's median rent. Rents on higher-priced rental homes increased 2% year over year in May 2017, down from a gain of 3.1% in May 2016. Growth in the low-end market, defined as properties with rents less than 75% of the regional median rent, increased 4.5% in May 2017, down from a gain of 5.6% in May 2016.
Rent growth varies significantly across metro areas and over time. Figure 2 shows the year-over-year change in the repeat rent index for 20 large metro areas in May 2017.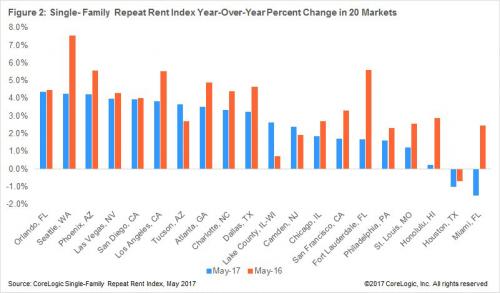 Figure 3 shows the relationship between the index growth and rental vacancy rates for 37 metro areas in Q1 2017.

Cities with limited new construction and strong local economies that attract new employees to the market tend to have low rental vacancy rates and stronger rent growth. Seattle experienced 5.4% rent growth year over year in Q1 2017 2 , driven by strong employment growth of more than 3% year over year and rental vacancy rates of 1.9 percent in Q1 2017, about 5 percentage points lower than the 7% national single-family rental home vacancy rate.
In contrast, Houston, which has been hit with energy-related job losses since early 2015 and a rental vacancy rate of 11.3% in Q1 2017, experienced a 1.8% year-over-year decrease in rents according to CoreLogic data.