Twitter reported its earnings yesterday and the stock plummeted more than 12% after-hours. Twitter's stock keeps going down today, it lost more than 13% of its yesterday's value. The main reason why the stock went so low is missing the revenue estimates. However, Twitter improved EPS, it wasn't enough. However, missing the analysts estimates means almost nothing if you don't run your own numbers. I was a bit more optimistic regarding Twitter for Q2 regarding revenue than other analysts, but now I understand that it was too early. 
Operating and financial metrics
Twitter's revenue in Q2 was around $602M in total: $534.5M came from advertising, $67.5M is other revenue. It's just 1% higher than they had in Q1 this year, but it's 20% higher on y-o-y basis. This is significantly lower than 36% y-o-y growth in Q1 this year, but don't forget that this is double-digit growth. 
The most important metric for me is operating margin per user because it shows how efficient the company is operating. In order to calculate the average operating margin, ARPU (average revenue per user) should be defined.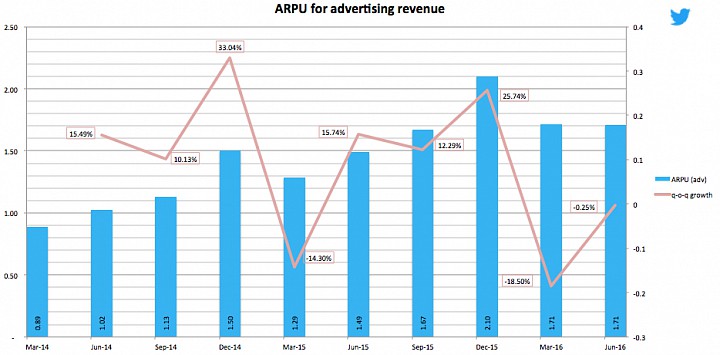 As we can see, there is almost no change in ARPU this quarter compared to the previous one. However, if you take a look at 2015 year, Twitter increased it's ARPU in Q2 FY2015 by more than 15%. I was expecting that Twitter will be able to provide a small ARPU growth this quarter because historically it was improving its average revenue in Q2 and Q4. Before making any decisions whether this unchanged ARPU is good or bad, it's better to analyze other factors, especially margins. 
Twitter's management worked on cost optimization this quarter and we can see some results in 2.3% growth of cost of revenue growth compared to the previous quarter, less than .2% growth in sales and marketing expenses. However, G&A increased by 11% which creates a level of uncertainty if this increase is temporary or not. 
Product development expenses went up almost 15%, but it could be explained by the development of live-streaming services and this is definitely a positive factor. NBA, MLB and NHL partnered with Twitter to stream some of the games online. That's a huge step not only for all the leagues, but for Twitter as well. There are a number of native video advertising solutions that Twitter could implement during the live-streaming to earn an extra revenue. I think that this definitely is a huge improvement for Twitter, and this is a rare case when Twitter left Facebook behind. 
Average operating profit per user - there are a few concerns regarding this metric: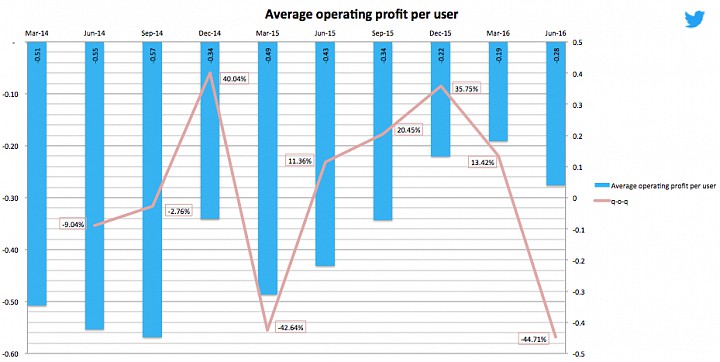 As you can see from this chart, operating profit dropped more than 44% in Q2 compared to Q1, however it's still really close to the breakeven. During 2015 fiscal year, Twitter increased this metric from -49c to -22c representing more than 50% growth rate. In Q1 the company was slowly moving to reach this operating breakeven at least per each user, but the mission was completely failed in Q2. We should remember that this negative margin is just 30c below water line and is the third best result over the last 10 quarters. 
Conclusion
Twitter remains a risky stock, however, I see some positive changes - ARPU is stable, new contracts with MLB, NBA and NHL that have all the potential to increase Twitter's revenue in Q3-Q4 this year. After such a significant drop, I think I'd buy a few Twitter's call options. Twitter's investors should keep the patience, Twitter is really close to the breakthrough.