Indonesia, once the biggest oil producer in Southeast Asia, is giving up on its target of restoring output to 1 million barrels a day even as operations begin at the Cepu block in Central Java.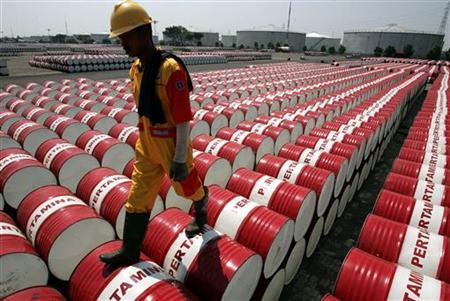 New projects will add little to Indonesia's reserves, while output from aging fields will continue to decline, Deputy Energy and Mineral Resources Minister Susilo Siswoutomo said at this week's inauguration of Cepu block, operated by a unit of ExxonMobil Corp.. Without more exploration, Indonesia's oil production may fall to 600,000 barrels a day in 2020, he said.
Indonesia, a former member of the Organization of Petroleum Exporting Countries, set a target in 2012 of restoring output to 1 million barrels a day by 2014. The country's crude production has dropped more than 50 percent since the mid-1990s as shifting regulations and complicated permits deter investments in new fields.
"Even if we held massive prayers to ask for help, God won't increase production straight from 850,000 to 1 million," Siswoutomo said. "If we don't drill, we won't get oil."
Falling oil prices are also working against Indonesia. Brent crude for November plunged as much as 2.2 percent to $88.11 a barrel, the lowest intraday price in almost four years, on the London-based ICE Futures Europe exchange.
The Banyu Urip field at the Cepu block on the Indonesia's island of Java will have peak production of 165,000 barrels a day from 49 wells, according to data from Mobil Cepu. The Cepu oil and gas block is 45 percent owned by Mobil Cepu and Ampolex Cepu Pte Ltd., 45 percent by Pertamina EP Cepu Pt., and 10 percent by the Cepu Block Cooperation Body. The block's production sharing contract will expire in 2035.
Ramping Up
The block may not be able to reach peak output by the initial target of April 2015, Zudaldi Rafdi, a spokesman at country's oil and gas upstream regulator SKK Migas, said on Aug. 7. The block is the biggest among 23 oil and gas projects that will come online next year, according SKK Migas data.
Cepu will increase production to reach peak output in the third quarter of 2015, Interim Energy and Mineral Resources Minister Chairul Tanjung said Oct 8. The field currently has production capacity of 40,000 barrels a day, according to SKK Migas.
The government is trying to make it easier for investors to get permits needed for exploration and production of oil and gas, said J. Widjonarko, acting head of SKK Migas said. Indonesia, which now has 289 permits for oil and gas, plans to reduce that to 69, Widjonarko said.