After the so-called "Trump Bump," could a Santa Claus rally be on the way? Stocks again seemed poised to achieve new record highs early Friday as the holiday shopping season began in earnest.
First indications from "Black Friday" sales raging around the country this Thanksgiving sound positive, with online sales reaching $1.15 billion, MarketWatch reported. That's up 13.6% from last year. Some of the popular bargain items this year include tablets and toys. Additionally, video games, TVs, and appliances rang up the discounts, MarketWatch said. And according to the National Retail Federation, holiday sales are expected to increase 3.6% to $655.8 billion this year, slightly higher than the seven-year average of 3.4%.
Discount and online retailers seem to be doing well so far, according to media reports. And traditional department stores appear to be holding their own, as well. So-called "Cyber Monday" looms after the weekend, so online retailers may remain in focus. But traditional retailers with a good online presence could also be able to compete.
Back on Wall Street and away from the shopping frenzy, things look less exciting. Today appears sluggish from an economic data standpoint, and the stock market is set to close at 1 p.m. ET, three hours earlier than usual. That means trading might be slightly tepid, with a low-volume, holiday-type of tone. Technical resistance for the S&P 500 Index (SPX) remains near the 2219 level.
Investors might also want to keep an eye on Treasury yields, which remain near 16-month highs. The strength in yields could continue having an effect on interest rate-sensitive sectors.
Asian stocks climbed early Friday, but European stocks recently traded a touch lower. The dollar touched an eight-month high vs. the yen. Oil futures continued to see some pressure, falling nearly 1%, down toward the $47 a barrel level. OPEC's meeting next week could mean some volatile trading in the oil pits heading into the weekend and as futures trading gets started heading into next week.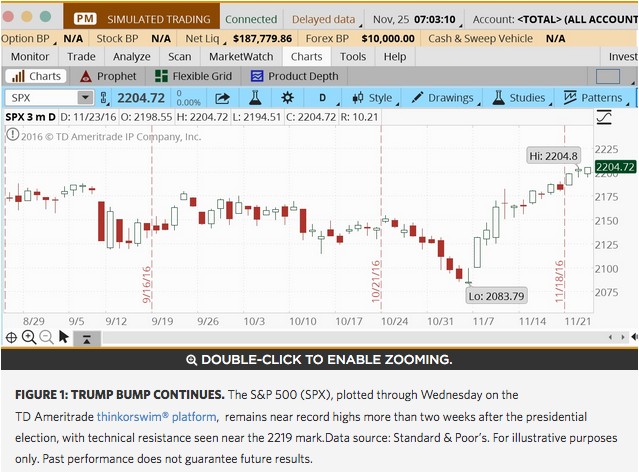 Need Weekend Entertainment? Watch Oil Futures: Anyone not interested in watching football this holiday weekend has other options, among them watching crude oil futures as we approach the Nov. 30 OPEC meeting. The oil market has been choppy lately, and oil volatility, tracked by the CBOE's OVX, is up sharply over the next month, reflecting, to some extent, uncertainty about OPEC's production plans. Oil futures have been creeping back toward $50 a barrel, and that represents resistance, with technical support at $46. Some questions to watch over the weekend: Does there seem to be the outline of an OPEC production cut agreement? And what are the details? Can they be worked out? Crude oil futures could help drive the stock market higher (or lower) depending on the OPEC meeting's results.
Retailers Take Center Stage: It's "Black Friday," meaning attention might turn to retailers like Wal-Mart Stores, Inc.WMT 0.58%, Best Buy Co Inc BBY 0.81%, Amazon.com, Inc. AMZN 0.05%, and Target Corporation TGT 0.17%, among others. Retail sales kicked up in October, and Halloween sales also looked pretty solid, which could point toward a strong winter holiday shopping season. Job growth has also been relatively healthy of late, another factor that could play into holiday sales. Jobless claims stayed below 300,000 last week for the 90th-consecutive week, the longest stretch in more than 45 years. We'll get further insight on the jobs climate at the end of next week when November Non-farm payrolls data roll in, and that could provide more clues as to just how well-equipped consumers might be for those shopping expeditions.
Anybody Out There? It's a half-day, and trading tends to be slow in the session between Thanksgiving and the weekend. In fact, this often tends to be one of the slowest sessions of the year. So anyone tempted to sit back and enjoy some leftovers rather than watch Wall Street can hardly be blamed. Next week should get more interesting, with plenty of data ahead.
The following article is from one of our external contributors. It does not represent the opinion of Benzinga and has not been edited.
© 2016 Benzinga.com. Benzinga does not provide investment advice. All rights reserved.