Summary
SunEdison's revised forecast and a more conservative outlook reduces investor concerns.
The Company is far too optimistic about solar asset values and we expect that a further pruning of the pipeline would be necessary.
While there is still much that is unknown, the devco cash flows suggest the Company deserves a higher valuation.
SunEdison (NYSE:SUNE) held an investor presentation on Wednesday to give a business update in light of several material changes in the business climate. As we have written earlier, the Company had a tall hill to climb in convincing investors that SunEdison has a great future and is a good investment at the current level.
The Company needed to achieve several goals in today's presentation including:
- Convincing investors that it has a viable business model at the current level of yields
- Alleviate any default of cash flow concerns
- Show investors a path to positive operational cash flow in the very short term
- Reduce backlog/pipeline levels to a level consistent with forecasted cashflow
- Allay investor concerns about the acquisition binge and tell investors, what steps, if any, the Company is taking to mitigate risk
- Give some color on the fallout of Latin American Power deal as well as any other deals that have not consummated or are not likely to consummate
- Clearly communicate the costs and downside impact of all the negative actions afoot including employment terminations, deal terminations and any other legal liabilities.
- Communicate margins going forward with and without Yieldco sales.
- Communicate how the drop down expectations have changed from TERP and GLBL perspective
- Show a path forward for TerraForm Power (NASDAQ:TERP) and TerraForm Global (NASDAQ:GLBL) in the current yield environment
- Communicate the long term business models of SUNE as well as TERP and GLBL
- Preferably dump Vivint Solar (NYSE:VSLR) acquisition or explain to stockholders why this acquisition makes any sense
In terms of the positives, we believe the management did a good job of addressed the margin loan issue and laying out a case for how it has the financing necessary to meet its revised commitments. The Company directly addressed the major issues by providing a breakdown of the debt maturity along with anticipated 2016 cash flow (image below)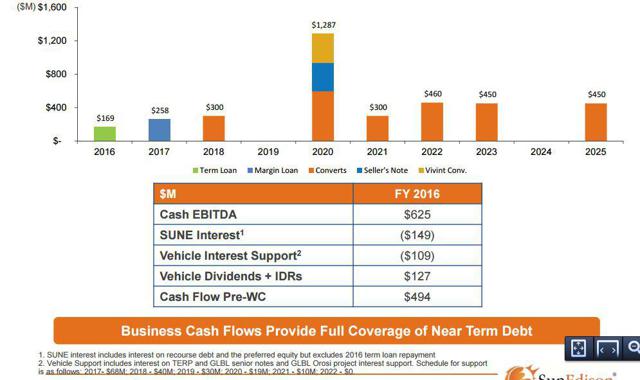 By laying out this vivid image, we believe that the Company has done enough to satisfy most investor concerns about liquidity and we expect that this topic will be now largely off the table.
In terms of the operating model, the Company communicated that it had made several changes to put itself on a more sustainable path in light of the current YieldCo realities. These changes include:
- Revised guidance of 3.3 to 3.7 MW for 2016 compared to earlier outlook of 4.2 to 4.5GW - a net drop of about 600MW or about 14%
- Increased third...
More