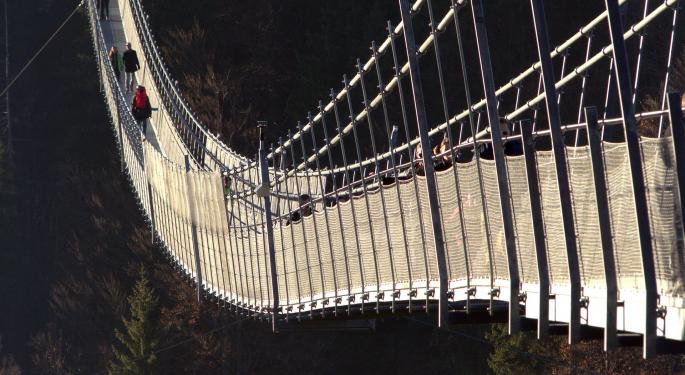 Citi's Andrew Kaplowitz expressed disappointment regarding the contract signed between Chicago Bridge & Iron Company N.V. CBI 0.17% and Westinghouse.
Kaplowitz downgraded the rating on Chicago Bridge & Iron from Buy to Neutral, while lowering the price target from $48 to $38.
A Disappointing Deal
The analyst had expected "strong and potentially better-than-expected cash generation post the signed nuclear deal with Westinghouse would drive CBI's valuation higher over time, even with expectedly weak bookings."
However, Kaplowitz pointed out that contrary to expectations, the deal does not allow for 100 percent indemnification of the company, associated with any future earnings or cash impact from "troublesome" new nuclear construction projects.
"With a hearing on CBI's filed complaint not expected for at least a couple of months, and despite our view that CBI likely has good ground to stand on that it shouldn't owe WEC anything, we move to the sidelines for now," the analyst stated.
Overhang On The Stock
The analyst believes there is a very low possibility, although not zero, of a potentially over $2 billion payout to Westinghouse from Chicago Bridge & Iron as part of the deal for working capital "true up," which could lead to an overhang on the latter's stock.
"We do believe CBI wrote a strong contract with WEC and in fact, CBI preemptively filed a claim saying that WEC was abusing the post-closing accounting true-up mechanism," Kaplowitz said.
Did you like this article? Could it have been improved? Please email feedback@benzinga.com with the story link to let us know!
| Date | Firm | Action | From | To |
| --- | --- | --- | --- | --- |
| Jul 2016 | Citigroup | Downgrades | Buy | Neutral |
| Jul 2016 | Baird | Downgrades | Buy | Neutral |
| May 2016 | Johnson Rice | Upgrades | Accumulate | Buy |
© 2016 Benzinga.com. Benzinga does not provide investment advice. All rights reserved.