When a high level executive is buying or selling shares in their company, it is often for a reason that the investing public doesn't know yet. TipRanks' Insider Trading Stock Strategies provides users with a breakdown of the different approaches based on detected insider activity.
TipRanks has identified four major investing trends based on insider trading activity.
C-Level Strategy shows what officers only are buying or selling.
Transaction Strategy tracks the trend of trend of buy or sell transactions by all
Major Event Strategy charts activity around a significant institutional transactional event.
Top Ranked Strategy displays what top-ranked insiders are acquiring or shedding.
Let's take a look at stocks shown in one of those investing trends.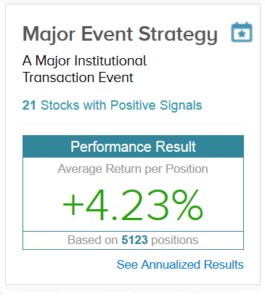 Shares of 21 companies are trending, showing Strong Positive stock insider signals, when filtering on TipRanks using Major Event Strategy.  A closer look shows that a number of those insider trending stocks have seen double-digit price declines in the last three months.
Global Water Resources Inc (GWRI) shares have been purchased by director and owner William S. Levine in three separate transactions in the past 14 days, after the share price fell by 13% in the previous 90 days. Similarly, Terrapin 3 Acquisition (TRTLU) director and owner Nathan Leight made two purchases of the company's shares in the past week, after the price declined more than 10% in the last three months. Sears Hometown (SHOS) shares lost 27% before owner Edward Lampert made an informative buy of 14,360 shares.
Corporate insiders, along with board members and 10% shareholders of publicly traded companies, are required to submit a report of all transactions to the SEC within two working days. Each trend indicates a positive or negative signal about the stock.
See for yourself which Insiders are buying and selling by using the Daily Insider Transactions tool on TipRanks.
The post Four Strategies Show Insider Trends appeared first on TipRanks Blog.