Summary
Conoco expects $500 million less in capex this year, much of that difference likely coming from deepwater exploration activity.
Management can reduce capex from $11 billion to just $8 billion, and still keep production flat.
Conoco remains one of the best prepared for this downturn among major E&Ps.
ConocoPhillips (NYSE:COP) reported second quarter earnings last week and had a lot to talk about. Crude oil prices have dropped across the board, and West Texas Intermediate is threatening to test its March lows. The big question on investors' minds is what E&P companies are doing about these low oil prices. I've yet to listen to Chevron's (NYSE:CVX) conference call, but I have listened to Exxon's (NYSE:XOM) and, unsurprisingly, Exxon is continuing its major projects with a 'long-term' view. Conoco, on the other hand, is taking action in the face of these low crude oil prices.
A couple weeks ago, Conoco announced it was canceling a deepwater rig contract with Ensco Plc (NYSE:ESV). In this latest conference call, management announced drops in capital expenditure and a drop in operating costs. CEO Ryan Lance adamantly claimed, despite a continued funding gap, that the dividend was safe. This article looks at Conoco's recent actions and its new expectations going forward. It's no mistake that Conoco has been able to substantially reduce its expenditure while many of the company's peers have been caught in a spending straitjacket, so to speak.
Capex flexibility
Regarding capital expenditure, Conoco made two very significant announcements during the 2Q conference call. First, management reduced capex guidance from $11.5 billion to $11 billion in 2015, and did so without changing its plan for 2-3% production growth. This decrease is largely due to cuts in exploration spending. Exploration usually doesn't affect production until a few years down the line, so these capital expenditure cuts won't seriously affect this year's production, or even next year's production. Another part of this decrease came from persistent cost deflation on the part of service providers.
(click to enlarge)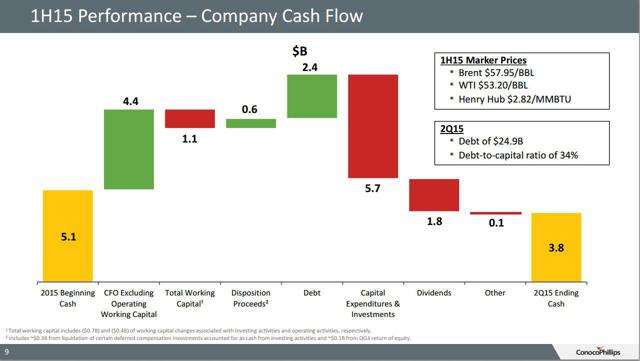 First half 2015 sources and uses of cash. Courtesy of ConocoPhillips Investor Relations.
As you can see above, Conoco is unable to fund its capex and dividend from cash flow alone. You might wonder, at these oil prices, why Conoco would even bother to grow crude oil production. Well, management has a plan for that, too. If crude oil prices don't improve much, Conoco can drive capex down to just $8 billion. Either way, Conoco looks to achieve cash flow neutrality by 2017 at as low as $60 Brent. It will take awhile to achieve cash flow neutrality because the company is still working on several 'major projects' through this year and next.
Following the completion of those projects, Conoco will have a great deal more financial flexibility. In order for Conoco to fully pay its dividend, however, Brent Crude will have to rise to $75 by 2017. I continue to believe that is a reasonable price forecast, but this risk is one that income investors must consider.
Process improvements
Like most E&Ps, Conoco is now benefiting from service cost deflation. Most good E&Ps are also benefiting from process improvements in addition to cost deflation. Conoco is no exception. This quarter, Conoco lowered its operational cost guidance from $9.2 billion to $8.9 billion. Overall, Conoco delivered 4% production growth while operational costs declined 14% year-on-year. Conoco's big picture plan is to reduce operational expenses by $1 billion. At this rate, Conoco should meet and exceed that goal in 2015.
What separates Conoco from others
Many E&P companies have the short-cycle asset flexibility that Conoco does, but few of them have access to capital markets like E&P majors such as Conoco do. This quarter, for example, Conoco tapped the unsecured bond markets for $2.5 billion at an average rate of 1.9%. These generous debt terms are usually reserved for major, independent E&Ps and 'supermajors.' And yet, most of the supermajors have their capital tied into multi-year 'mega projects.' This gives Conoco a unique proposition to investors, doubly so because of the company's world-class holdings in the Eagle Ford Shale.
Conclusion
Unlike most of its peers, Conoco can do many things to adjust to the current bear market in crude oil. On July 1, I wrote that Conoco was a good buy, and given the stock's action since then, I believe Conoco to be even more of a buy today. While Conoco's plans are certainly hampered by these low crude oil prices, I believe the company is one of the best-prepared E&Ps out there.
More