There is nothing new to take away from today's FOMC statement. It's economic projection, released 4 times a year, did not shift neither, though there was a slight "downgrading" in forecast of employment and inflation. In Q3, we have indeed seen some slowing of job growth, while we did see a slight uptick in inflation. 
Plosser and Fisher are the dissents who believe the FOMC should be raising rates earlier mainly due to their concern with inflation. 
The committee kept the federal funds rate near 0.0%. It reduced QE from $25B to $15B. It is expected to be completely removed in October.
In similar language to the July statement, Janet Yellen noted, "The Committee continues to anticipate, based on its assessment of these factors, that it likely will be appropriate to maintain the current target range for the federal funds rate for a considerable time after the asset purchase program ends..."
Here is the FOMC's dot plot, each dot representing rate projections of current voting members of the committee: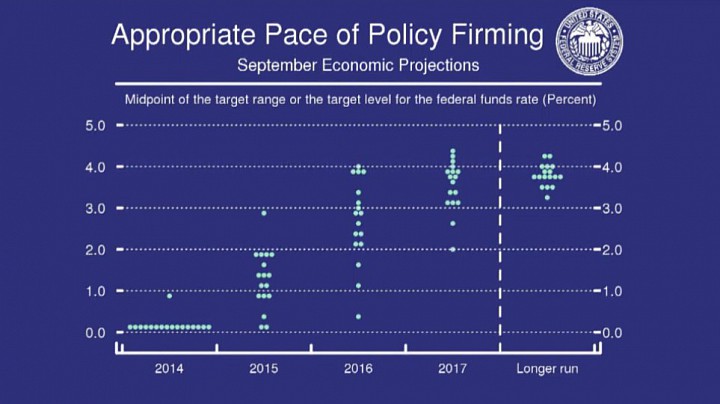 (source: FOMC Economic Projection; click to enlarge) 
The time-line of the first rate hike remains centered at mid-2015. We did have 2 dissents from Fisher and Plosser, but they have always voiced their suggestion of an earlier rate hike due to concerns that inflation is going to ramp up faster than expected.

The market reacted by buying up the USD. True - the statement was not hawkish. However, the USD was already strong, and is merely continuing its trend unimpeded because the statement was not dovish. The bank's projections for rate hike was not dragged by recent downgrade in economic projection. Whatever the reason it, the USDX still looks bullish in the 4H Chart, based the moving averages, the RSI, and the fact price is making fresh highs on the year after breaking a flag pattern (just minutes after the screenshot was posted below).

USD Index 9/17 4H Chart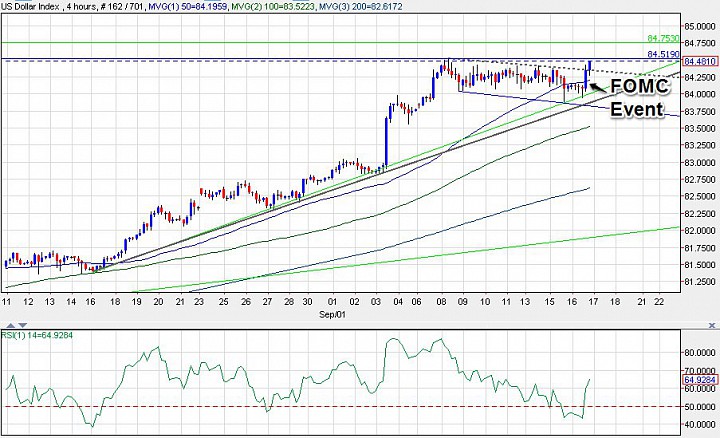 (click to enlarge)

It should be noted that there is a 2013-high at 84.75. Although USD strength has momentum from a technical perspective, we might want to expect some consolidation as price approaches the 84.75 area since we did NOT get a hawkish FOMC statement.

If the USDX falls back below 84.00, we can consider a possible consolidation or bearish correction scenario.

USD Index 9/17 Weekly Chart