American Axle & Manufacturing Holdings Inc. AXL posted adjusted earnings of 99 cents per share for the second quarter, thereby beating the Zacks Consensus Estimate of 86 cents. Earnings increased from 90 cents recorded in the second quarter of 2016. The reported figure excludes the impact of debt-restructuring, acquisition costs and non-recurring items, including the tax effect.

The company reported net income of $66.2 million or 59 cents per share in the second quarter of 2017 compared with $71 million or 90 cents per share in the year-ago quarter.

Revenues increased to $1.76 billion in the reported quarter from the year-ago figure of $1.03 billion. However, the top line marginally missed the Zacks Consensus Estimate by 0.2%.

For the reported period, American Axle's SG&A (Selling, General & Administrative) expenses were $105.6 million, in comparison to $78.7 million in the prior-year quarter.

Gross profit increased to $316.4 million in second-quarter 2017 from $191.4 million in the prior-year quarter. Operating income significantly increased to $134.3 million from $11.5 million a year ago.
American Axle & Manufacturing Holdings, Inc. Price, Consensus and EPS Surprise
Acquisition

In Apr 2017, the company completed the acquisition of Metaldyne Performance Group Inc. This buyout will help American Axle reduce its reliance on General Motors, one of its largest customers.

Financial Position

American Axle had cash and cash equivalents of $490.6 million as of Jun 30, 2017, up from $481.2 million as of Dec 31, 2016. Long-term debt was $4.2 billion as of Mar 31, 2017 compared with $1.4 billion on Dec 31, 2016.

Cash flow from operations in second-quarter 2017 was $150.9 million. For the same quarter a year ago, net capital spending of the company was hugely $348.9 million. American Axle's free cash flow for the second quarter was $47.9 million, whereas adjusted free cash flow for the same period was way above at $141.6 million, excluding the impact of cash payments for restructuring and acquisition-related costs and settlements of pre-existing accounts payable balances with acquired entities.

2017 Outlook

For fiscal 2017, the company reiterated its sales expectation to be approximately $6.1 billion, higher than $3.95 billion recorded in 2016. This projection is based on the launch of programs in the company's new and incremental business backlog. The company also assumes that the U.S. industry sales on a seasonally adjusted annualized rate (SAAR) basis will be around 17 million light vehicle units in 2017.

Earnings before income taxes, depreciation and amortization (EBITDA) margin will likely be in the range of 17–18% in 2017. American Axle expects adjusted free cash to be approximately 5% of sales in 2017. In addition, capital spending will be around 8% of sales this year.

Price Performance

American Axle's shares have lost 12.1% in the last three months, underperforming the 8% gain of the industry it belongs to.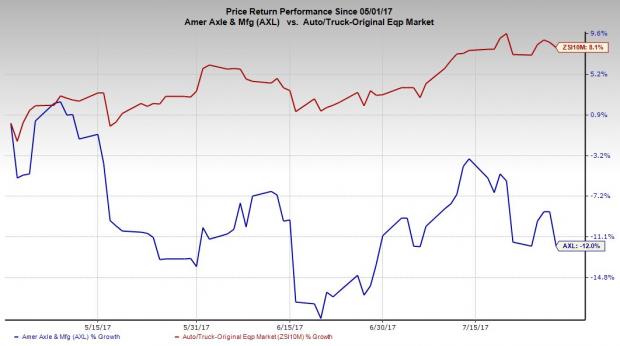 Zacks Rank & Key Picks

American Axle currently carries a Zacks Rank #5 (Strong Sell).

Some better-ranked companies in the auto space are Allison Transmission Holdings ALSN, Volkswagen AG VLKAY and Daimler AG DDAIF, all stocks sporting a Zacks Rank #1 (Strong Buy). You can see the complete list of today's Zacks #1 Rank stocks here.

Allison Transmission has expected long-term growth rate of 11%.

Volkswagen has expected growth rate of around 17.3% over the long term.

Daimler has expected long-term growth rate of 2.8%.

More Stock News: 8 Companies Verge on Apple-Like Run

Did you miss Apple's 9X stock explosion after they launched their iPhone in 2007? Now 2017 looks to be a pivotal year to get in on another emerging technology expected to rock the market. Demand could soar from almost nothing to $42 billion by 2025. Reports suggest it could save 10 million lives per decade which could in turn save $200 billion in U.S. healthcare costs.

A bonus Zacks Special Report names this breakthrough and the 8 best stocks to exploit it. Like Apple in 2007, these companies are already strong and coiling for potential mega-gains. Click to see them right now >>
Want the latest recommendations from Zacks Investment Research? Today, you can download 7 Best Stocks for the Next 30 Days.
Click to get this free report
Daimler AG (DDAIF): Free Stock Analysis Report
Volkswagen AG (VLKAY): Free Stock Analysis Report
American Axle & Manufacturing Holdings, Inc. (AXL): Free Stock Analysis Report
Allison Transmission Holdings, Inc. (ALSN): Free Stock Analysis Report
To read this article on Zacks.com click here.