eBay Inc. (EBAY) just released its second-quarter 2017 financial results, posting adjusted earnings of $0.34 per share and revenues of $2.33 billion. Currently, EBAY is a Zacks Rank #3 (Hold) and is down 1.69% to $36.55 per share in trading shortly after its earnings report was released.
eBay:
Missed earnings estimates. The company posted earnings of 34 cents per share (excluding 32 cents from non-recurring items), missing the Zacks Consensus Estimate of $0.36. Investors should note that Zacks adjusts for stock options expenses in its consensus estimates. eBay reported non-GAAP earnings of 45 cents per share, which were in-line with Street estimates.
Beat revenue estimates. The company saw revenue figures of $2.328 billion, just edging out our consensus estimate $2.311 billion.
Total revenues were up nearly 4.4% year-over-year. Gross merchandise volume reached $20.457 billion, up about 3% from the prior-year quarter. Net revenues from eBay's marketplace were up about 5%, while net revenues from StubHub grew 1%.
eBay expects net revenue between $2.35 billion and $2.39 billion in the third quarter, which would represent organic, FX-neutral growth of 6% -8%. The company also said it expects non-GAAP earnings per diluted share from continuing operations in the range of $0.46 - $0.48 and GAAP earnings per diluted share from continuing operations in the range of $0.30 - $0.32.
"In Q2, eBay delivered strong top and bottom line financial results, led by Marketplace acceleration," said CEO Devin Wenig. "During the past two years, we have made significant progress to modernize eBay and drive growth by improving the customer experience, creating a product catalog that covers more than half of our inventory, and sharpening the eBay brand. We are on track and focused on creating an even stronger eBay for years to come."
Here's a graph that looks at eBay's recent earnings performance history:
eBay Inc. Price, Consensus and EPS Surprise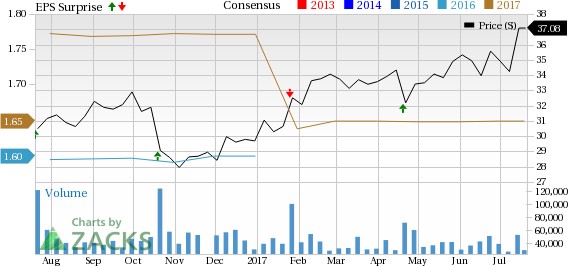 eBay Inc. Price, Consensus and EPS Surprise | eBay Inc. Quote
eBay is one of the world's largest online trading communities. eBay creates a powerful marketplace for the sale of goods and services by a passionate community of individuals and small businesses. eBay enables trade on a local, national and international basis with local sites in numerous markets in the United States and country-specific sites in the United Kingdom, Canada, Germany, Austria, France, Italy, Japan, Korea and Australia.
Check back later for our full analysis on eBay's earnings report!
Want more stock market analysis from this author? Make sure to follow @
https://twitter.com/Ryan_McQueeney
on Twitter!
3 Top Picks to Ride the Hottest Tech Trend
Zacks just released a Special Report to guide you through a space that has already begun to transform our entire economy...
Last year, it was generating $8 billion in global revenues. By 2020, it's predicted to blast through the roof to $47 billion. Famed investor Mark Cuban says it will produce "the world's first trillionaires," but that should still leave plenty of money for those who make the right trades early. Download Report with 3 Top Tech Stocks >>
Want the latest recommendations from Zacks Investment Research? Today, you can download 7 Best Stocks for the Next 30 Days.
Click to get this free report
eBay Inc. (EBAY): Free Stock Analysis Report
To read this article on Zacks.com click here.
Zacks Investment Research