Biotech major Amgen AMGN will be reporting first quarter earnings results on Apr 28 after the market closes. Amgen had delivered a positive earnings surprise of 14.98% in the fourth quarter. Let's see how things are shaping up for the company this quarter.

Factors at Play

Products like Enbrel, Xgeva, Vectibix, Sensipar, Prolia and Kyprolis should continue performing well. Kyprolis looks well-positioned to gain share with both the ASPIRE and ENDEAVOR data in its U.S. label.

The on-body injector for Neulasta should also do well considering the positive feedback from healthcare providers. Neulasta is expected to grow modestly in 2016 with a biosimilar launch in the U.S. not expected until year end at the earliest. Meanwhile, continued share gains in both the U.S. and Europe should boost Prolia growth.

The bottom line will continue to be driven by the company's overall cost-cutting efforts and share buybacks. The company's restructuring plan should make it leaner and more cost efficient.

However, Epogen will continue to be impacted by further share declines at Fresenius FMS and the potential for additional switching to Aranesp.

Investor focus will primarily remain on the performance of the company's PCSK9 inhibitor, Repatha, its acceptance in the physician community and the formulary scenario for the product. We expect Repatha sales to pick up once positive outcomes data is available and added to the label. The impact of the launch of Zarxio (biosimilar) on Neupogen sales will also be in focus.

Surprise History

Amgen's track record is pretty impressive with the company beating earnings estimates consistently. The average earnings surprise over the last four quarters is 13.71%.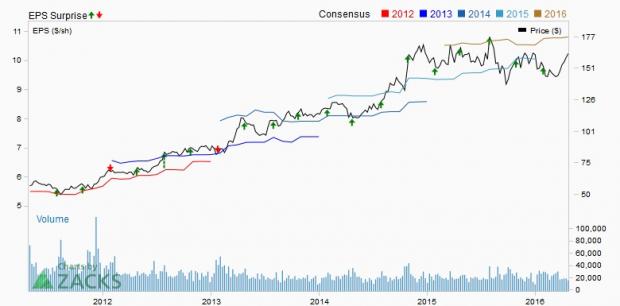 What Our Model Indicates

Our proven model shows that Amgen is likely to beat earnings because it has the right combination of two key ingredients.

Positive Zacks ESP: Earnings Surprise Prediction or Earnings ESP, which represents the difference between the Most Accurate estimate and the Zacks Consensus Estimate, is +3.52%. This is a meaningful and leading indicator of a likely positive earnings surprise for the shares.

Zacks Rank #3 (Hold): Note that stocks with Zacks Ranks of #1, #2 and #3 have a significantly higher chance of beating earnings. The Sell-rated stocks (#4 and #5) should never be considered going into an earnings announcement.

The combination of Amgen's Zacks Rank #3 and +3.52% ESP makes us very confident in looking for a positive earnings beat on Apr 28.
Stocks That Warrant a Look

Here are some biotech stocks that you may want to consider, as our model shows that these have the right combination of elements to post an earnings beat this quarter.

Gilead Sciences Inc. GILD has an Earnings ESP of +1.65% and carries a Zacks Rank #2. It will be reporting results on Apr 28.

The Earnings ESP for BioMarin Pharmaceutical Inc. BMRN is +22.35% and it carries a Zacks Rank #3. The company is scheduled to release results on Apr 28.

Want the latest recommendations from Zacks Investment Research? Today, you can download 7 Best Stocks for the Next 30 Days. http://www.zacks.com/registration/pfp/?ALERT=RPT_7BST_LP194&... blog">Click to get this free report >>
Want the latest recommendations from Zacks Investment Research? Today, you can download 7 Best Stocks for the Next 30 Days.
Click to get this free report
FRESENIUS MED (FMS): Free Stock Analysis Report
BIOMARIN PHARMA (BMRN): Free Stock Analysis Report
GILEAD SCIENCES (GILD): Free Stock Analysis Report
AMGEN INC (AMGN): Free Stock Analysis Report
To read this article on Zacks.com click here.
Zacks Investment Research