The EUR/CHF has been bullish since July as we can see in the daily chart. 

EUR/CHF Daily Chart 8/28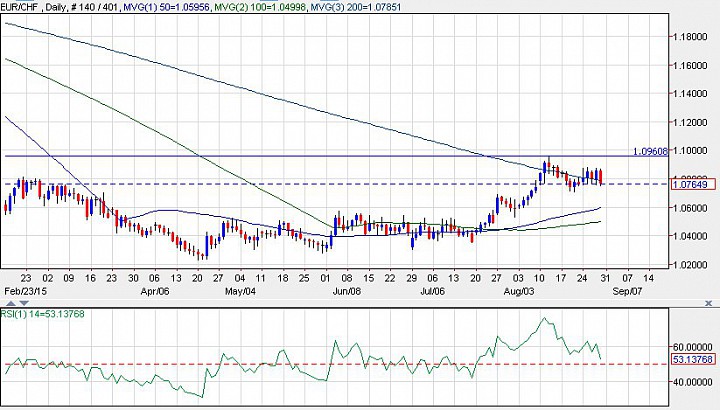 (click to enlarge)

The Daily chart shows this recent medium-term bullish swing after multi-month sideways action. On the other hand we can see that this bullish attempt goes against a prevailing bearish mode, since the moving averages are still in somewhat of a bearish alignment. 

Now, if price treats the April-July consolidation as support, there would be a stronger case for a bullish EUR/CHF. For now, we have to respect the bearish retreat from 1.0960, especially after what we are seeing in the 4H chart. 

EUR/CHF 4H chart 8/28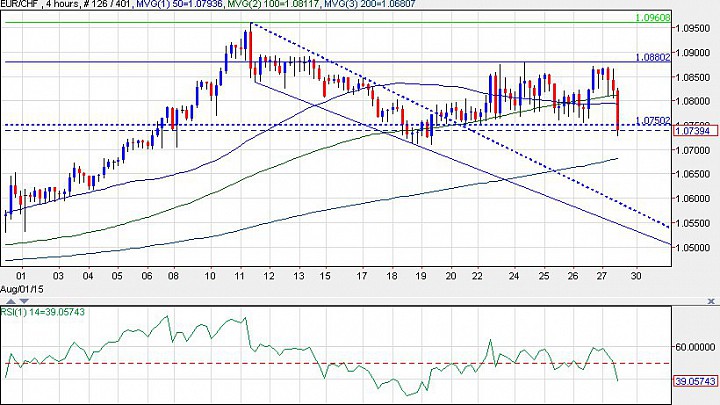 (click to enlarge)

The 4H chart shows that last week we had a bullish breakout from a flag pattern. However, the "bullish continuation" attempt stalled at 1.0880 and after several failed attempts we are seeing price fall sharply to end the week. This failed bullish price action and subsequent sharp bearish swing suggests we should see further bearish correction. 

In the short-term, we might consider shorting on the next bullish pullback. But we might want to limit he bearish outlook to 1.06, where price will meet the top of that multi-month consolidation range I mentioned earlier. In fact if you can be patient, and want to go with the medium-term bullish trend development, maybe we want to buy after the current bearish correction works itself out. 
Let's see where price is next time the 4H RSI dips below 30, especially if there is a bullish divergence. If it is around 1.06, I would consider buying.