So, You Want to Be a Trader?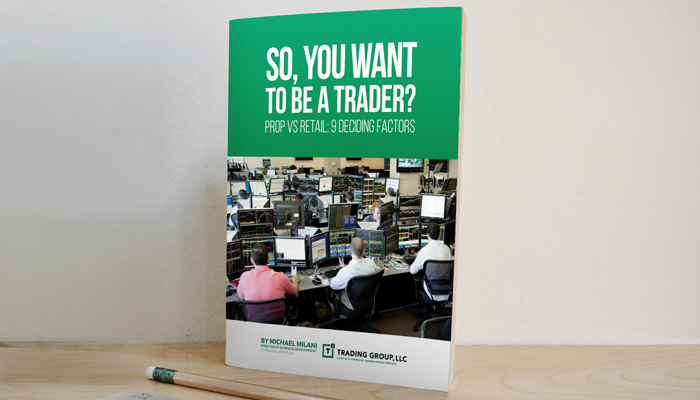 By Michael Milani, Director of Business Development, T3 Trading Group, LLC
Almost everyone is invested in the markets these days. Whether you are a high frequency, automated trader or just have an index fund in your IRA, chances are, you have some level of exposure to stocks. Investing becomes a larger part of your personal strategy as you get older and many active traders at some point consider trading professionally for a living. It inevitably enters your mind when that hot biotech that you invested a few thousand dollars into goes from $2 to $50 in just a few days (*like Aquinox Pharmaceuticals, NASDAQ: AQXP did from August 6th through August 10th 2015). Worse yet, you probably just watched, while not actually being involved. If you want to be an active trader in individual stocks, you really only have two general paths: Become a professional trader (prop trader) or trade in a retail account. Let's look at the advantages and disadvantages of both so you can figure out the right path for you.
Aquinox Pharmaceuticals (NASDAQ: AQXP) Prices
Date
Open
High
Low
Close
Volume
Adj Close*
Aug 10, 2015
17.79
55.75
17.56
18.88
18,006,400
18.88
Aug 7, 2015
2.45
11.68
2.43
10.42
62,069,400
10.42
Aug 6, 2015
1.78
1.79
1.65
1.79
129,100
1.79
* Close price adjusted for dividends and splits.
*SOURCE: Yahoo! Finance
Professional Proprietary Trading
What is a proprietary ("prop") trader? A prop trader is a person who trades firm capital, typically that of a proprietary broker-dealer or hedge fund. For the purposes of this article, we are only going to discuss US registered broker-dealers that require licensing and can legally accept capital contributions. A prop firm doesn't always require a contribution, but they can accept them if they choose to. There are international "hedge funds" based out of places like the Cayman Islands and the Bahamas that offer leverage and software for a small risk deposit, but before you trade with an unregistered entity, do some research online and ask lots of questions.
Either way, a trader at a US registered broker-dealer (whether having made capital deposits or not) is trading the firm's capital. The amount of capital that an individual can trade is determined by the amount of money that firm has in total, and by the risk manager that is allocating the buying power. We will get into why this can be advantageous later.
Retail Trading
Retail trading is a far simpler endeavor. It involves choosing a retail broker, deciding what type of account to open (cash, margin, etc.), making a deposit and placing a trade. Unlike at a prop firm, you are a customer of your retail firm and have far more flexibility. The leverage you get on your deposit is determined by your account balance, the frequency in which you trade and the regulatory guidelines. A typical margin account would require a $2,000 minimum deposit and would entitle you to two times (2x) leverage, also known as Regulation T, or "Reg T". If you qualify as a Pattern Day Trader (FINRA definition at the end of the paragraph), you would be required to keep a $25,000 minimum balance at all times and be afforded four times (4x) of NYSE excess. A Portfolio Margin Account (PM Account) may have different account minimums from broker to broker but is usually a $100,000 minimum ($110,000 in reality to prevent recurring margin calls) and will give 6.67 to leverage (concentration haircuts may apply). The leverage rules are clearly defined regardless of the type of account you open and your buying power is a function of your deposit and subsequent equity.
PATTERN DAY TRADING
http://www.sec.gov/investor/alerts/daytrading.pdf
PORTFOLIO MARGIN ACCOUNTS
http://www.finra.org/industry/portfolio-margin-faq
Trade Pro or Non-Pro, That is the Question: Nine Factors
Before we get into the nine (9) deciding factors that you need to weigh before making the decision to trade professionally or not, we should quickly mention one topic that we won't be using as criteria to make a decision.
Training.
Sometimes new traders make the decision to trade prop or retail based on the type of training that they will receive. Some proprietary trading firms provide training and some don't. Some desks within a prop firm will train their traders with a strict regimen and then, some desks only a few feet away at the same firm will provide no training of any kind. The purpose of this article is to discuss whether you should choose to be a professional proprietary trader or a retail trader. The decision to seek out training from your firm or which firm has the best training is a topic for another time.
1: International Traders – Prop (No), Retail (Yes)
This is an easy one. Most US based registered broker dealer only accept traders that are located in, and authorized to work, in the US. US citizens, naturalized citizens, green card holders are all ok (those with Optional Practical Training ("OPT") are good for one year). Check with your firm to discuss options for international traders holding US visas.
Retail brokers, again, have much more flexibility. Most international traders can just go online and open a trading account online, provide the required Know Your Customer ("KYC") information, make a deposit and begin trading. Canadian traders, for example, must use a US broker that is also has Canadian registration. This doesn't apply to countries like China and the United Kingdom. Do your research and ask questions.
2: Licensing – Prop (Yes), Retail (No)
Licensing and the hassle associated with it is probably the biggest barrier to entry for most people looking to trade professionally. As mentioned earlier, because you are trading the firm's capital in a proprietary broker-dealer, you need a securities license to trade. To start the process, you would need to find a trading firm willing to register and sponsor you to take your exam. The two exams that you can take right now which would qualify you to trade firm capital are the Series 7 or the Series 56 (although the licensing requirements are changing in 2016, but will be discussed in a separate thread). Rather than have a debate as to which one is better, I will just say that the Series 56 is significantly shorter, yet more focused, while the Series 7 is more comprehensive and applicable to the securities industry as a whole. After filling out the u4 paperwork, getting fingerprinted and a having a background check, your firm would open a window for you to take the exam at an electronic testing center. You would receive the results the same day you take the exam.
Retail brokers do not require any licensing because you are trading leverage on your own capital, not firm capital. Therefore, you don't need to go through the hassle of fingerprints and background checks to start trading. This is definitely a clear benefit of retail trading.
3: Leverage – Prop (Based on your Firm), Retail (2x, PDT, PM Account)
I will start by saying that even though many professional proprietary firms discuss the relationship between a trader's capital contribution and the allocated buying power as leverage, this is not the case. A firm's risk manager can give a trader buying power based on the account's risk tolerance and performance, not necessarily on the equity balance. While it can often be a factor, buying power is not necessarily a function of your capital at a prop firm. In some cases, a trader might have millions of dollars in allocated buying power with no equity balance at all.
Earlier, we defined normal margin accounts, Pattern Day Traders (PDTs), and Portfolio Margin Accounts (PM Accounts). The leverage ratios are clearly defined in the retail world and offer no flexibility. The regulators allow for a certain amount of leverage based on the account type and it isn't subject to interpretation or the discretion of a risk manager, although PM Accounts are affected greatly by market volatility and how it plays into Risk Based Haircut ("RBH") calculations.
I will also add that because retirement accounts (IRA's, 401ks, etc.) aren't eligible for use of margin, they cannot be day traded.
4: Profits – Prop (Firm Split), Retail (100%)
Because you are trading firm capital when trading at a proprietary broker dealer, the firm will take a portion of your profits. The profit split can have a wide range of anywhere from 20% to the trader (no risk capital, extremely risky strategy, large amount of allocated buying power) to 90% or more to the trader (large capital deposit, low risk intraday strategy, relatively small amount of allocated buying power). It's important in a professional trading environment that you have a good relationship with the risk manager associated with your trading account. With a good understanding of the risks and benefits of your trading style, a good risk manager can tailor the terms of your deal structure to your personal trading.
Retail accounts are once again a much more simple process. A retail trader receives 100% of their net trading profits (after commissions and other fees). There is limited risk to your retail broker and the leverage terms are clearly outlined by the regulators. There is nothing to negotiate.
5: Lockup – Prop (1 Year Lockup), Retail (No Lockup)
This probably the biggest negative of trading with a professional proprietary firm. All capital deposits at an SEC registered broker dealer are subject to a one year lockup. It's called the "Good Capital Rule". For example, if you make a $100,000 contribution on January 1st, you are unable to receive those funds back (regardless of losses) until January 1st of the following year. All subsequent deposits are subject to the same restrictions. This is not negotiable. If you decide to leave the firm you trade with (ask for a u5), you are certainly permitted to leave but any capital still subject to a lock up, is unavailable for 12 months from the date of deposit.
Retail brokers have no capital lockups and no restrictions on deposits or withdrawals (with the exception of any retirement or ERISA accounts).
6: Firm Capital – Prop (Yes), Retail (No)
The biggest benefit of trading professionally with a proprietary trading firm, in my opinion, is readily accessible firm capital. There are certain times of the year where the trading markets become more fertile and it's advantageous to gain access to more firm capital without making an additional contribution. Earning seasons, hot initial public offerings, triple and quad witching options expirations, and the Russell Index rebalancing are all examples of trading periods where your firm understands the opportunities inherent and will likely give you additional buying power during those times. Again, a good relationship with your risk manager goes a long way.
Regardless of the time of the year or trading landscape, your buying power with your retail broker is limited to the account type and is a function of your deposit. No flexibility here.
7: Data Fees – Prop (Pro data), Retail (Non-Pro Data)
Whether it be NYSE, NSDQ, ARCA or BATS, all of the exchanges have two classifications of data: Professional and Non-Professional. The data is exactly the same: the same ticks, the same quotes, the same prints. The pricing, however, is very different. A non-professional may pay $1 or $2 per month for NYSE data while a professional trader may pay $40 or $50 for the same data. These are fees that the exchanges charge and are necessary to trade. There may be other fees associated with data in both proprietary and retail accounts. NYSE data is just one example.
Before you make the decision to become a proprietary trader (professional) or a retail trader (non-professional), it's best that you understand all the potential costs associated with your account. As you begin your trading career, a few hundred dollars per month could mean a lot in terms of your profitability. Be informed.
8: Risk Management– Prop (More), Retail (Slightly Less/Different)
As I have explained, all professional trading firms are different. Some only allow their traders to trade intraday versus overnight, and certain firms only focus on certain security types, such as options and/or futures trading. It's important that you understand the restrictions that a firm will place on you and your trading before you start. One firm may fit your approach to the markets better than another. Also, every account at a professional trading firm will have risk limits and restrictions for the amount of shares you can trade, lockout and liquidation limits, the number of open positions etc. It's extremely important that you know what you can and cannot do before you place your first trade. If you have little to no trading experience, these limits will save you a lot of time, money and frustration because they will help you maintain control as you learn, limiting "the tuition" that you will undoubtedly pay to the trading Gods. As an experienced trader, you will want to discuss these limits in detail with your risk manager. Consider starting with your ideas on limits and (respectfully) present them for approval.
Retail traders usually have only one primary restriction: buying power based on their deposits, positions and account equity. While retail accounts have similar position limits to prop, max loss limits are superseded by the underlying capital restrictions based on margin. It's common to receive "margin calls" if your exposure is in excess of your leverage limitations. Unless you are trading a PM Account, your retail broker isn't overly concerned with your trading strategy, your overnight vs intraday trading ratios or the types of stocks you trade.
9: Expertise – Prop (More), Retail (Less to None)
At first glance, you might think this means training expertise. It doesn't. Depending on the type of trading that you engage in, a professional trading firm may be able to assist you in developing and maximizing your trading potential. They are, after all, receiving a portion of your trading profits which essentially means that they are partners with you in your account. Some firms have expertise in building trading filters or software add-ons and most prevalently, in high frequency black box trading. This has been an area of focus for many firms over the past ten years or so. Whether you are a manual trader looking to automate their strategy or a programmer deciding how best to approach the market, deciding to trade with the right proprietary firm may add to your net profitability.
Typically, a retail broker won't provide much in terms of trading expertise because it doesn't directly benefit from the profits in your account. Obviously, your retail broker still wants to you be profitable and successful, but each account is a customer of the firm and inherently the interests are aligned differently than at a proprietary trading firm.
The Decision
This isn't a decision that can be made for you. There are clear benefits to being both a professional proprietary trader and opening a retail brokerage account. In my opinion, it really comes down to how important readily accessible firm capital is to you. You may be self-funded and not need the trading capital and resources of a proprietary firm. You may decide that the costs and hassle of licensing and registration and too much and you prefer the flexibility that trading retail provide.
We are here as a resource to help you make an informed decision. Is T3 Trading Group, LLC, a NASDAQ OMX PHLX Member firm, the right place for you? Email me personally anytime with questions and I will be happy to help in any way I can.
Michael Milani
RISK DISCLOSURE
Past experience does not guarantee future results. Any trading success enjoyed by others does not guarantee similar result for you. Proprietary trading can be extremely risky and traders should be prepared to lose all of the funds that they use for trading. Traders should not fund their electronic trading activities with retirement savings, loans, second, emergency funds, funds set aside for purposes such as education or home ownership, or funds required for current income.
Proprietary trading may involve the use of leverage, which involves borrowing funds and/or securities in order to take positions in securities where the aggregate value of those positions exceeds the capital of the proprietary account associated with such trader. It is important that Traders fully understand the risks involved in trading securities using leverage, which includes the possibility of losing more capital than deposited in their accounts. Pursuant to T3 Trading Group, LLC's ("T3") Operating Agreement, a Trader may be held personally liable for trading losses that exceed the amount of the proprietary account associated with such trader.
Proprietary trading may involve "Day Trading." Day trading is not investing, it is speculating. As with any form of speculation, there are significant risks. Day trading is a fast-paced and high intensity strategy and can lead to large and immediate financial losses.
Proprietary trading may result in large commissions, ECN charges and other transactional fees (collectively "fees"). Proprietary trading may require a trader to trade his or her account aggressively and pay fees on each share traded. The total daily fees they pay may add to losses or significantly reduce earnings.
T3 does not provide investment advice and does not make any recommendations. In no event shall the information provided by T3 serve as the primary basis for any investment decision made by you. Your decisions to make trades are your own responsibility.
Disruptions in the electronic trading systems or lines used by T3 and or any Exchange could disrupt trading and the liquidity and availability of timely execution could diminish substantially. If this occurs during periods of volatility, substantial losses may be incurred. In no event shall T3 be liable for losses, claims, liabilities, costs, expenses and damages that occur due to the disruption or failure of any computer, line, or system, regardless of whether such disruptions or failure may have been anticipated by T3.
Market liquidity is a security's liability to be sold without causing a significant movement in the price and with minimum loss value. There may be decreased liquidity in extended hours trading as compared to regular market hours. As a result, your order may only be partially executed, or not at all.
Volatility refers to the fluctuations in price that securities undergo during market trading. Generally, the higher the volatility of a security, the greater its price swings. There may be greater volatility in extended hours trading than in regular market hours. As a result, your order may only be partially executed, or not at all, or you may receive an inferior price in extended hours trading than you would during regular market hours.
Any extension of credit for negative balances will be charged interest at a varying rate to be determined by the clearing firm based on a predetermined formula.