It's been a rocky road to travel for Galena Biopharma (NASDAQ: GALE). After a decade of being in business and several corporate name changes along the way, where do things stand for the biotech right now -- and what might the future hold? These three charts tell the story for Galena.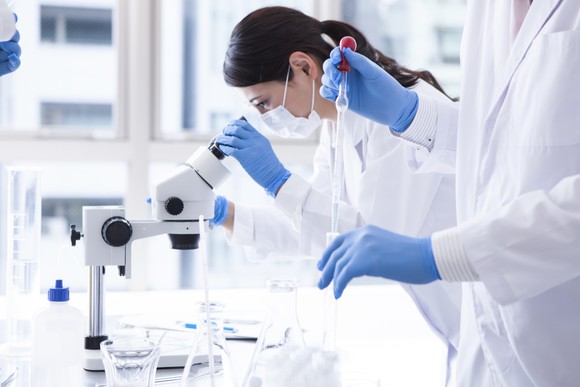 Image source: Getty Images.
Calling it splits
Nothing sums up how 2016 has gone for Galena than its stock chart. However, appearances can be deceiving.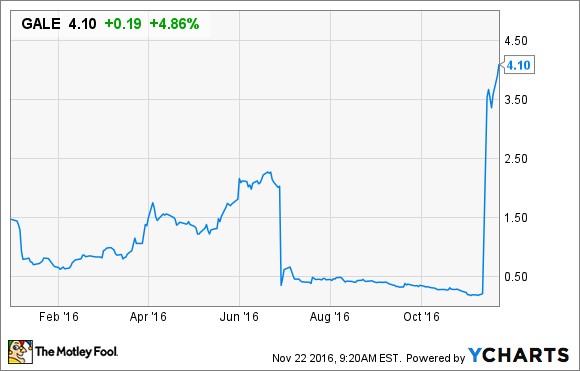 You might think that something wonderful happened for Galena recently to turbocharge the stock. Unfortunately, the reality isn't so great. To keep its listing on the Nasdaq Capital Market exchange, the biotech needed to do something to bump its stock price above the minimum $1 bid price threshold. 
Galena's approach to resolving its dilemma was to do a 1-for-20 reverse stock split. When the market opened on Nov. 14, Galena shareholders owned one share for every 20 they owned previously. Anyone with a fraction of 20 shares received cash.
It's never a good thing when a company must resort to creative methods like a reverse stock split to stay listed on an exchange. However, Galena really didn't have a better alternative. 
Pipeline potential
The good news is that Galena has the threat of being de-listed behind it now. Galena hopes that even better news could be on the way from its pipeline candidates. Here's what the pipeline looks like now: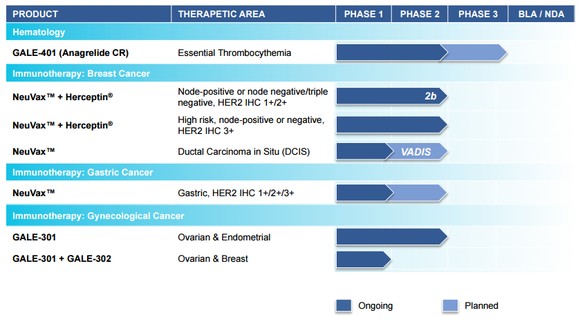 Image source: Galena Biopharma.
Galena's lead candidate is GALE-401, a controlled release version of the approved drug anagrelide. The company plans to advance GALE-401 to a pivotal late-stage study for treating rare chronic blood disorder essential thrombocythemia. A phase 2 study targeting treatment of thrombocytosis, or elevated platelet counts, in patients with blood cancers stemming from overproduction of blood cells showed positive results. That study, though, only included 18 patients.
Experimental cancer immunotherapy Neuvax has already had one huge setback. Galena scrapped a late-stage study of Neuvax in treating breast cancer after the drug proved no more effective than placebo.
Perhaps the best hope for Neuvax now comes from the two mid-stage clinical studies of the immunotherapy in combination with Roche's Herceptin. Both are investigator-sponsored trials, but Roche is partially funding the studies.
Galena's other pipeline candidates are GALE-301 and GALE-302. The two immunogenic peptides target folate binding protein (FBP) receptor-alpha, a protein that is highly overexpressed in ovarian, endometrial and breast cancers.
Cash situation
Soon after announcing the late-stage failure for Neuvax, Galena had to generate more cash through a stock offering. This brought in $11.7 million. Here's how the biotech's cash stockpile has fluctuated in recent years: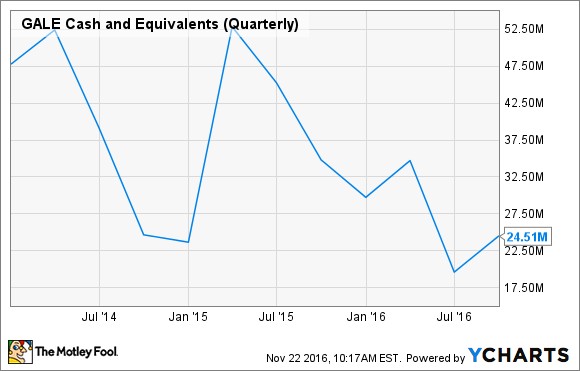 GALE cash and equivalents (quarterly) data by YCharts.
Even with the summer influx of cash, Galena's cash position remains low. The company reported cash and cash equivalents totaling $24.5 million at the end of the third quarter. Galena thinks that amount can carry it through the middle of 2017. 
Looking ahead
None of these charts paint a great picture for Galena's prospects. It's been a terrible year for the biotech with the Neuvax clinical flop and having to scramble to stay listed for public trading. While Galena's pipeline could eventually produce success, it probably won't happen quickly enough to avoid yet another dilution-causing stock offering. 
Perhaps 2017 will bring bigger and better things for the beleaguered biotech. For now, though, the most appropriate picture pertaining to Galena's future could simply contain a giant question mark.
10 stocks we like better than Galena Biopharma
When investing geniuses David and Tom Gardner have a stock tip, it can pay to listen. After all, the newsletter they have run for over a decade, Motley Fool Stock Advisor, has tripled the market.*
David and Tom just revealed what they believe are the ten best stocks for investors to buy right now... and Galena Biopharma wasn't one of them! That's right -- they think these 10 stocks are even better buys.
Click here to learn about these picks!
*Stock Advisor returns as of November 7, 2016

Keith Speights has no position in any stocks mentioned. The Motley Fool recommends Nasdaq. Try any of our Foolish newsletter services free for 30 days. We Fools may not all hold the same opinions, but we all believe that considering a diverse range of insights makes us better investors. The Motley Fool has a disclosure policy.