HC2 Holdings (HCH) has been consolidating around 3.50 after falling from heights above 13.00 in 2015. The daily chart shows that price has been stuck roughly between 3.25 and 4.08. 
HCHC daily chart 5/3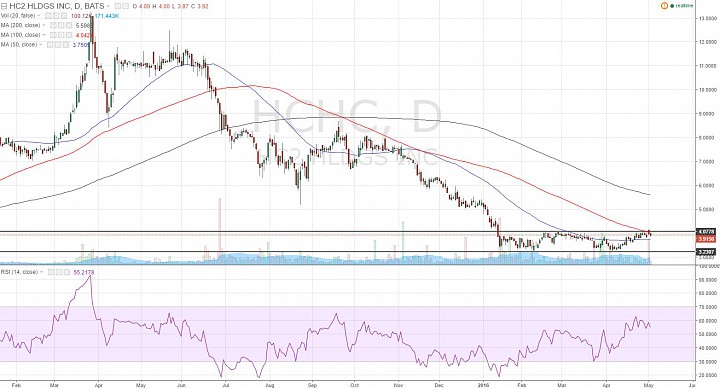 (click to enlarge)
This week, we are seeing price poke through that 4.08 resistance, suggesting that HCHC is trying to complete a price bottom. Cracking 4.08 is not a big deal, especially if we see price retreat immediately. When we look at the 4H chart, we can see the consolidation in more detail. We can say that 3.60 is the central pivot.
HCHC 4H Chart 5/3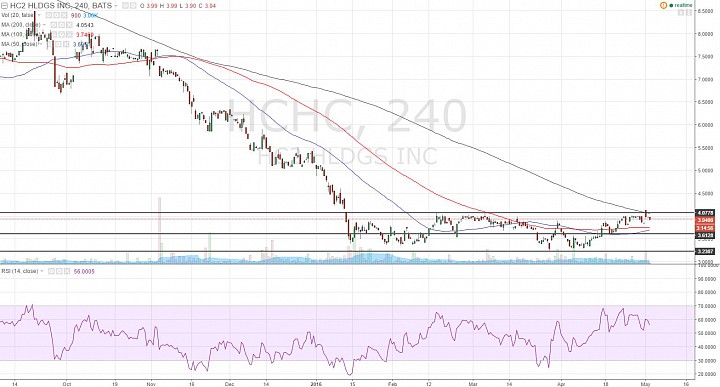 (click to enlarge)
if price retreats but holds above 3.60, there would be more evidence that a price bottom is forming. Otherwise, if price falls below 3.60, we should still consider HCHC bearish, with risk towards 3.25 and possibly even lower. 
If price can clearly break above 4.10, and hold above 3.60, we should anticipate a run towards the 5.0 handle, which is the bottom of a previous consolidation range. 
HC2 Holdings announced that it will report earnings on 5/9. (NASDAQ)
Perhaps the earnings report will help traders decide whether to establish the price bottom and spring towards 5.0, or continue the bearish, or at best bearish-neutral mode, which should put pressure on the 3.25 low.