NVIDIA corporation stock received a much-needed boost with Goldman Sachs reiterating a bullish stance. Will the GTX 1080 Ti lift NVDA stock higher?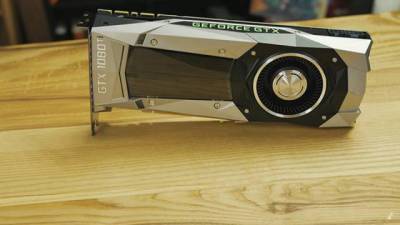 Shares of GPU market leader NVIDIA (NASDAQ:NVDA) have been extremely volatile in the last few trading sessions. The last 30 trading sessions have seen NVIDIA stock trade at a high of $120.92 and a low of $95.17 per share. That's a swing of over 20% in less than 2 months. NVDA stock hit a peak on Feb 7 and has moved downhill ever since, closing the last trading session at a price of $98.74 per share. As we had covered in our recent post, with NVIDIA stock setting up for a death cross, the near-term future looks bleak, to say the least. However, we believe the long-term growth story is still intact, and the current pullback in NVIDIA could offer good entry points for long-term investors. Here is why.
NVIDIA just launched the fastest GPU Ever
The recent Game Developers Conference (GDC 2017) saw NVIDIA bring its A game to the event. The company, in what was possibly a pre-emptive strike on AMD's upcoming 'Vega' launch, unveiled its latest graphics card, the GTX 1080 Ti. The latest update brought significant performance improvements over its predecessor, the GTX 1080. In a recent post on Forbes, Tirias Research wrote, "With higher clock speeds and faster memory, NVIDIA increased the 1080 Ti performance 20% to 45% faster than the current GTX 1080. The "Ti" brand is a traditional NVIDIA mid-life "kicker" product, but with the company's 35% nominal performance increase, this version is the company's most aggressive Ti product yet." Given the fact that performance...
More