This week set off the second phase of Joint Sea-2015, a massive naval drill between the Russian Navy and Peoples Liberation Army Navy (PLAN). This is the second major naval drill to take place this year between the two navies and the sixth joint naval drill since 2005. Taking place off the coast of Russia and in the Sea of Japan, it is aimed at improving readiness, training, and interoperability while expanding capabilities in anti-submarine warfare and amphibious landings. So far, this represents the largest joint exercise to take place between the Russian Navy and PLAN and if anything, shows the increasing capability of the PLAN.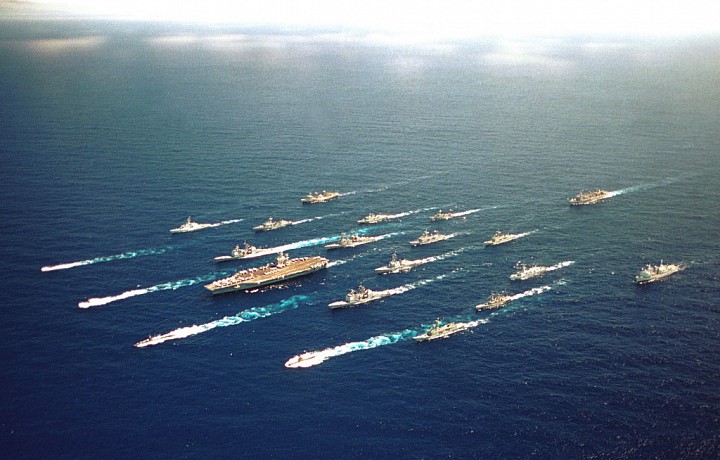 Joint Sea-2015 Phase II
Joint Sea-2015 Phase II is a nine-day drill being held from August 20th to the 28th. It is taking place in the Peter the Great Gulf, waters off the Cape Clerk, and off the coast of Primorsky Krai in the Sea of Japan. The administrative center of Primorsky is Vladivostok which is also the home port of the Russian Pacific Fleet, Russia's second-biggest fleet. Among planned exercises for this drill which includes over 20 warships are anti-submarine operations and a joint landing drill at a Russian Pacific Fleet range outside of Cape Klerk.
Vice Admiral Alexander Fedotenkov, deputy commander of the Russian Navy said the "scope of the exercise is unprecedented". Fedotenkov along with Rear Admiral Wang Hai, Deputy Commander of the PLAN are coordinating the current drills. According to a press release from the Russian Eastern Military District, "The exercises will culminate in a joint seaborne and airborne forces landing operation at the Klerk training range in Southern Primorsky. It will be the first joint landing operation of Russian and Chinese marines on Russia's territory."
Seven PLAN warships left from Qingdao, headquarters of the North Sea Fleet of the PLAN Saturday August 15th for Vladivostok, Russia. The PLAN ships taking part in the exercise...
More