Agenus Inc. AGEN is a Lexington, MA-based development-stage company focused on the discovery and development of checkpoint modulators, vaccines and adjuvants for the treatment of cancer.
The company earns revenues primarily through fees received under collaboration and license agreements, which not only provide it with funds in the form of upfront and milestone payments and future royalties, but also validate the company's proprietary product platform. In Mar 2017, the company undertook certain restructuring activities in order to cut costs and focus on developing key product candidates.
With no approved product in its portfolio yet, investor focus should remain on pipeline updates by the company. The company has three platform technologies for the development of its candidates – Retrocyte Display, SECANT and phage display – each designed to produce quality human antibodies. The company has several early-to-mid stage candidates in its portfolio.
Agenus' track record has been mixed so far. The company has surpassed estimates thrice in the trailing four quarters and missed the same on one occasion, bringing the average positive surprise to 8.84%.
Currently, Agenus has a Zacks Rank #2 (Buy), but that could definitely change following the company's earnings report which was just released. We have highlighted some of the key stats from this just-revealed announcement below:
Earnings: Agenus reported narrower-than-expected loss in the second quarter of 2017. Our consensus called for a loss of 36 cents per share, while the company reported a loss of 32 cents.
Revenue: Revenues, however, missed expectations. Agenus posted revenues of $4.2 million, compared to our consensus estimate of $6 million.
Cash and Cash Equivalents: Cash, cash equivalents and short-term investments were $96.8 million as of Jun 30, 2017 compared with $76.4 million as of Dec 31, 2016.
Share Price Impact: In-active in pre-market trading.
Check back later for our full write up on AGEN earnings report later!

Agenus Inc. Price and EPS Surprise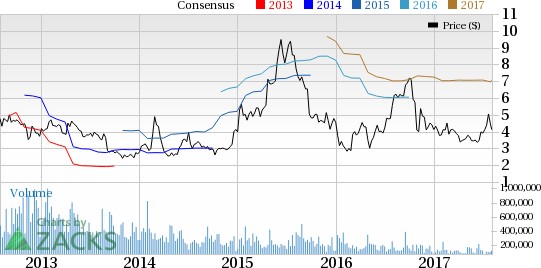 More Stock News: Tech Opportunity Worth $386 Billion in 2017 From driverless cars to artificial intelligence, we've seen an unsurpassed growth of high-tech products in recent months. Yesterday's science-fiction is becoming today's reality. Despite all the innovation, there is a single component no tech company can survive without. Demand for this critical device will reach $387 billion this year alone, and it's likely to grow even faster in the future. Zacks has released a brand-new Special Report to help you take advantage of this exciting investment opportunity. Most importantly, it reveals 4 stocks with massive profit potential. See these stocks now>>
Want the latest recommendations from Zacks Investment Research? Today, you can download 7 Best Stocks for the Next 30 Days.
Click to get this free report
Agenus Inc. (AGEN): Free Stock Analysis Report
To read this article on Zacks.com click here.
Zacks Investment Research