DryShips (NASDAQ:DRYS) has undergone a dramatic transformation over the past year. The company has jettisoned vessels to pay down debt, secured capital to shore up its balance sheet, and recently started rebuilding its fleet. DryShips is apparently so confident that it's back on solid ground that it recently announced the initiation of a quarterly dividend. However, the underlying numbers tell an entirely different story, suggesting this dividend is not on solid ground.
Digging into the declaration
DryShip's new dividend policy is unique, to say the least. The company stated that it would pay a regular fixed quarterly dividend of $2.5 million to holders of its common stock and will determine the amount per share based on the number of outstanding shares it has on the record date. In addition to that quarterly fixed rate, the company may also pay an additional amount each quarter depending on market conditions and its financial performance.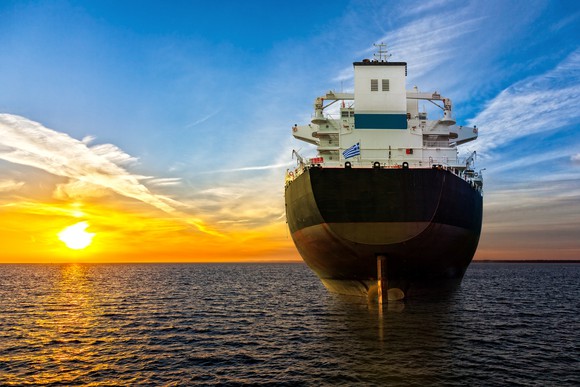 That means that at a minimum, the company will distribute $2.5 million across as many shares of common stock that it has outstanding, which could vary from quarter to quarter. For example, as of Feb. 7, when the company reported fourth-quarter earnings, it had more than 36.5 million shares outstanding. As such, the dividend would have been about $0.07 per share. That said, the company has been issuing shares so frequently these days, it's hard to keep track of how many it has outstanding right now.
The problems with this payout
In DryShip's view, this dividend is a watershed moment for the company because "it is a testament to the dramatic transformation of the Company's finances over the...
More