Summary
The highly scalable, profitable, and sticky SaaS business model provides strong leverage growth capability while providing strong visibility into earnings and revenue.
We think growth will be driven by increased conversion from the company's free model in addition to better retention rates.
International growth is a nearly untapped market with massive potential for WIX that can develop a larger array of language templates and support.
Wix (NASDAQ:WIX) is a global web development company headquartered in Israel. Its platform has one of the largest registered users in the world with approximately 58 million in 190 countries. The company has pioneered a new approach to web development through a cloud-based platform that increased functionality and versatility. The company's core product attempts to bring website design to the mass population via an easy-to-use interface. The functionality allows small and medium-sized businesses to design highly functional sites that are e-commerce and social media-friendly - a fast growing market.
We think the company has developed a successful and scalable formula for growing in a large, unpenetrated and fragmented market. There are many competitors in the space, but we believe many can thrive simultaneously in the industry and generate sustained, long-term profitability through premium upgrades and the SaaS business model.
Business Model Provides Highly Scalable Platform For Growth
The business model is fairly simple: Wix offers a free website design for registered domains with easy functionality, but then offer premium-valued services like apps, e-commerce, and social tie-ins that are supported via a paid monthly or annual subscription fee. Converting its free users to the premium subscription model is the key to the company's business, accomplished through compelling user recommendations for added website functionality.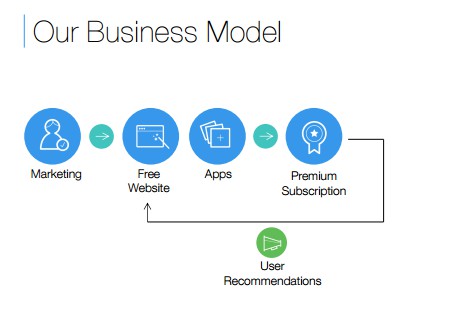 (Source: Investor Presentation)
Wix's comprehensive array of features and functionality is what we think provides it a competitive advantage. The company has added several add-ons including the Wix App Market, an application market that allows users to select and simply add features and new functions to the website. Through its patented third-party application communication API, the company gives consumers added functionality for plug-and-play options, something most of its competition doesn't provide.
On the back-end, strong customer support is another area where we think it differentiates with many of its competitors. Though the site focuses on easy-to-use design, the do-it-yourself space can frustrate and confuse customers who lack basic computer skills or knowledge. Wix is the only DIY platform that provides its customers one-on-one phone support as an option. Most of its competition is limited to email which has a high turnaround time, or live chat which is relegated to business hours. We believe this support option will allow for lower churn as customers are less apt to become frustrated and cancel/change providers.
The design flexibility allows users to start from a blank webpage or utilize one of its 400 design templates. Compared to the competition, the company offers far more templates and is one of only a handful to offer full customization starting from a blank webpage. Another competitive...
More