March 2016 offered an impressive month of news flow for RedHill Biopharma (RDHL), capped off by the positive top-line results from the Phase 2a clinical study of RHB-104 as an add-on therapy to interferon beta-1a for the treatment of relapsing-remitting multiple sclerosis. Below is an update on some of the recent positive news from the previous month and an overview of the Phase 2a data.
Positive Incremental News Throughout March
On March 8th, the company announced it had received the final clinical study report from the successfully completed Phase 3 ERADICATE-Hp clinical trial studying RHB-105 in patients with active H. pylori infection. ERADICATE-Hp demonstrated that 89.4% of patients taking RHB-105 achieved eradication of infection vs. only 63% for physician's choice standard-of-care. The next step for RHB-105 is a second, confirmatory Phase 3 trial likely to begin in the third quarter 2016. RedHill management plans to meet with the U.S. FDA here in April 2016 to finalize that study protocol. In February 2016, I wrote a detailed article looking at the medical market perspective of RHB-105. Investors can view that article >> RDHL-Feb2016
On March 10th, the company announced the publication of data demonstrating the antitumor effects and therapeutic potential for Phase 2 asset, YELIVA™, for the treatment of cholangiocarcinoma. The paper, entitled "Antitumor effect of the novel sphingosine kinase-2 inhibitor ABC294640 is enhanced by inhibition of autophagy and by sorafenib in human cholangiocarcinoma cells," found that SK2 is overexpressed in multiple human cholangiocarcinoma cell lines, including a patient-derived line. The work was authored by scientists from the Mayo Clinic Cancer Center, the Hollings Cancer Center at the Medical University of South Carolina, and Apogee Biotechnology Corporation, and published in Oncotarget. For additional information on YELIVA™, I encourage investors to view my article from December 2015 that provides background science and a brief preclinical and clinical history with the drug >> RDHL-Dec2015.
On March 29th, the company, in collaboration with co-development partner, IntelGenx Corp (IGXT) announced they have entered into a binding term sheet with Grupo JUSTE granting an exclusive license to commercialize their acute migraine drug RIZAPORT™ in Spain. Under the term sheet, subject to remaining conditions, a definitive agreement is planned to be entered into within 60 days of the execution of the term sheet. Pursuant to the signing of a definitive agreement, RedHill will grant Grupo JUSTE the exclusive rights to register and commercialize RIZAPORT™ in Spain and a right of first refusal for the territories of Belize, Carribean, Chile, Colombia, Costa Rica, Dominican Republic, El Salvador, Guatemala, Honduras, Mexico, Nicaragua, Panama, Middle East and Morocco. Under the term sheet, RedHill and IntelGenx will receive an upfront payment and will be eligible to receive additional milestone payments upon achievement of certain predefined regulatory and commercial targets, as well as tiered royalties. As a reminder, RedHill and IntelGenx announced the first European marketing approval of RIZAPORT™ in Germany back in November 2015.
Encouraging Phase 2a MS Data
However, the best news of the month came on the very last day of the first quarter when the company announced positive top-line results from the Phase 2a proof-of-concept study testing RHB-104 in the treatment of relapsing-remitting multiple sclerosis (rrMS). The small trial, called CEASE-MS, was a single-arm, open-label study designed with a series of exploratory endpoints to evaluate the safety and potential efficacy of fixed oral dose RHB-104 as add-on therapy to interferon beta-1a. The CEASE-MS Principal Investigator was Dr. Radi Shahien, MD, of Ziv Medical Center in Safed, Israel. The results announced last week were the 24-week treatment period. The study will continue another 24-weeks with patients taking only interferon beta-1a for follow-up analysis.
The key things investors need to understand about CEASE-MS is that this was a proof-of-concept study and the lead indication for RHB-104 is in the treatment of Crohn's disease (see my analysis of RHB-104 in CD here >> RDHL-Oct2015). Proof-of-concept studies are designed to be small and exploratory, that's why this study was single-arm and open-label. Nevertheless, despite the small study, RedHill put out an exceptionally detailed and elaborate release on the data, which I think speaks highly of management's commitment to transparency for shareholders.
A total of 18 patients were enrolled in CEASE-MS; however, one patient violated protocol by taking outside medication during the dose-escalation portion of the trial, so only 17 patients were included in the analysis. This is why the company reported modified intent-to-treat (mITT) data in the press release. The one patient that violated protocol was eliminated. RedHill also provided a per protocol (PP) analysis, which eliminated another seven patients for various reasons, including patients that did not complete the full observation period and several patients that missed an MRI follow-up within a set timeframe following completion of dose escalation.
Key findings from the study include:
- The annualized relapse rate (ARR) at 24 weeks was 0.288 in the mITT population and 0.0 in the PP population. The 0.288 ARR number in the mITT group compares favorably with previously reported pivotal studies of interferon beta-1a therapies Avonex® (0.67)(1) and Rebif® (0.87-0.91)(2). The data also compares well to other first-line therapies, as referenced in Nature, 2011 (3).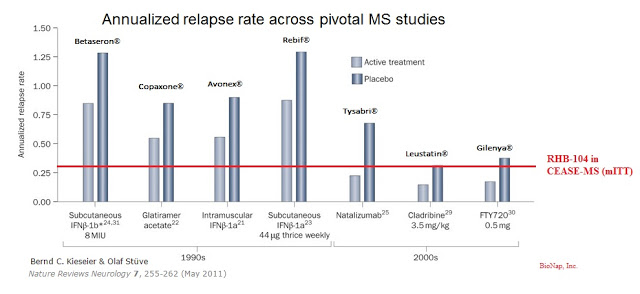 - Importantly, 88% of the mITT patient population and 100% of the PP patient population were relapse free at 24 weeks, comparing favorably with previously reported pivotal data on the use of Rebif® (75%) in comparison with Avonex® (63%) as standalone first line therapies (4). The 88% number is also superior to roughly 80% that can be expected on Tysabri monotherapy (5). Additionally, the company reported no patients in the CEASE-MS study relapsed after week 8 of treatment.
- RedHill reported the Expanded Disability Status Scale (EDSS) scores, a standard measure of MS disability, showed signs of disease stabilization, with no patient showing an increase in total EDSS (worsening of disease) at any point during the study. In fact, some patients showed a slight improvement in EDSS scores.
- The primary endpoint of the study was the number of combined unique active lesions (CUAs) in the total population. Almost all CUAs were T2 lesions (there was only a single active T1 post gadolinium lesion noted among all patients followed); and, although not powered for efficacy, a reduction in total MRI T2 lesion volume was observed at 24 weeks as compared to baseline, suggesting a decreased burden of disease and comparing favorably with previously reported Avonex® (6) and Rebif® (7) data. Additionally, no clinically significant change was observed for total CUA lesions at week 24, which study investigators believe is supportive of a stable disease state.
- Finally, RHB-104 was found to be safe and well tolerated during the 24-week dosing period, with no drug-related serious adverse events (SAE) or other clinically relevant or unexpected adverse events noted. This is important and bodes well for the ongoing Phase 3 trial with RHB-104 in CD noted above.
Next Steps With RHB-104 In MS
CEASE-MS will continue for another 24 weeks of follow-up analysis during which time patients will be only on interferon beta-1a. It will be interesting to see if the ARR increases or if a significant number of patients experience relapses once taken off RHB-104. RedHill's hypothesis with RHB-104, a triple-antibiotic with both anti-inflammatory and immune-modulating characteristics, is that
Mycobacterium avium paratuberculosis (MAP) may play a role in MS disease etiology.
MAP, an obligate pathogenic bacterium that undoubtedly plays a role in gastrointestinal inflammatory conditions, such as Crohn's, may also be involved in MS disease pathophysiology. If RHB-104 worked to eliminate an active MAP infection in these rrMS patients, which we will know more about after the 48-week data become available, then RHB-104 may have a disease-modifying effect for patients with MS. This would present the potential to incorporate RHB-104 into the standard-of-care for patients with rrMS.
In the meantime, I do not expect management to make a decision about the future of RHB-104 in rrMS until after the full 48-week data can be analyzed. This is not expected until the end of 2016. By that time, we should also have interim Phase 3 data on RHB-104 in Crohn's disease, potentially validating a very big market for the drug.
With positive interim Phase 3 data in CD and demonstrated proof-of-concept in MS, I believe RedHill will have a very good chance at signing a lucrative development and commercialization agreement around RHB-104 in 2017. Management's goal right now is to generate as much data as possible with RHB-104 (note: management may also initiate proof-of-concept work with the drug in rheumatoid arthritis). The more data that RedHill can generate around RHB-104, then potentially the more partners management can bring to the table for talks around a deal.
In the meantime, the company continues to be well-funded, having exited 2015 with $58.3 million in cash in the bank. My article from last month provides a good review of some of the other pending catalysts at RedHill expected throughout 2016 >> RDHL-Mar2016.
----------
BioNap is party to a services agreement with the company that is the subject of this report pursuant to which BioNap is paid five thousand dollars per month by the company in exchange for the provision of research reports, investor relations services, and general consulting services. Please see additional information on our Disclaimer.