Another month, another rise in minimum wage jobs such as healthcare and education, which is hardly a surprise but this time an unexpected source of hiring emerged: the government.
First a quick recap of the key sectors that added jobs in June: healthcare added a total of 59,000. Of this, social assistance employment increased by 23,000 in June, and has added 115,000 jobs over the last 12 months. Employment in financial activities rose by 17,000 in June and has grown by 169,000 over the year. Securities, commodity contracts, and investments added 5,000 jobs over the month. Mining employment grew by 8,000, with most of the growth in support activities for mining (+7,000). Since a recent employment low in October 2016, mining has added 56,000 jobs.
So how did June payrolls surprise so strongly to the upside? Courtesy of local government hiring, which added 35,000 jobs in June (more below).
One sector that remains a bright light is professional and business services, where employment continued to trend up in June (+35,000) and has grown by 624,000 over the last 12 months. Offsetting this, however, employment in food services and drinking places also continued on an upward trend in June (+29,000). The industry has added 277,000 jobs over the year, and has been on a historic tear, with 88 consecutive months of job gains since March 2010.
Below, courtesy of Southbay Research, are some of the highlights:
Notable Trends
Half of Private Payroll hiring is Healthcare (+59K) and Restaurants (+29K)
House flipping more important than production: Real Estate Hiring (+10K) vs Manufacturing (+1K)
Local Government Hiring: +35K: June 30th is end of fiscal year for most States: Use-it-or-lose-it budgets bump up hiring.
Healthcare: At +59, this was Stronger than we modeled (+59K)
Healthcare surged higher as Obamacare repeal looks unlikely
Headline number masks generally soft payrolls
As usual, the strong headline number masks generally soft payrolls:
Supply Chain (Manufacturing + Transportation): +3K

Manufacturing: +1K
Transportation: +2K

White Collar Hiring (Professional Technical + Information + Financial): +32K

Pro technical: 19K
Information: -4K
Financial: +17K

Consumer Spending (Retail + Leisure/Hospitality): +44K

Retail: +8K
Leisure/Hospitality: +36K

Business Expansion Still Mild

Temp hiring: +14K (average run-rate ttm 11K)
A visual summary of where all the jobs were in June.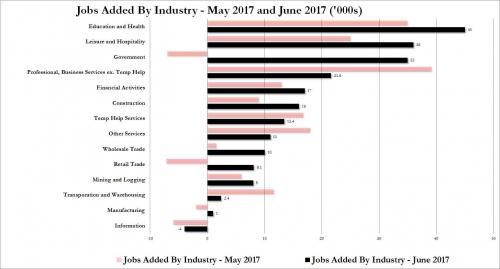 One surprise: despite the ongoing bloodbath in the retail sector, somehow in June there was an addition over over 8 thousand retail workers.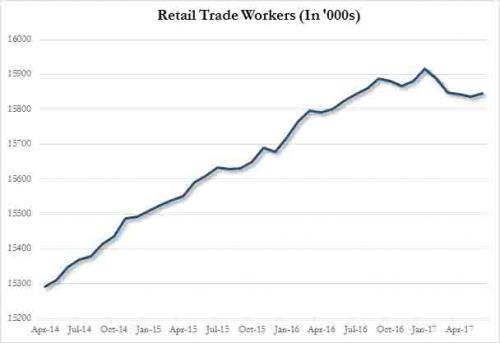 Finally, our favorite chart: the number of food service and drinking places workers (i.e. waiters and bartenders), hasn't had a down month in over 7 years.