I want to start with the 1H chart. Last week's action has been bullish, and it ended the week with a breakout of a consolidation pattern. 
This week however saw a failure to challenge the 0.83 handle, followed by a drift back down. Now, there is a break below last week's rising support.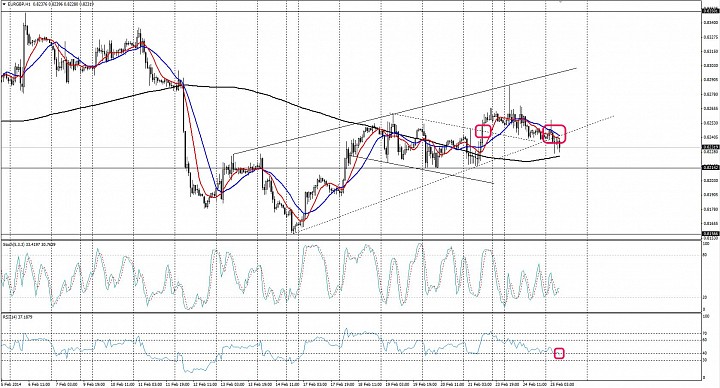 (EUR/GBP 1H chart: click for full size)
Bearish break is more significant:
In summary this was: a bullish break of a consolidation followed by a bearish break of a larger pattern. This larger pattern may be more significant, so the focus should shift toward the bearish breakout. 
Momentum: 
The fact that the 1H RSI is also pushing below 40 suggests a pattern of bullish momentum in the 1H chart is being broken. 
Rising wedge breakout:
A break below 0.8214 should be another bearish sign as it would put a lower low extending the bearish break of the rising wedge.
When we move out to the daily chart. we see a couple of things:
1) EUR/GBP has a bearish trend since Aug. 2013
2) The pair has somewhat turned sideways in 2014, but there is still a bearish tilt.
With this prevailing condition, the bearish breakout is seen as a bearish continuation break. The technical picture shows a slightly higher upside risk so far in 2014 than previously during the downtrend, but the downside risk remains high.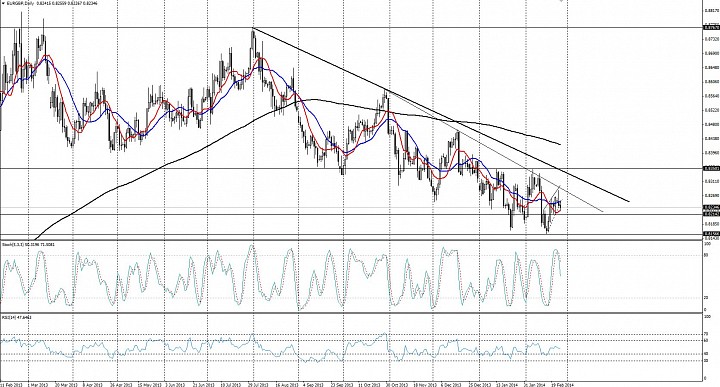 (EUR/GBP daily chart: click for full size)
Note that if the bearish outlook fails, a break above 0.8350 will be indicative a price bottom and will suggest reversal.