Curious why Netflix is being obliterated after hours, plummeting to 5 month lows, down some $100, or 24% after hours after reporting earnings? The answer is highlighted in the Q3 investor letter, and specifically the red highlighted number, which is NFLX' guidance for Q4 EPS: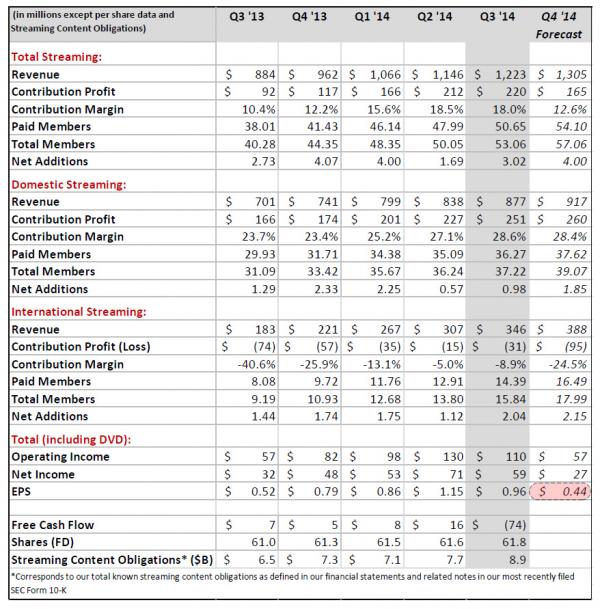 The problem is that the $0.44 guidance is about half of the $0.84 expected.
And that's not all: the 4.00 million net additions is about 700k below the expected, with domestic and international streaming adds of 1.85 million and 2.15 million, respectively, are below the 2.15 million and 2.38 million expected. In other words, the growth is over, and now the time has come to focus on actual earnings and cash flow... which sadly don't exist.
From the letter:
We added about a million new members in the US, ending Q3 with 37.22 million members, with lower net additions than our forecast and versus the prior year. Domestic streaming revenue of $877 million, in-line with forecast, grew 25% y/y and faster than membership due to the expansion of ASP from the price changes implemented in Q2.

 

Separate from forecast variability, year on year net additions in the US were down (1.3 million in Q3 2013 to 1 million in Q3 2014). As best we can tell, the primary cause is the slightly higher prices we now have compared to a year ago. Slightly higher prices result in slightly less growth, other things being equal, and this is manifested more clearly in higher adoption markets such as the US.

 

We are forecasting Q4 US contribution margin to increase almost 500 basis points on a y/y basis, but to decrease slightly sequentially, as it did last year from Q3 to Q4, due to significant sequential increases in content and marketing expense.

 

In September, we had a very successful launch in France, Germany, Austria, Switzerland, Belgium and Luxembourg, adding about 66 million1 broadband households to our addressable market. In recent days, our app has gone live on set-top boxes from SFR in France and Deutsche Telekom in Germany, and we expect  deployments this quarter from Orange and Bouygues in France, and Belgacom in Belgium. We've had more success, more quickly, with MVPD set-top boxes in these new markets than anywhere else in the world.

 

As expected, we have a full quarter of new market expenses weighing on our international contribution margins in Q4, increasing contribution loss from Q3 to Q4. Our international markets launched prior to this year (Canada 4 years ago through Netherlands 1 year ago) are now collectively profitable on a contribution basis and will continue to help us fund new markets. Moreover, contribution margin from our first expansion market, Canada, now approximates the US.

 

Starting in January, we have to pay higher VAT in most of Europe due to changes in European law (country of origin to country of destination). We will absorb these increases rather than pass them on to our members. This absorption will be reflected in slightly lower international contribution margin/profit starting in Q1 than we would otherwise have.
And then there is the whole free cash flow thing:
Finally, it wasn't just the guidance: Q3 domestic streaming adds was only 0.98 million, about 40% below the 1.37 million expected.
End result: the stock is in absolute freefall, down 24%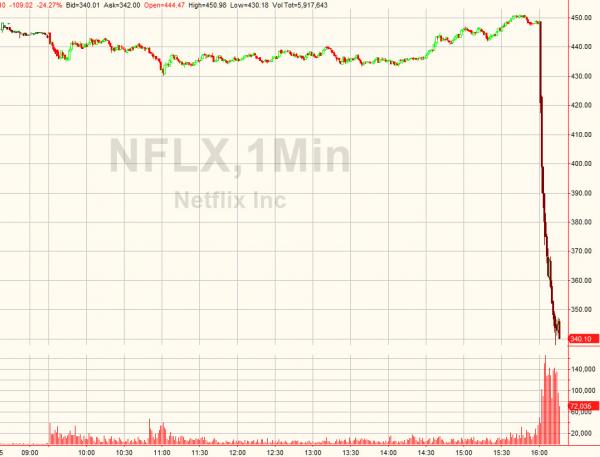 Expect epic liquidations from some of the largest NFLX holders tomorrow: