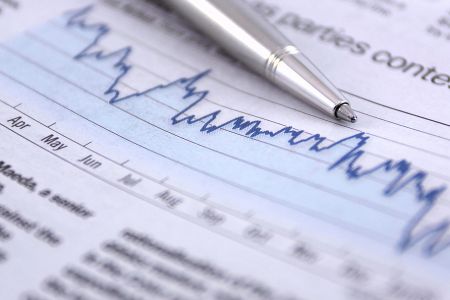 **NEW** As part of the ongoing process to offer new and up-to-date information regarding seasonal and technical investing, we are adding a section to the daily reports that details the stocks that are entering their period of seasonal strength, based on average historical start dates.   Stocks highlighted are for information purposes only and should not be considered as advice to purchase or to sell mentioned securities.   As always, the use of technical and fundamental analysis is encouraged in order to fine tune entry and exit points to average seasonal trends.
Stocks Entering Period of Seasonal Strength Today:
No stocks identified for today.
The Markets
Stocks ended lower on Wednesday, trading down from a higher open attributed to strength in markets overseas.  The S&P 500 Index lost 1.39%, falling almost 2.5% from the high of the session as prices turned lower at the declining 20-day moving average.  A reversal in shares of Apple following the tech company's product launch event fuelled weakness in the broad market as the day progressed.  Little was presented at the Apple event to entice investors to lift the stock from the nearly four month old decline.  The stock continues to flirt with bear market territory, as defined as a decline of at least 20% from the previous high.  Seasonally, September is the weakest month of the year for shares of Apple, succumbing to selling pressures following product launches.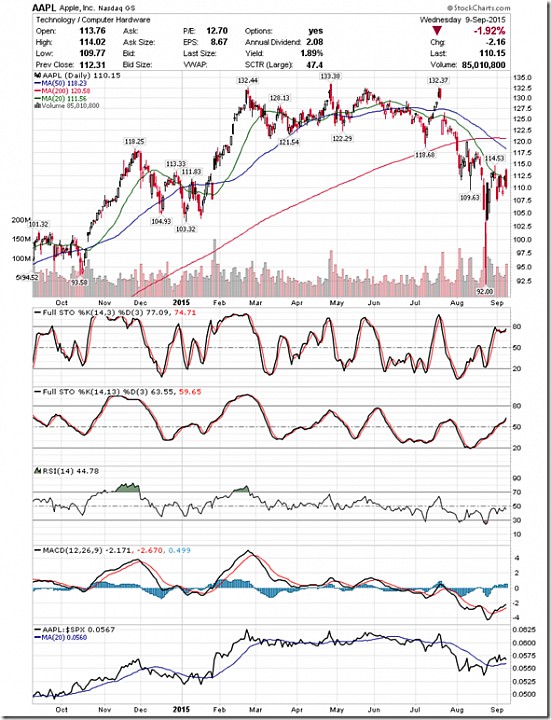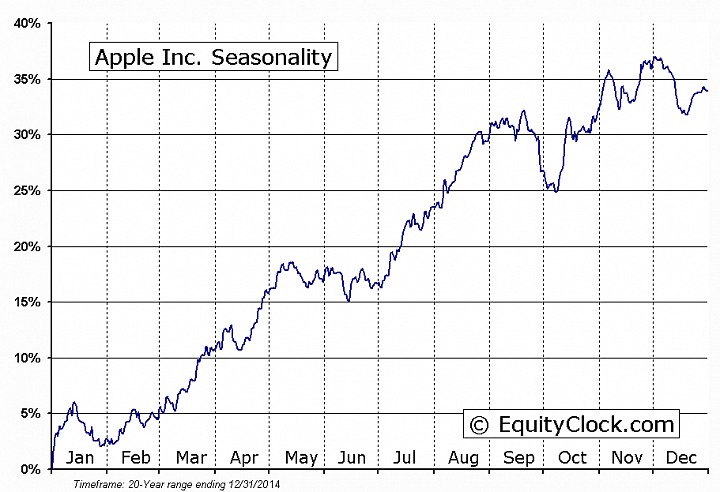 Looking at markets overseas, the Nikkei surged almost 8% on Wednesday following the commitment from Prime Minister Shinzo Abe to cut corporate taxes.  This was the eighth largest one-day gain in the past 30 years.  While the jump in the Japanese benchmark may seem optimistic, history suggests that losses are common two and three months following a one-session gain greater than 7%.    Losses have been realized 78% of the time 60 and 90 days following these substantial one-session gains with declines averaging 1.96% and 3.31%, respectively.  Seasonally, the benchmark remains in a period of seasonal weakness that runs from the start of July to the end of October, a tendency that has certainly followed through this year; seasonal buying opportunities tend to materialize in the month of November.  Short and intermediate trends of the benchmark remain negative, as indicated by the direction of the 20 and 50 day moving averages. 
Nikkei Returns Following Gains Greater Than 7% in a Single Session
Date
1-Day Gain
60 Days Following
90 Days Following
10/30/08
9.96%
-3.13%
-10.23%
10/29/08
7.74%
6.43%
-1.84%
10/14/08
14.15%
-12.83%
-6.46%
3/21/01
7.49%
5.91%
-4.04%
11/17/97
7.96%
-1.46%
3.12%
1/31/94
7.84%
-4.71%
-2.49%
4/10/92
7.55%
-0.03%
-5.61%
10/02/90
13.23%
-1.93%
4.15%
10/22/87
11.38%
-5.93%
-6.40%
Average:
-1.96%
-3.31%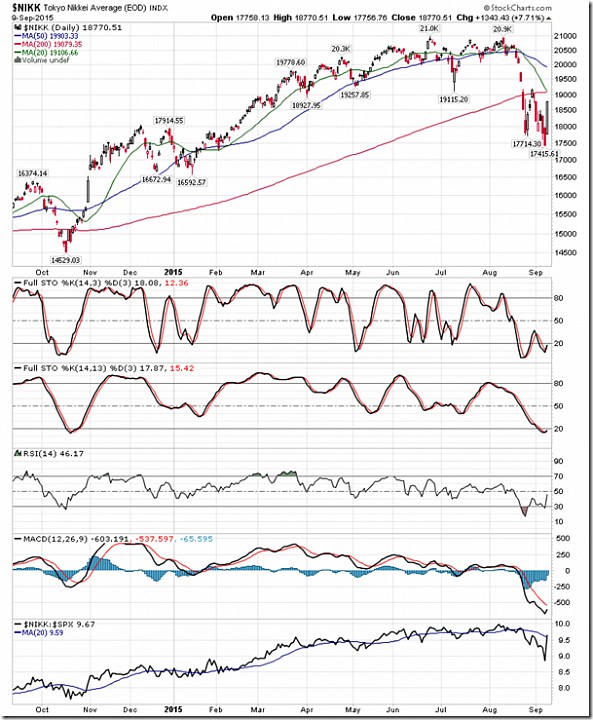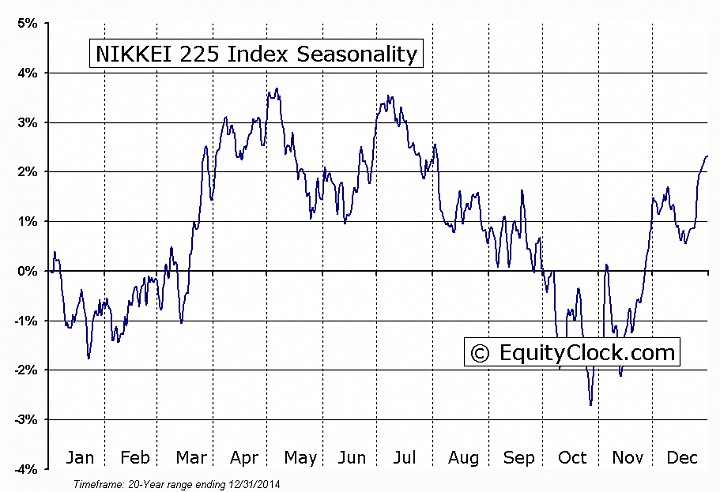 While we continue to monitor the gyrations in equity markets around the globe, cracks are emerging in the "fear trade," namely Gold.  The price of Gold shed 1.39% on Wednesday, falling below its 50-day moving average and seemingly resuming a trend of lower-highs and lower-lows.  The weakness is being realized during a period that is typically positive for the price of the metal as volatility promotes the asset to the position of a safe-haven allocation.  Resistance between 1140 and 1240 is proving to be a tough nut to crack as investors trapped in positions following nearly a year of trading within this range seek to exit allocations close to entry prices.  Support remains apparent at the August low around 1080, a level that may require a retest to confirm that buyers are present.  Intermediate and long-term trends remain negative as inflation expectations continue to decline.  The period of seasonal strength for the commodity concludes at the start of October.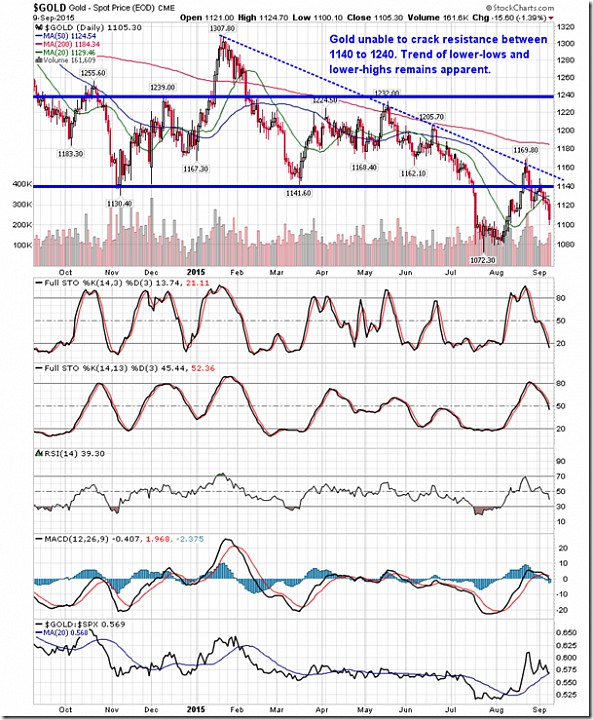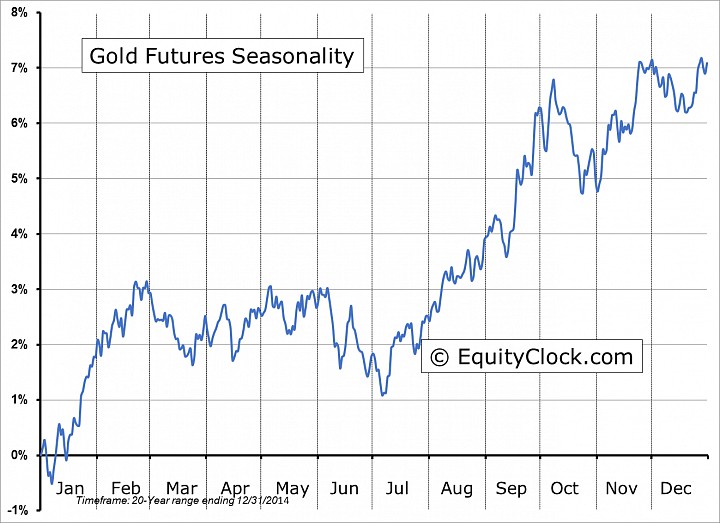 Sentiment on Wednesday, as gauged by the put-call ratio, ended bearish at 1.03.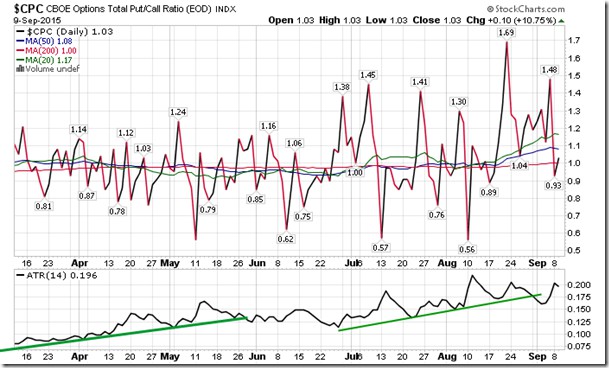 Seasonal charts of companies reporting earnings today:
 
S&P 500 Index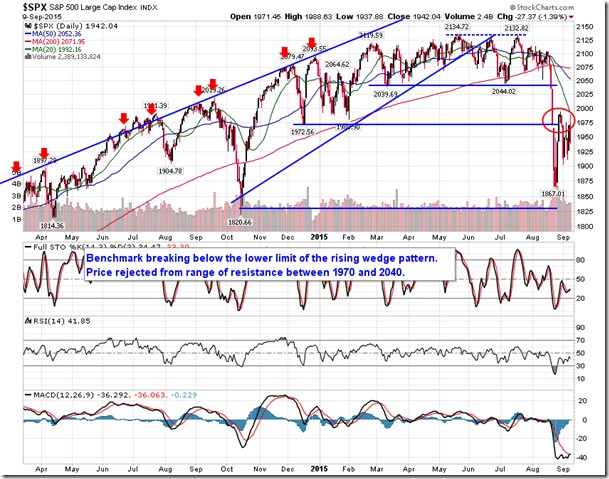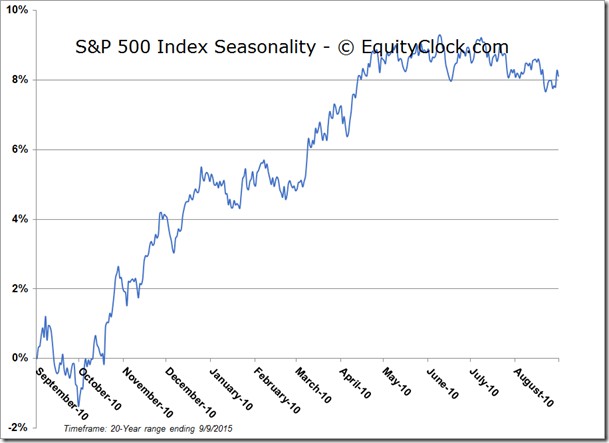 TSE Composite