The Industrial production numbers are down in Germany. May production declined at -1.8%, while the April reading was revised from 0.2% to -0.3%. Forecast called for a 0.3% gain. On the year, May's production was 1.3% higher than in May 2013. As you can see on the historical chart, we have seen production sharply turn down on the year-to-year basis.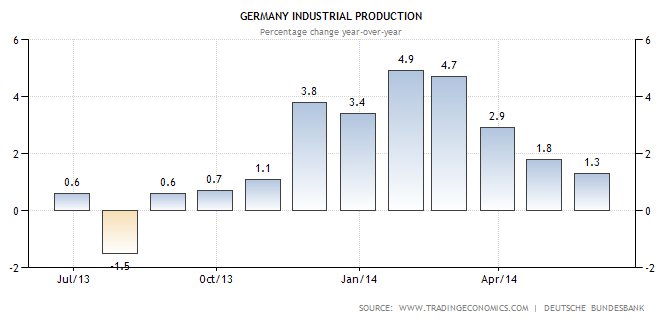 (source: tradingeconomics.com)
Last week, retail sales data for May also missed forecasts of growth and showed a reading of -0.6%, missing badly the 0.8% forecast. The April reading was revised from -0.9% to -1.5%.
While the overall German economy is strong, it is starting to show some signs of stalling. Poor data sets up for Thursday's ECB Monthly Bulletin, where the bank will have to address the slowdown, the deflationary pressure, and possibility of further stimulus.
Not a good start for euro-bulls in terms of fundamentals.