Juniper Networks Inc. JNPR reported second-quarter 2017 non-GAAP earnings (including share-based compensation and share-based payroll tax expense) of 49 cents per share, beating the Zacks Consensus Estimate by seven cents.

Excluding these items, earnings increased 14% from the year-ago quarter to 57 cents per share. The figure was almost in line with management's expectation of 54 cents (+/- 3 cents).

The growth was driven by solid revenues, which increased 7.2% year over year to $1.31 billion, comfortably surpassing the Zacks Consensus Estimate and its own expectation of $1.28 billion (+/- $30 million). The year-over-year revenue growth was much better than management's expectation of 5%.

Despite DRAM pricing issues and unfavorable product and customer mix hurting the company's gross margin in the rest of 2017, we believe that current guidance is a bit conservative.

Based on the first-half results (earnings up 18.4% on 9.1% revenue growth), we believe that Juniper has significant growth opportunity based on the strong adoption of its cloud products (particularly in data center), which jumped 32% year-over-year in the reported quarter. Notably, four out of top 10 customers were cloud providers in the reported quarter.

Moreover, strong demand for its switching product (the QFX line) will drive top-line growth. Further, stringent cost control and shareholder friendly initiatives will aid the stock to maintain upside against the broader market in 2017.

Juniper's stock has gained 6% year to date, substantially outperforming the industry it belongs to.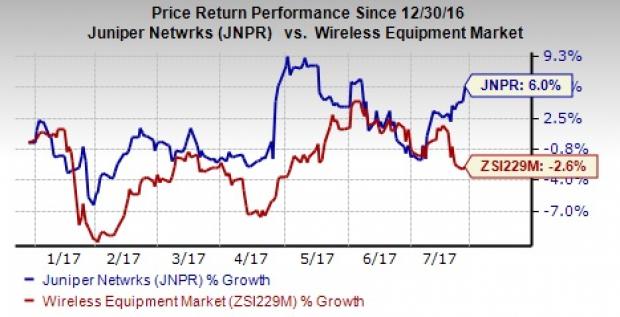 Top-Line Detail

Product revenues (70.1% of total revenue) increased 6.4% on a year-over-year basis to $917.2 million. On the other hand, services revenues (29.9% of total revenue) climbed 9% to $391.7 million.

The networking solutions provider witnessed year-over-year revenue growth in the Switching product category, which surged 31.9% to $276 million. Management stated that cloud data center provider's ongoing transition to 100-gigabit infrastructure drove growth.

Routing category revenues remained almost flat at $572.5 million. Both MX and PTX products had a strong quarter.

However, Security revenues declined 12.1% to .7 million. Juniper launched an enhanced Software-Defined Secure Networks (SDSN) platform. The company also expanded its public cloud offering with the introduction of virtual SRX 4.0.

Geographically, the company registered a year-over-year increase in revenues from America (11.2%) and Asia Pacific (9.3%), while revenues from EMEA decreased 4%.

Operational Details

Adjusted gross margin contracted 100 basis points (bps) year over year to 62.5%, primarily due to unfavorable product (more volumes of switch) and customer mix. The company expanded footprint into certain strategic APAC customers, which are low margin business. Gross margin was lower than management's guidance of 62.5% (+/- 0.5%).

As percentage of revenues, general & administrative (G&A), sales & marketing (S&M) and research & development (R&D) expenses decreased 60 bps, 170 bps and 30 bps, respectively on a year-over-year basis.

In dollar terms, total operating expense remained almost flat at $495.8 million, lower than management's guidance of $500 million (+/- $5 million). This was primarily due to lower variable compensation and stringent cost control. Operating expense as percentage of revenues declined 260 bps to 37.9%.

Hence, non-GAAP operating margin expanded 170 bps to 24.2%, which was better than management's guidance of almost 23.5%.

Cash Flow/Share Buyback

Total cash, cash equivalents, and investments as of Jun 30 were $4.22 billion as compared with $4.04 billion as of Mar 31. Juniper's net cash flows from operations were $299 million, as compared with $545.3 million in first-quarter 2017.

The company repurchased $125 million of shares and paid $38 million in dividends in the reported quarter.

Guidance

Juniper anticipates revenues of approximately $1.32 billion (+/- $30 million) for third-quarter 2017, reflecting almost 5% growth, which falls within management's long-term revenue growth expectation of 3–6%.

Non-GAAP gross margin is projected to be around 62% (+/- 0.5%). The company expects non-GAAP operating expenses of $500 million (+/- $5 million), and non-GAAP operating margin of almost 24.1%.

Non-GAAP earnings are anticipated to be 58 cents per share (+/- 3 cents).

Juniper expects 2017 revenues to grow near the midpoint of its long-term model range of 3% to 6%. For the rest of 2017, management expects non-GAAP gross margin to be similar to the first-half figure (lower than long-term expectation of 63%), due to unfavorable customer and product mix along with higher cost for certain memory components.

The company expects to achieve long-term operating expense as percentage of revenue guidance of 39% in 2017.

Management expects continued strong cash flow generation and plans to return approximately 50% of free cash flow to shareholders.

Zacks Rank & Key Picks

Currently, Juniper carries a Zacks Rank #3 (Hold).

Better-ranked stocks in the broader technology sector are Motorola Solutions MSI, Infineon IFNNY and Applied Optoelectronics AAOI. While both Infineon and Applied Optoelectronics sport a Zacks Rank #1 (Strong Buy), Motorola carries a Zacks Rank #2 (Buy). You can see the complete list of today's Zacks #1 Rank stocks here.

Infineon is expected to report earnings on Aug 1. Both Motorola and Applied Optoelectronics are set to report earnings on Aug 3.
The Hottest Tech Mega-Trend of All
Last year, it generated $8 billion in global revenues. By 2020, it's predicted to blast through the roof to $47 billion. Famed investor Mark Cuban says it will produce "the world's first trillionaires," but that should still leave plenty of money for regular investors who make the right trades early.
See Zacks' 3 Best Stocks to Play This Trend >>
Want the latest recommendations from Zacks Investment Research? Today, you can download 7 Best Stocks for the Next 30 Days.
Click to get this free report
Juniper Networks, Inc. (JNPR): Free Stock Analysis Report
Motorola Solutions, Inc. (MSI): Free Stock Analysis Report
Infineon Technologies AG (IFNNY): Free Stock Analysis Report
Applied Optoelectronics, Inc. (AAOI): Free Stock Analysis Report
To read this article on Zacks.com click here.
Zacks Investment Research