Fund at BlackRock's India JV returned 275% in three years
Managers restrict inflows while global peers fight withdrawals
The world's best-performing stock fund is discovering the downside of success.
After producing a three-year return of 275 percent, more than any other equity fund with at least $500 million, managers of the DSP BlackRock Micro Cap Fund say bargains are disappearing in their market niche of Indian small-caps. The dearth of cheap shares has become so severe that the fund took the unusual step of limiting client inflows as India's benchmark small-cap index jumped to an all-time high this month.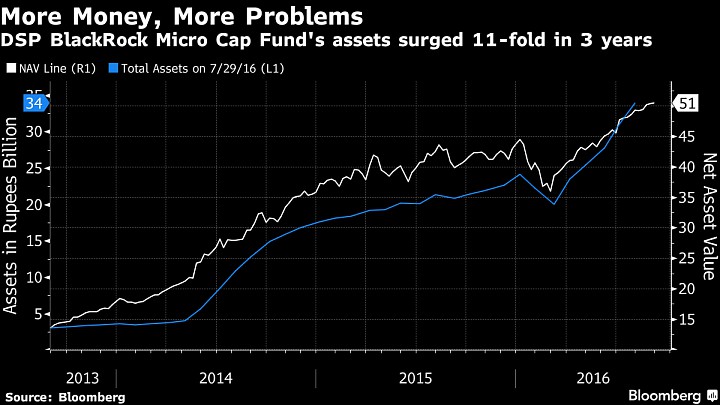 The move, almost unheard of at a time when active managers around the world are struggling to prevent withdrawals, reflects growing apprehension toward one of the great investment stories of the past three years: India's economic revival under Prime Minister Narendra Modi. While few dispute that smaller companies have benefited from the country's world-beating growth, DSP BlackRock and other skeptics from Ativo Capital Management LLC to Auerbach Grayson & Co. say share prices have climbed too far, too fast.
"We are not comfortable with the current valuations, which is limiting our ability to build decent-sized positions," Vinit Sambre, a co-manager of the Micro Cap fund at Mumbai-based DSP BlackRock, a JV between the world's largest money manager and India's DSP Group, said by e-mail. "Valuations discount much of the near-term positive developments."
Small-Cap Fever
The Micro Cap fund, whose assets have expanded 11-fold over the past three years, began restricting daily inflows to 100,000 rupees ($1,491) per investor from Aug...
More