Chinese stocks are trading lower again (on margin crackdowns) - the first 3-day drop in 3 weeks - back into the red year-to-date. Despite weakening the fix this evening, the 'market price' for USDCNY is trading at a record 1.93% discount to the official rate - inching ever closer to the 2% peg limit. At 6.2522, the market is just 40 pips away from forcing policy makes to intervene (selling the USD and and buying Yuan) - which realistically is perhaps a positive for the Chinese to unload some USD reserves. This move comes as China's currency overtook Canada's dollar to rank fifth for global payments last month with a record market share of 2.17% and HSBC this evening forecast the Yuan will overtake the Japanese Yen as Asia's most-used Global FX in Q2.
Chinese stocks are lower for the 3rd day in a row... and negative year-to-date again (note the last 2 days saw afternoon session bounces... but yesterday failed)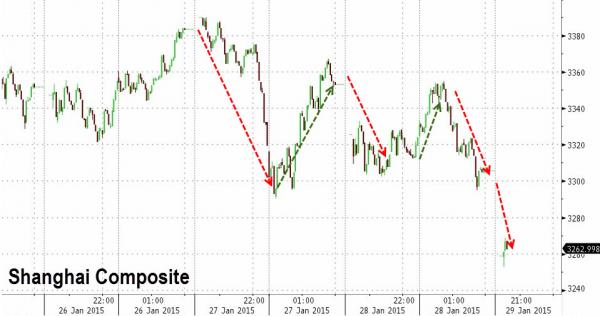 On the heels of more margin crackdowns...
*CSRC TO CHECK 46 COS.' MARGIN FINANCE BUSINESSES: XINHUA
It appears the regulators are serious about taming the wild beast of speculative frenzy that created this...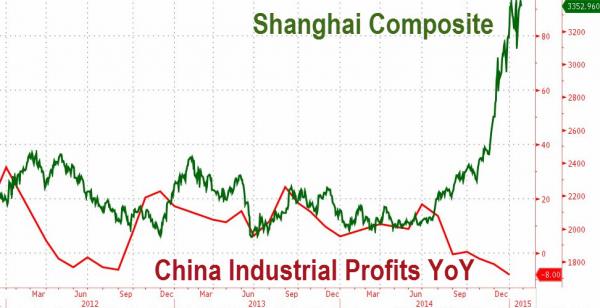 The upper USDCNY (lower CNY) band is getting tested as the market appears to be forcing policy-maker's hands to raise the fix (weaken the Yuan fix)...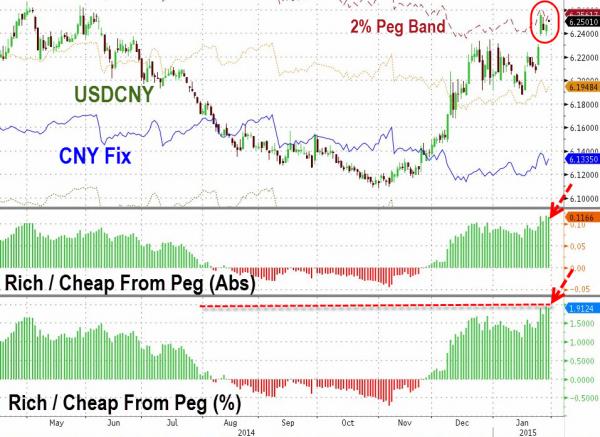 As Yuan overtakes CAD to become the 5th most used cuirrency in global trade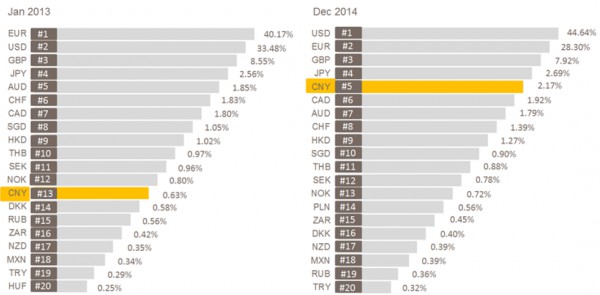 and HSCB sees JPY being overtaken soon...
HSBC expects rapid uptake of international payments in yuan to continue this year and beyond, according to Vina Cheung, global head of RMB internationalization for payments and cash management.

 

"Following 102% growth in 2014, we anticipate the RMB will overtake the JPY as Asia's top global currency in Q2 2015," Cheung says in statement
*  *  *
De-dollarization continues...