Shares of Snap Inc. SNAP dipped nearly 1% in early morning trading Wednesday, signaling that it would be another volatile day for the trendy social media stock. Snap has been no stranger to volatility ever since its historic IPO earlier this year, but as the stock slips closer and closer to its initial offering price, some investors are rightfully starting to worry.
In the past week alone, Snap shares have slumped more than 10% and are now sitting just 5.5% higher than their IPO price of $17. The stock was hit by the recent industry-wide tech selloff, but the company has also failed to answer some of the key questions posed by investors as competition from the likes of Facebook FB continues to increase.
Of course, there are plenty of investors who also feel that Snap's recent slump has caused the stock to slip into "oversold" territory, which could mean that now is a good time to buy at a discount. But is this the case? Should you buy Snap on the dip? Let's dig into the fundamental picture first: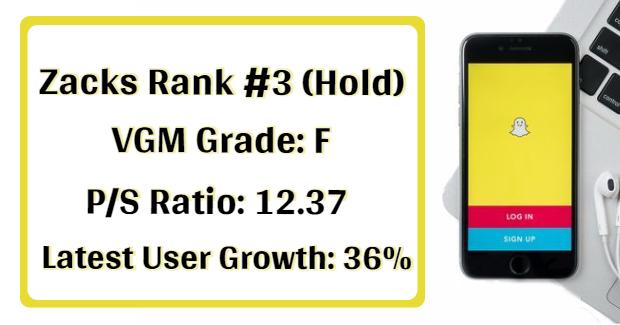 First of all, let's note that Snap's VGM grade is relatively abysmal. In all fairness, the stock is hindered by its lack of year-over-year growth comparisons, and the fact that the company is not currently posting profits certainly drags its value-related metrics down. Nevertheless, momentum has been terrible and several key metrics are weak compared to Snap's "Internet-Software" industry peers.
With that said, I did want to highlight the stock's current P/S ratio, because that is a value metric that is often used for young tech companies that are not currently posting profits. Unfortunately, a 12.37 P/S ratio is not very impressive, especially considering that this is about 4 times the industry average. Sure, Snap's revenue is growing very rapidly, but shares are still trading at a shocking premium.
It's also important to look at user growth numbers when it comes to these young tech companies. In its first ever earnings report as a publicly-traded company, Snap said that daily active users (DAUs) were up 36% to 166 million. This is a growth rate that is probably encouraging to Snap investors, but it doesn't necessarily sooth concerns that user growth could be hampered by the plethora of Snapchat clones that are becoming available.
Keeping all of this in mind, we should probably mention that most of the investors that are backing Snap right now are institutions and long-term holders. This is important to consider because in today's bull market, many of these holders can forgive weak value metrics and possible short-term worries if there is a strong belief in company management and future potential.
Also, we should mentioned that SNAP is currently a Zacks Rank #3 (Hold). Remember, the Zacks Rank is heavily influenced by earnings estimate revisions, so let's check out a quick snapshot of the revision activity we have seen for Snap recently:

Again, this reveals a relatively lackluster picture. Interestingly enough, we see some positive signs for the company's more distant future, and it should encourage the previously mentioned long-term holders that we've seen 57% agreement on improving estimates for the company's next-year earnings.
Nevertheless, that 57% agreement is on the downside for the current quarter and next quarter, which has helped drag Snap's Zacks Rank down a bit. As we head closer to the company's next earnings report, investors should keep their eyes on the latest analyst sentiment, but right now, that sentiment is not very strong.
Remember, the Zacks Rank is designed to be a 1-3 month indicator, and investors trying to decide whether Snap's recent slump has forced the stock into "oversold" territory may be more interested in shorter term analysis. Let's take a peek at some technical charts that are often used for determining "overbought" or "oversold" status: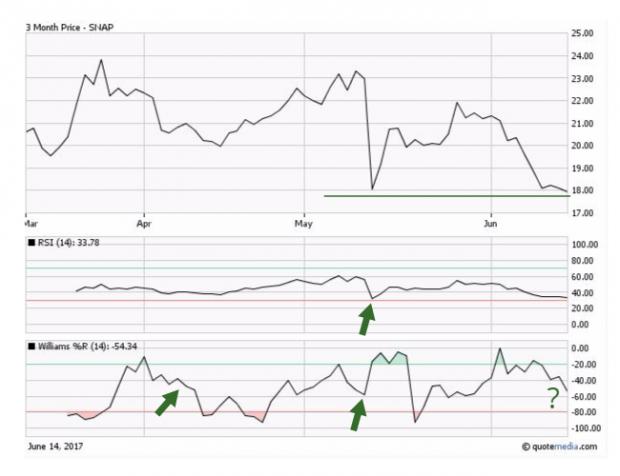 There's a few interesting things to note here. First of all, we can see that SNAP has had some marginal swings on both the RSI and Williams%R charts, but the stock doesn't seem to flirt with the overbought or oversold thresholds for too long.
We should also note that Snap's biggest dip came directly after its disappointing first earnings report. However, this dip may actually display some support, as the stock seemed to find its level at the $18 mark during this post-earnings slump. This is also revealing because it helped the stock resist the bearish signals that were appearing on both of these technical charts.
Nevertheless, we only have a small picture here because of how young this stock is. In the present, share prices are once again flirting with the $18 support line, and it will be interesting to see whether that support holds up again.
Also, SNAP is inching closer to the 30.00 mark that many consider to be the "oversold" threshold on the RSI chart, but the stock is also displaying what is typically considered a bearish signal on the Williams%R chart—a move from "overbought" back down below the -50 level.
So to summarize, SNAP is a polarizing stock with an unclear short and long-term outlook. Any fundamental and technical analysis will depend on what you—the individual investor—prefers to use. Sure, there are plenty of bearish signals here, but are long-term holders necessarily wrong about the company's future? It's certainly too early to say.
Want more stock market analysis from this author? Make sure to follow @
https://twitter.com/Ryan_McQueeney
on Twitter!
3 Top Picks to Ride the Hottest Tech Trend
Zacks just released a Special Report to guide you through a space that has already begun to transform our entire economy... Last year, it was generating $8 billion in global revenues. By 2020, it's predicted to blast through the roof to $47 billion.
Famed investor Mark Cuban says it will produce "the world's first trillionaires," but that should still leave plenty of money for those who make the right trades early. Download Report with 3 Top Tech Stocks >>
Want the latest recommendations from Zacks Investment Research? Today, you can download 7 Best Stocks for the Next 30 Days.
Click to get this free report
Facebook, Inc. (FB): Free Stock Analysis Report
Snap Inc. (SNAP): Free Stock Analysis Report
To read this article on Zacks.com click here.
Zacks Investment Research