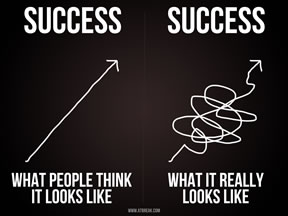 Entrepreneur Trap – Expectations
Following up on the entrepreneurial trap of neglecting demand before starting a business, let's focus on the psychology of being an entrepreneur. As an entrepreneur you will be driven by emotions, and your emotions will primarily be driven by expectations.
Nothing worthwhile in life will ever come easy and business is no exception. The road to starting your own business will be filled with failures, sacrifices, and more failures. The sooner you can realize and accept this fact, the happier you will be as an entrepreneur.
Business infomercials might have you believe that you can make millions by trading stocks on your laptop sitting at the beach or by flipping properties doing some simple paperwork.
The harsh reality is that these infomercials are selling you the dream of the event while neglecting the less appealing truth of the process.
If you want significant changes in your life (event), you should expect to also take significant actions (process). People get disappointed because their expectation (event) is far greater than what their action (process) can support.
The key point is this: Most people have unrealistic expectations when it comes to getting rich, getting in shape or finding their true love.
They expect riches by following a simple program and when they don't see results they get disappointed. They give up and proclaim "this is a scam!" They always expect more in return than what they put in.
The truth is this: No matter how confident you are in business or how hard you work, your mind will still be constantly flooded by these negative thoughts from time to time.
"Will this ever work?"
"Why is no one visiting my website after 2 weeks?"
"Will this invention ever sell?"
All these thoughts will shatter your dreams and stop you from taking action if you let them. The solution is to expect these doubts and embrace them. Just put in the hard work and your self doubt will slowly go away. As old doubts fade away, new doubts will soon start to replace them but that is okay! It's all about the journey. Those in it for the long-haul stay the path and move closer to the goal.
" For as long as I can remember . . . I feel this great creative and spiritual force within me that is greater than faith, greater than ambition, greater than confidence, greater than determination, greater than vision. It is all these combined. My brain becomes magnetized with this dominating force which I hold in my hand. I know my ideas are right, and therefore, the results satisfactory. I do not worry about the outcomes but merely set forth the machineries to achieve it."
- Bruce Lee