The 1H EUR/USD Chart shows a market that has recently tried to find a price bottom. It did find support at 1.3366 after last week's FOMC statement, and then rallied to 1.3445 after the US Non-Farm Payroll came in less than expected. 
In this range, you can see a central pivot at 1.3405. A hold above this level shows near-term bullish bias, and puts the pressure on the 1.3445 level. A break above that exposes the next key resistance area in 1.35-1.3510, which was a previous support area. 
A break below 1.34 however refocuses on the 1.3367 low. Since the prevailing trend is bearish, it is downside risk in breaking this low toward the 1.3295-1.33 lows from Nov. 2013.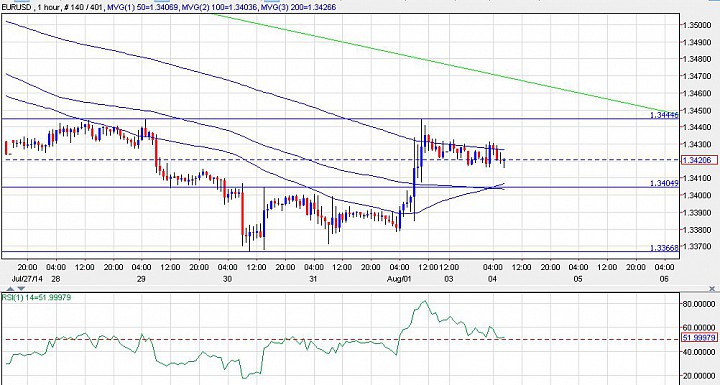 (EUR/USD 1H)
In the daily chart, you can see that the 1.35 resistance could be reinforced by a falling trendline. Then above that the next key resistance could be in the 1.3650-1.37 area. This is likely the last line of defense before bulls take over.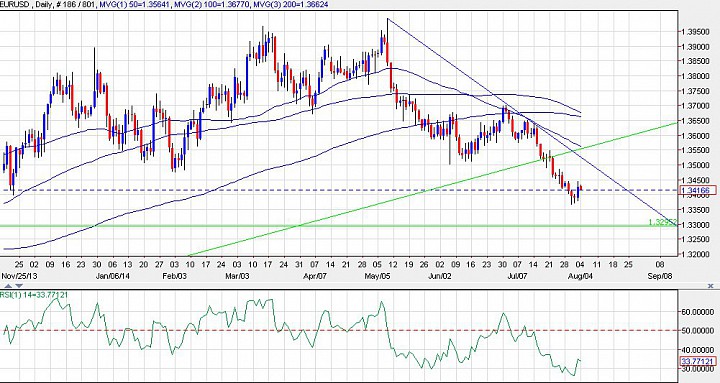 (EUR/USD Daily)
In the weekly chart you see that the overall mode looks to be shifting. A 2-year rally could be over. There was a double top in March through May. Then in July we had a break below a rising trendline from 2012.
Note that the moving averages are still relatively sideways and if price breaks below the 100-week SMA, it adds another bearish sign for EUR/USD in 2014.