Shares of Manitowoc Company, Inc. MTW scaled a new 52-week high of $8.40 on Aug 8 following the announcement of its second quarter results, before ending the day lower at $7.40. The company has delivered a one-year return of about 61%. Manitowoc has a market cap of $1.1 billion. Average volume of shares traded in the last three months is pegged at approximately 1.62 million.

What's Driving Manitowoc?

Manitowoc reported second-quarter 2017 adjusted earnings of 5 cents per share, up 67% from 3 cents reported in the year-ago quarter. After incurring losses for straight three quarters due to weak crane demand, the company has returned to profit in the second quarter. The year-over-year improvement was mainly driven by focus on consolidating manufacturing footprint and reducing cost of organizational structure.

Backlog for the quarter came in at $491 million as of Jun 30, 2017, up 25% from $393.5 million in second-quarter 2016. Second-quarter orders of $379.5 million, which included the initial production order related to the U.S. Army contract, were up 9% from the comparable period in the last year.
Manitowoc updated full-year 2017 financial guidance backed by first-half 2017 performance and expectations of revenue growth for the back half of the year. The company now expects revenues to decline approximately 5–7% year over year in 2017. It previous guidance was a decline of between 8% and 10%. Adjusted EBITDA is anticipated to lie between $59 million and $69 million (previous guidance was between $41 million and $59 million).

Manitowoc Company, Inc. Price and Consensus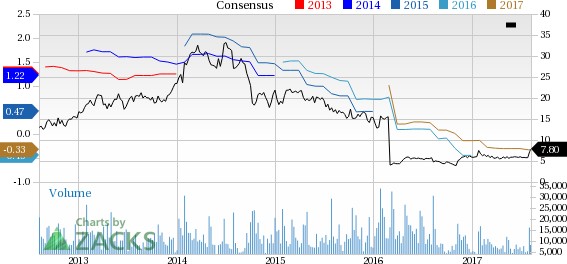 Manitowoc Company, Inc. Price and Consensus | Manitowoc Company, Inc. Quote

The company noted few sections of growth in specific markets within North America, such as the Permian and Eagle Ford basins. European markets continue to grow at a modest pace, underscored by residential and nonresidential project activity. Manitowoc continues to drive new programs in the aftermarket business, which contributed around 20% of revenues in the reported quarter. The company remains focused on growing this part of the business.

Manitowoc is making significant progress in the implementation of the Manitowoc Way to drive four key strategic priorities. The first part of the strategy is margin expansion. The company continues to align manufacturing capacity and build schedule to the current demand levels. The relocation of crawler crane manufacturing in the U.S. is complete. The move has an estimated pre-tax cost savings of $25–$30 million. The shifting will help eliminate significant excess capacity and consequently, help drive operational efficiency and provide resources to invest in profitable growth. Moreover, the tower crane relocation to Portugal remains on schedule. The company also remains focused on cost controls, reducing headcount, increasing productivity and eliminating waste.

Further, it remains firm on introducing new products and services that deliver enhanced productivity to generate greater return on investment for customers. Thirdly, it aims to focus on gaining market share through innovation. Lastly, the company will utilize its strengthened balance sheet to allocate capital for most accretive options such as de-leveraging, organic investments, stock buybacks and external growth.






Year to date, Manitowoc has outperformed the industry with respect to price performance. The stock gained around 30.4%, while the industry recorded growth of 24.2%.

Manitowoc currently carries a Zacks Rank #4 (Sell). The company has a long-term expected earnings growth of 9.50%.

Some better-ranked stocks in the same sector include Terex Corporation TEX, AGCO Corporation AGCO and Caterpillar Inc. CAT. All the three stocks flaunt a Zacks Rank #1 (Strong Buy). You can see the complete list of today's Zacks #1 Rank stocks here.

Terex has expected long-term growth rate of 19.67%.

AGCO has expected long-term growth rate of 13.51%.

Caterpillar has expected long-term growth rate of 9.50%.

More Stock News: Tech Opportunity Worth $386 Billion in 2017

From driverless cars to artificial intelligence, we've seen an unsurpassed growth of high-tech products in recent months. Yesterday's science-fiction is becoming today's reality. Despite all the innovation, there is a single component no tech company can survive without. Demand for this critical device will reach $387 billion this year alone, and it's likely to grow even faster in the future.

Zacks has released a brand-new Special Report to help you take advantage of this exciting investment opportunity. Most importantly, it reveals 4 stocks with massive profit potential. See these stocks now>>
Want the latest recommendations from Zacks Investment Research? Today, you can download 7 Best Stocks for the Next 30 Days.
Click to get this free report
Terex Corporation (TEX): Free Stock Analysis Report
Caterpillar, Inc. (CAT): Free Stock Analysis Report
Manitowoc Company, Inc. (The) (MTW): Free Stock Analysis Report
AGCO Corporation (AGCO): Free Stock Analysis Report
To read this article on Zacks.com click here.