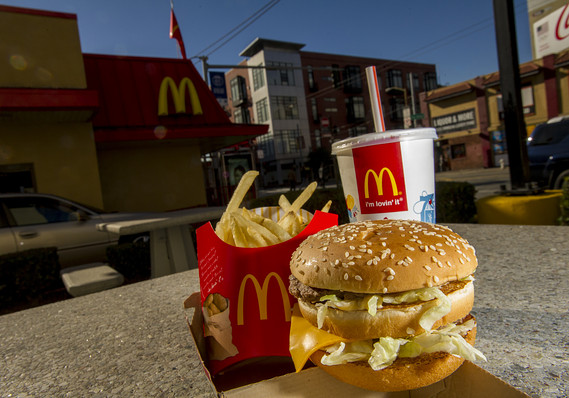 Bloomberg
Some analysts are lovin' it

As McDonald's Corp. pushes ahead with a new menu policy and a new chief executive takes the reins, some analysts have become bullish on the stock.
Steve Easterbrook, formerly the chief global brand officer for McDonald's, replaced Don Thompson as chief executive March 1. On Wednesday, McDonald's announced that it would only use chickens raised without antibiotics important to human medicine, and said it would use milk from cows that weren't treated with the artificial growth hormone rbST.
RBC Capital Markets analysts upgraded the stock to outperform from sector perform, and raised their price target to $115 from $93, or 21 times their 2016 earnings-per-share estimate. McDonald's MCD, -1.14% shares were up about 0.5% at $100.25 in afternoon trade.
"We now believe the risk/reward profile for McDonald's stock is skewed toward the upside," the analysts said.
RBC is expecting low single-digit growth in earnings per share in 2015, and forecasting that same-store sales will turn positive by the end of the year. For 2016, they expect 13% growth in EPS, followed by 10% growth in 2017.
The analysts are expecting changes in U.S. store food quality, menu rationalization, the ability for consumers to customize the menu and the launch of digital payments to drive growth.
McDonald's reported disappointing fourth-quarter earnings with revenue falling 7.3% compared with the year-earlier period and global same-store sales falling 0.9%. U.S. same-store sales fell 1.7% but were above the 2% estimated by analysts surveyed by FactSet.
The fast-food giant has been struggling with declining sales as consumers, especially the millennial demographic, turn toward slightly more upscale chains like Chipotle CMG, +0.06% and Panera PNRA, +0.01% . Younger consumers also appear to be put off by McDonald's big menu.
RBC said McDonald's can overcome the "core product perception issues" that other large consumer brands face, and will be able to turn to personalized marketing.
"We believe the company has the ability and opportunity to upgrade its core product," the analysts said.
In another initiative aimed at connecting with a younger consumer, McDonald's has announced it will sponsor the South by Southwest festival in Austin, an annual gathering of musicians, filmmakers and entrepreneurs which is largely frequented by the 21- to 34 year-old age group.
Caitlin Huston