Plexus Corp PLXS reported fiscal fourth-quarter 2017 adjusted earnings of 84 cents per share which beat the Zacks Consensus Estimate of 82 cents. However, revenues of $670 million fell way short of the consensus mark of $681 million.
On a year-over-year basis, earnings and revenues increased 2.4% and 2.6%, respectively.
Revenues from the Communications sector (21% of total revenue) grew 9.4% year over year to $140 million.
Healthcare/Life Sciences revenues (35%) were up 21.4% from the year-ago quarter to $233 million.
Plexus Corp. Price, Consensus and EPS Surprise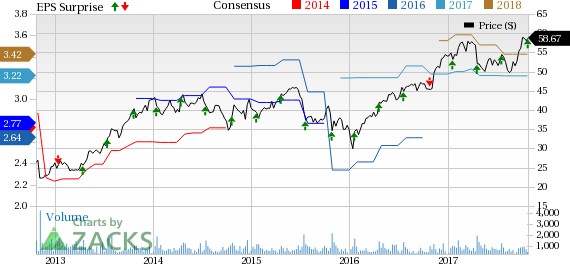 Plexus Corp. Price, Consensus and EPS Surprise | Plexus Corp. Quote
Industrial/Commercial revenues (28%) were down 18.2% year over year to $189 million.
Defense/Security/Aerospace segment revenues (16%) grew 5.9% on a year-over-year basis to $108 million.
Region-wise, revenues from the Americas decreased 6% to $314 million. However, revenues from the Asia Pacific region increased 11.7% to $334 million on a year-over-year basis. Revenues from Europe, the Middle East, and Africa, which totaled $55 million, also grew 25% year over year.
Margins
Plexus reported adjusted operating profit of nearly $34 million in the quarter, up 1.3% year over year. Adjusted operating margin was unchanged year over year at 5.1%.
Balance Sheet & Cash Flow
Plexus exited the fiscal with cash & cash equivalents worth $568.9 million compared with $433 million as of Oct 1, 2016. The company had long-term debt and capital lease obligations of about $26.2 million compared with $184 million as of Oct 1, 2016.
For the quarter, the company generated $49.8 million in cash flow from operations and used $14.1 million for capital expenditures. Free cash flow came in at about $35.7 million. Share repurchases for the quarter amounted to $10.3 million.
Outlook
For the first quarter of fiscal 2018, revenues are projected in the range of $665–$705 million. GAAP earnings are projected within 75 and 85 cents per share.Operating margin is expected to be in the band of 4.6% to 5%.
The Zacks Consensus Estimate for earnings and revenues stand at 84 cents and $684.6 million, respectively.
Our Take
We believe new program wins, together with global expansion, will drive growth over the long term. In the last reported quarter, Plexus won 34 new manufacturing programs worth approximately $172 million. It added over $811 million in revenues in the trailing four quarters from new wins. Additionally, the consolidation of the company's production facilities in low-cost areas is expected to boost margins, going forward.
However, a mature electronic manufacturing services market and intense competition from the likes of Jabil Circuit JBL, Celestica Inc. CLS and Flextronics FLEX remain headwinds. Additionally, the company expects weakness in the Communications market to impact business in the near term. Over the past year, its shares have increased 29.3% compared with the industry's gain of 26.8%.

Currently, Plexus carries a Zacks Rank #3 (Hold). You can see the complete list of today's Zacks #1 Rank (Strong Buy) stocks here.
Looking for Stocks with Skyrocketing Upside?
Zacks has just released a Special Report on the booming investment opportunities of legal marijuana.
Ignited by new referendums and legislation, this industry is expected to blast from an already robust $6.7 billion to $20.2 billion in 2021. Early investors stand to make a killing, but you have to be ready to act and know just where to look.
Want the latest recommendations from Zacks Investment Research? Today, you can download 7 Best Stocks for the Next 30 Days.
Click to get this free report
Plexus Corp. (PLXS): Free Stock Analysis Report
Jabil Circuit, Inc. (JBL): Free Stock Analysis Report
Flextronics International Ltd. (FLEX): Free Stock Analysis Report
Celestica, Inc. (CLS): Free Stock Analysis Report
To read this article on Zacks.com click here.