Bitcoin continues to be bearish this week as you can see on the 4H chart, where price is trading below the 200-, 100-, and 50-period Simple Moving Averages (SMAs), which are in bearish alignment and are sloping down. 
During the 8/12 session, price stalled as the RSI dipped below 30 in the 4H chart, but as we start the 8/13 session, bitcoin has resolved the oversold condition, and there is still downside risk toward the 556 support. You will see on the daily chart that this support goes back to June, albeit a spike to 538. 
If we get further pullback during the 8/13 session, we should look for sellers in the 575-585 area. A break above 585 could open up a bullish outlook, which will first be tested around 600 by a falling triangle trendline, seen in the daily chart. A break above that can then liberate bitcoin from its current bearish outlook.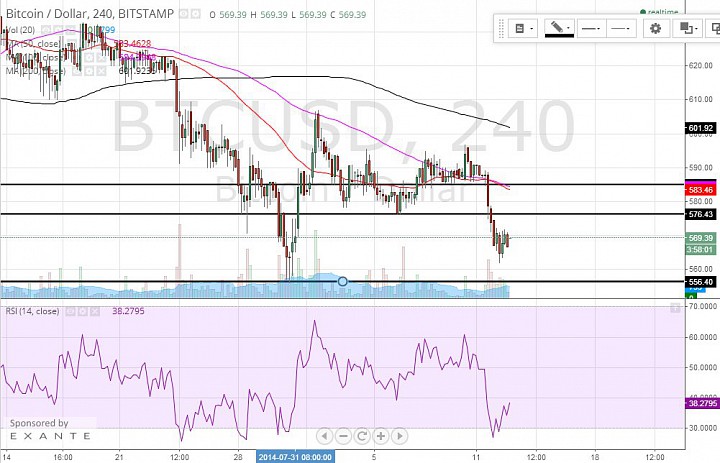 (BTCUSD 4H Chart)
The daily chart shows that 2014 price action has been neutral to bearish. After hitting 340 to establish a low on the year bitcoin rallied back to about 680. After that, price has been trading in a descending triangle, which has a slight bearish bias because it shows lower highs though the lows are relatively flat. The SMAs are clustered which reflect a sideways market, but price is starting to move below them, adding bearish bias. 
A break below 535 would open up the bearish outlook, exposing the 440 area, and the low on the year around 340. If on a subsequent pullback, price stays below 560, these bearish targets will be more viable. 
For now, let's continue to be bearish in the very short-term, but respect the 556 area as support.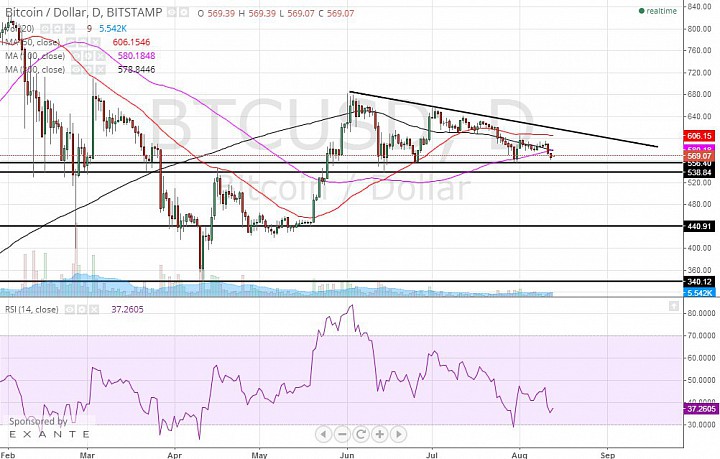 (BTCUSD Daily Chart)