Philip Morris International Inc. PM is aggressively investing in creating smoke-free products to replace the traditional cigarettes. Per sources, this leading tobacco maker has the potential to make Britain smoke-free via its IQOS (Heatsticks that heat tobacco instead of burning it).

The company reported that roughly 70% of IQOS' users have successfully quit harmful cigarettes since IQOS was introduced in the U.K. in Dec 2016. Management noted that in the U.K., higher number of consumers have been able to quit cigarettes using IQOS in comparison to consumers using e-cigarettes. Notably, e-cigarettes make use of nicotine-laced liquid, while Philip Morris' IQOS smokeless cigarette looks a lot like a second generation vaporizer that uses actual tobacco in the shape of small Marlboro cigarettes called HeatSticks that are heated at high temperatures, but not burned.

A survey shows that about 7.5 million cigarette smokers are still there in Britain. Therefore, Philip Morris has hired freelancers to be their quitting coaches in a bid to reduce the present number to zero. In fact, the company will pay the coaches $64.95 for every person switching over to the smokeless IQOS.

In addition, Philip Morris is gaining importance in South Korea as IQOS conversion rate is increasing. Moving ahead, IQOS conversion rate is expected to gain further from reduced tax rates and lenient advertising regulations in the said region. Management also remains encouraged about its heated tobacco products in Asia.

Notably, IQOS was launched in Nov 2014 and is considered to be the game changer for the company on the back of its gaining popularity and reduced risk. Additionally, Philip Morris had conducted various researches earlier that showed IQOS are safer than conventional cigarettes.

Regarding HeatSticks, Philip Morris currently has approximately 15 billion units of installed annual capacity and continued to anticipate approximately 50 billion units of such capacity at the year end. It further anticipates to produce about 100 billion HeatSticks by 2018. The company expects both higher heated tobacco unit and IQOS device sales to drive growth in 2017.

Recently, Philip Morris announced to invest an additional €500 million to expand its Crespellano facility in Bologna, Italy as a valuable step in achieving its vision of creating smoke-free products. Prior to this, the company had announced to invest roughly $320 million for building a smoke-free product facility in Dresden, Germany.

We note that Philip Morris is taking every means to completely transition to the smokeless tobacco products like IQOS and is also benefitting well from its endeavors. Further, the marketing and technology-sharing agreement between Philip Morris and its peer Altria Group, Inc. MO is also boosting the businesses of both the companies and will help them maintain market share. These initiatives are well reflected in the share price performance of the company. Philip Morris has rallied 28.4% year to date, wider than the Zacks categorized Tobacco industry's addition of 18.4%. Moreover, this Zacks Rank #3 (Hold) stock has also outperformed the broader Consumer Staples sector, of which they are part of, that gained 8.3%.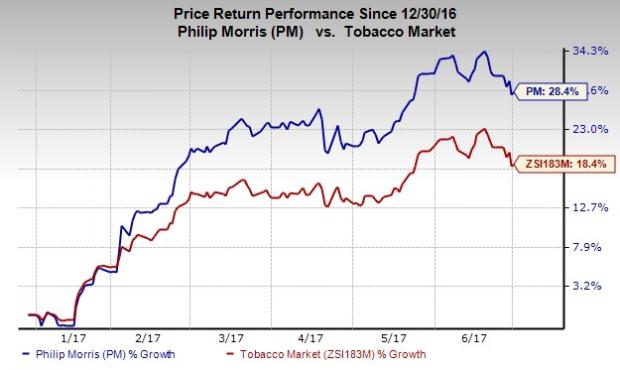 Stocks that Warrant a Look

Better-ranked stocks in the broader Consumer Staples sector include Constellation Brands, Inc. STZ and Aramark ARMK carrying a Zacks Rank #2 (Buy). You can see the complete list of today's Zacks #1 Rank (Strong Buy) stocks here.

Constellation Brands delivered an average positive earnings surprise of 11.7% over the trailing four quarters and has a long-term earnings growth rate of 17.8%.

Aramark pulled off an average positive earnings surprise of 4.5% over the trailing four quarters and has a long-term earnings growth rate of 12%.

5 Trades Could Profit "Big-League" from Trump Policies

If the stocks above spark your interest, wait until you look into companies primed to make substantial gains from Washington's changing course.

Today Zacks reveals 5 tickers that could benefit from new trends like streamlined drug approvals, tariffs, lower taxes, higher interest rates, and spending surges in defense and infrastructure. See these buy recommendations now >>
Want the latest recommendations from Zacks Investment Research? Today, you can download 7 Best Stocks for the Next 30 Days.
Click to get this free report
Constellation Brands Inc (STZ): Free Stock Analysis Report
Aramark (ARMK): Free Stock Analysis Report
Altria Group (MO): Free Stock Analysis Report
Philip Morris International Inc (PM): Free Stock Analysis Report
To read this article on Zacks.com click here.
Zacks Investment Research