Back on June 3, 2013, following what was merely the latest observation of how broken the market is thanks to central banks manipulation and HFT rigging, we wrote the following:
Why did the E-Mini just dump by 6 points on no news following the 6pm resumption of trading? Why not.

 

Maybe someone hacked the vacuum tubes' calendar file and instead of Tuesday has pegged tomorrow as a Wednesday which takes away any "fundamental" reason to ramp futures and stocks (or perhaps someone leaked that after Tuesday we get a Wednesday when nothing levitationally magical happens, which however makes no sense: after all someone could just as easily refute that rumor with another rumor that yet another Tuesday will follow a week from  tomorrow, offsetting the Wednesday rumor).

 

That, or your run of the mill fat finger.

 

Or, worst case, someone actually, gulp, selling with premeditated intent (which in the new normal is at least a 2nd degree felony, somewhere up there alongside marketslaughter).

 
And as happens with nearly 100% regularity nowadays, our snarky commentary on what takes place behind the scenes was once again almost 100% accurate. Because earlier today we learned precisely what happened.
Not surprisingly, it was an HFT, and it was premeditated selling, if only by a rogue algo, which as Bloomberg earlier described "roiled S&P futures."  The guilty party was none other than the NY Fed's favorite hedge fund, the one which the Plunge Protection Team "uses" to buy E-minis at key downward inflection points. From Bloomberg:
Citadel Fined for Software Bug That Roiled S&P Futures

 

Citadel LLC was fined $70,000 by CME Group Inc. for roiling Standard & Poor's 500 Index futures trading in June 2013, an event triggered by a software bug at the firm. The hedge fund firm's Citadel Securities division unintentionally placed trades that had already been executed, causing "an atypical short-term increase in trading volume" that swayed prices for E-mini futures on the S&P 500, CME Group said in a disciplinary action released Monday. Citadel didn't admit or deny breaking the exchange's rules. Katie Spring, a spokeswoman for Chicago-based Citadel, declined to comment. The malfunction lasted only about a minute, underscoring how quickly computerized trading systems can run amok
Yes, just one "hedge fund", the one with the highest leverage in the world, moved the S&P by 6 points, or about 0.3%, just because of an HFT "server software malfunction." Yes, the 9x regulatory, and highest in the world, leverage helps when just one hedge fund is mandated to move the entire market.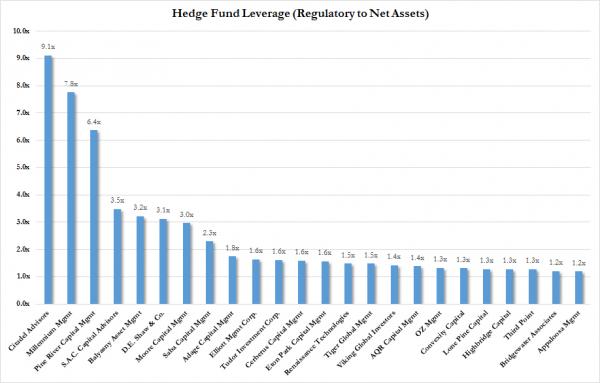 And the biggest sarcasm of all: Citadel's rogue selling wasn't a "2nd degree felony" but it was close, and was what CME dubbed a market "offense." From the CME:
Pursuant to an offer of settlement in which Citadel Securities LLC ("Citadel") neither admitted nor denied the rule violations upon which the penalty is based, on March 19, 2015, a Panel of the Chicago Mercantile Exchange Business Conduct Committee ("Panel") found that it had jurisdiction over Citadel pursuant to Rules 400 and 402 as the conduct occurred while Citadel was a CME member, and during an approximately one-minute period on June 3, 2013, Citadel entered a series of unintentional orders on the Globex electronic trading platform.
What exactly caused the "roiling"?
This unintentional order entry activity was caused by a software malfunction in a server that Citadel used to route orders to the Exchange. As a result of this malfunction, Citadel resent to the Exchange for execution orders that had previously been filled, which in turn caused an atypical short-term increase in trading volume and impacted the price in the E-mini S&P Futures market.
And the penalty?
The Panel concluded that Citadel thereby violated CME Rule 432.Q. In accordance with the settlement offer, the Panel ordered Citadel to pay a fine of $70,000.
Or what Citadel earns in about 100 milliseconds of market rigging.
And to think, all of these market rigging unpleasantness could have been avoided, if only Citadel's "software malfunction" had led to buying instead of selling.
Oh well, lesson learned.