I admit before stumbling onto this stock symbol today, I had no idea what Dentsply Siron Inc. (XRAY) does. I found out that it basically manufactures innovative dental supplies/equipment. There is a lot more we should know about the company to make a complete assessment, but first, let's take a look at the chart, which is very telling as well.

Dentsply Sirona (XRAY) Weekly Chart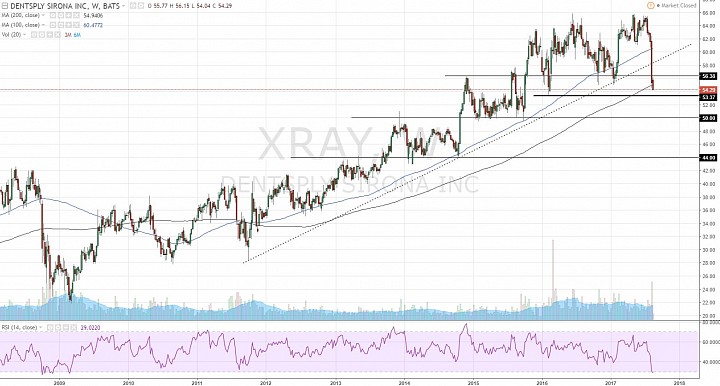 (click to enlarge)
Double Top:
- As we can see on the weekly chart, price action has been bullish since 2009.
- After a period of consolidation between 2010 and 2012, price started to rally even more persistently into 2016.
- Then, price turned sideways. 66 is the key resistance. We saw an attempt in 2016 and again in 2017 to break this resistance, but price retreated both times.
- The neckline for this double top is not clear, but price is definitely about to enter that zone. If price breaks below 53, we would have a clear double top and a bearish breakout from the double top.
Bearish Breakout:
- Even though the double top is not technically complete, there are other evidence of topping.
- First of all, the RSI has pushed way below 30, which suggests a strong bearish momentum. The strong price action downwards in July reflects this bearish momentum.
- This dip has also broken below the 100- and 200- week simple moving averages (SMAs).
- Price also broke below a rising trendline from 2012.

These signs warn against buying from the support above 53. If there is a bounce, we should anticipate resistance. I think instead we should anticipate what happens after any initial reaction at 53. I think it will be more likely that price falls towards the 50 pivot, with the 44.00 support pivot as the aggressive bearish outlook.