The USDollar Index is soaring (hitting its highest since early April and approaching 2015 highs) as the probability of a December rate hike hits 74%. This is not unequivocally good for a large number of American firms..
Spot the Difference...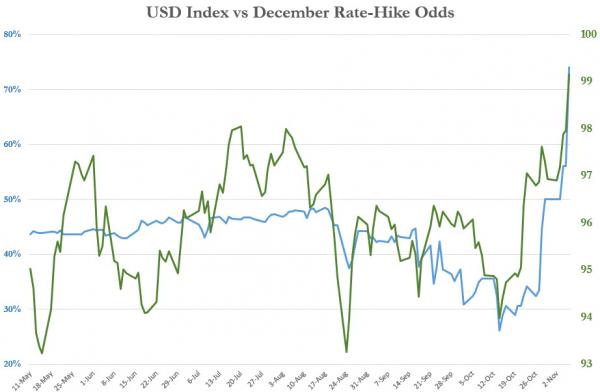 So who gets hurt the most?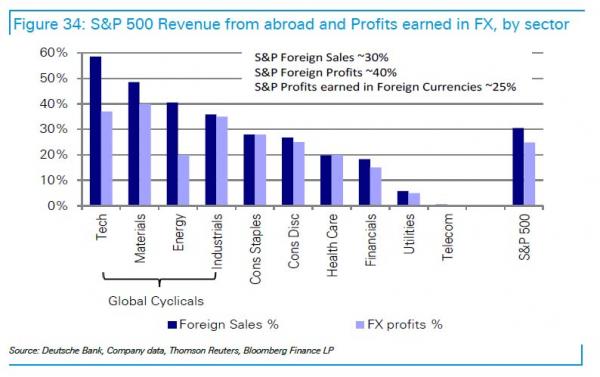 As Deutsche Bank details,
A stronger dollar, the reset in oil prices to significantly lower levels and slower global growth and investment spending vs. last cycle will challenge many of the S&P's commodity and industrial capital goods producers for a long time. We've been under-weight Energy, Materials and Industrials since last year on these reasons and expect these sectors to underperform in 2015, 2016 and perhaps longer. Unless lower stock prices offer a more attractive entry point.

 

We remain concerned about the risk to EPS growth at many S&P industries with high foreign profits owing to FX translation from a stronger dollar. This includes most Technology, Industrials, Consumer Staples, and many Health Care and Consumer Discretionary stocks. Until we can observe how the dollar reacts to initial Fed hikes this remains a difficult risk to dismiss or quantify. At current FX rates, FX drags should stop in 2Q16. We see Industrials with most FX risk given its high foreign profits and then disadvantages vs. trade partners.
Charts: Bloomberg