Palo Alto, CA-based manufacturer of medical devices and software, Varian Medical Systems, Inc. VAR recently announced the 510(k) approval for its Halcyon system. The Halcyon radiotherapy treatment system has been designed to offer cost-effective cancer care worldwide. In June Varian showcased the Halcyon system at the 2017 DEGRO meeting, the German radiation oncology society, in Berlin.
The Halcyon system streamlines every aspect of image-guided volumetric intensity modulated radiotherapy (IMRT). The system has received both 510(k) clearance and a CE mark from the European directive. Notably, Varian can initiate the selling process of the Halcyon system in the U.S. However, the system requires Eclipse 15.1.1 planning software, which is currently pending for a 510(k) approval.
Halcyon system has a user-friendly design and it automates, streamlines and simplifies almost every aspect of cancer treatment. Per management, the system offers treatment for prostate, breast, head & neck, and most other forms of cancer.
We note that the global radiotherapy market is expected to reach a worth of $7,544.8 million by 2020, at a CAGR of 6.2%. Taking the bountiful prospects in the global niche space into consideration, the latest development should boost investor confidence.
Price Movement
Varian has a Zacks Rank #2 (Buy).
The company has had an impressive run on the bourse over the last one month. Varian has gained almost 1.02%, higher than the Zacks classified Medical - Instruments sub-industry's decline of 1.3%. Furthermore, the stock's price level was higher than the S&P 500's negative return of 0.6% over the same time frame.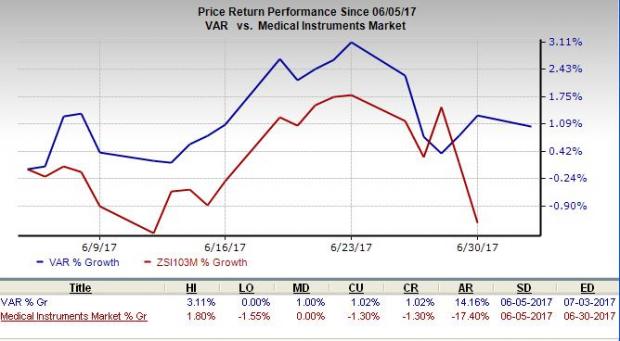 Meanwhile, the company's recent earnings estimates have been mixed at best. The current year has seen one analyst move north in the past two months, while next year estimates have seen two upward revisions, compared to no movement in the opposite direction.
This has had a significant impact on the consensus estimate, as the current quarter estimates lost roughly 1% over the last two months, while next year estimates increased 0.9%.
A few other top-ranked stocks in the broader medical sector are Inogen Inc. INGN, Mesa Laboratories, Inc. MLAB and Edap Tms S.a. EDAP. Notably, all the stocks sport a Zacks Rank #1 (Strong Buy). You can see the complete list of today's Zacks #1 Rank stocks here.
Inogen has a long-term expected earnings growth rate of 17.50%. Notably, the stock represents an impressive one-year return of 100%.
Mesa Laboratories has a positive earnings surprise of 2.84% over the last four trailing quarters. Notably, the stock represents an impressive one-year return of 16.7%.
Edap Tms represents an impressive one-year return of 2.2% for the last three months. The company provided a solid earnings surprise of 533.3% in the last reported quarter.
Today's Stocks from Zacks' Hottest Strategies
It's hard to believe, even for us at Zacks. But while the market gained +18.8% from 2016 - Q1 2017, our top stock-picking screens have returned +157.0%, +128.0%, +97.8%, +94.7%, and +90.2% respectively.
And this outperformance has not just been a recent phenomenon. Over the years it has been remarkably consistent. From 2000 - Q1 2017, the composite yearly average gain for these strategies has beaten the market more than 11X over. Maybe even more remarkable is the fact that we're willing to share their latest stocks with you without cost or obligation. See Them Free>>
Want the latest recommendations from Zacks Investment Research? Today, you can download 7 Best Stocks for the Next 30 Days.
Click to get this free report
Varian Medical Systems, Inc. (VAR): Free Stock Analysis Report
Mesa Laboratories, Inc. (MLAB): Free Stock Analysis Report
EDAP TMS S.A. (EDAP): Free Stock Analysis Report
Inogen, Inc (INGN): Free Stock Analysis Report
To read this article on Zacks.com click here.
Zacks Investment Research